The Mandalorian S3 Finale: Grogu's Final Upgrade Is The One We've Always Wanted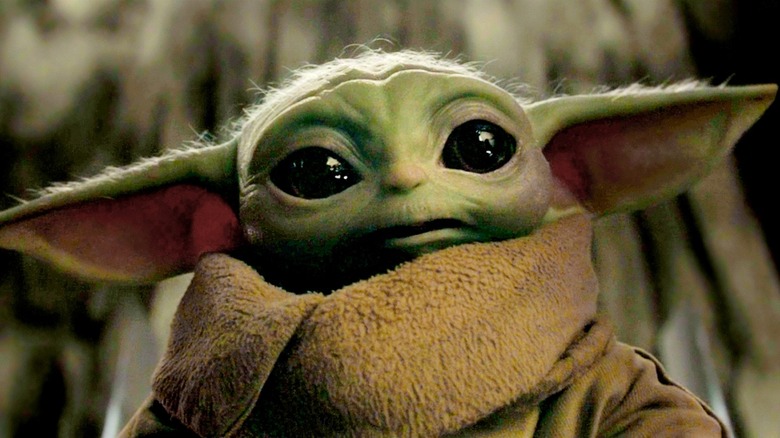 Lucasfilm/Disney+
Contains spoilers for "The Mandalorian" Season 3 finale, "Chapter 24: The Return"
Unless you count a droid-assisted "No," fans don't get to hear Grogu's first words in "The Mandalorian" Season 3 finale, after all. Fortunately, they get something even better. After the battle for Mandalore has finally settled, Din Djarin (Pedro Pascal) tells the Armorer (Emily Swallow) that Grogu is ready to be his full apprentice. She informs him that it's not possible — Grogu, being unable to speak the Creed just yet, must remain a foundling for now. However, Din will have none of that. Determined to find a way to promote Grogu to apprentice status, Djarin formalizes a connection that has already been there for quite a while: He officially adopts Grogu, which every Mandalorian present is happy to accept. 
By the end of "The Mandalorian" Season 3, the child is now officially a Mandalorian apprentice known as Din Grogu. More importantly, however, Grogu has received a big upgrade that fans have really wanted for a long while. Sure, he could've been a Jedi. Fair enough, he could've just kept acquiring gear, titles, and droid battle mechs until he's a walking arsenal. But let's be honest — did anyone ever really wish for any other endgame than Grogu becoming a real family with Din?  
Din Grogu and Din Djarin are now officially a family, and Grogu's name evolution is complete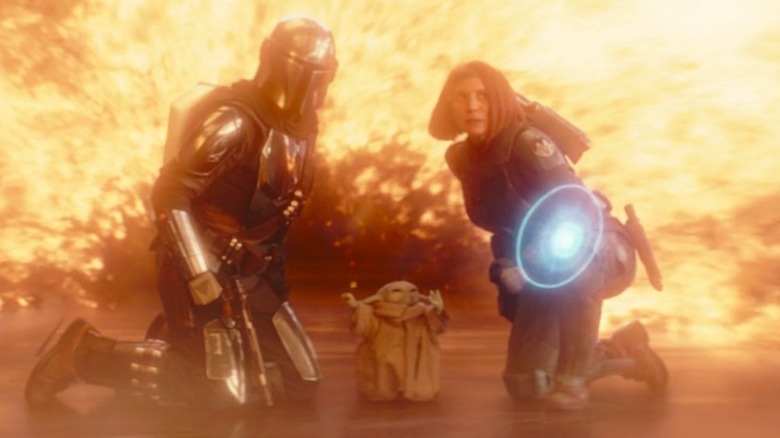 Lucasfilm/Disney+
No matter how many cool starships and Darksabers "The Mandalorian" throws in the mix, the father-son dynamics between Din Djarin and Grogu — sorry, Din Grogu — have always been the show's beating heart. Ever since Djarin risked his life to save the kid all the way back in Season 1, they've been more or less a family unit, and not even Luke Skywalker's (Mark Hamill) Force training has been able to keep them away from each other. Since Djarin already took Grogu in as a foundling and was therefore responsible for him as if he was his own child, the connection has essentially been there in all but name. Still, it's nice that the show has now officially embraced Mando's dad mode with the adoption announcement. 
As a bonus, this heartwarming payoff to the nascent Din clan's family situation also handily dodges the ever-lingering "What's Yoda's species, anyway?" question. After all, Grogu is now officially a Mandalorian, and that's all there is to it. What's more, it appears that the character's long-standing name evolution is also finally at an end. Over three seasons, he's gone from the fan-nickname Baby Yoda to "The Child" to his official name Grogu to his now even more official Din Grogu moniker. Closure — it's as fun as it's heartwarming!
What's next for the Din family?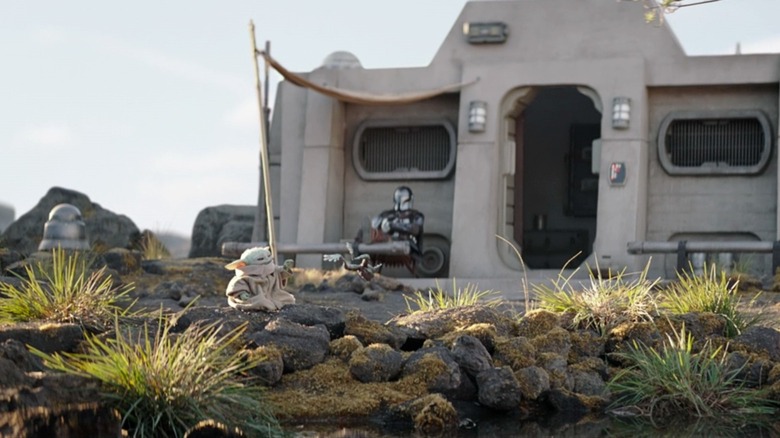 Lucasfilm/Disney+
Din Djarin and Din Grogu becoming a family may be the heartwarming moment that fans have been hoping for ever since the odd pair forged their unique bond in "The Mandalorian" Season 1, but that doesn't mean things have completely wrapped up for the characters. It's already been confirmed that Season 4 of "The Mandalorian" is in the works, so the adventures of the Din clan will inevitably continue. That said, where do the characters go from here?
The ending of "The Mandalorian" Season 3 gives us an idea of what Din and Grogu (these names are getting confusing) will be getting up to in this new chapter. The pair are now officially commissioned by the New Republic, and they'll be lending their unique skills to the job of maintaining peace throughout the galaxy far, far away. It's likely that this fresh line of work for the duo will culminate in them going against some new and returning foes. After all, the remnants of the Empire are still out there — and are we really certain that Moff Gideon is dead? Long story short, the Dins clearly still have their work cut out for them, but at least they'll be facing the future as a proper family.