The Mandalorian S3 Ch 23: Grogu Gets His Biggest Upgrade (But It's Not Enough)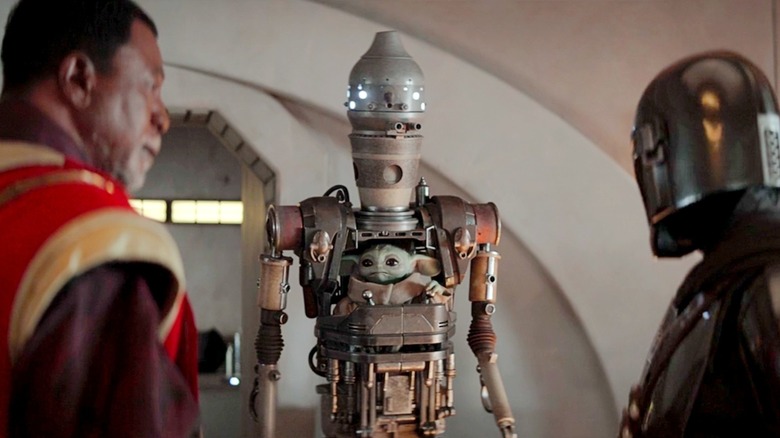 Disney+/LucasFilm
Contains spoilers for The Mandalorian Season 3, Episode 7 — "Chapter 23: The Spies"
Grogu (voiced by David Acord) is on the move after another exciting episode of "The Mandalorian." The youngling receives an impressive gift from Greef Karga (Carl Weathers): IG-11 has been upgraded to fit the small force user. However, fans are already pointing out a fatal design flaw in Grogu's new gadget. 
Fans were pleasantly surprised to see Grogu walking amongst his fellow Mandalorians in the reinvented droid, IG-12. The device gives him a new means of transportation with his favorite kind of joystick toy as controls. Through the machine, he can speak, allowing Grogu to answer with a "yes" or "no," which provides essential bits of comic relief throughout the suspenseful episode. With this new upgrade, he's also physically strong enough to intervene in a brawl between two formidable Mandalorians — aiding in the union of the opposing tribes. 
Unfortunately, even with IG-12, he's not entirely on par with other Mandalorians. This becomes glaringly obvious when the hulking Mandalorian Paz Vizsla (Tait Fletcher) recruits another to help fly Grogu to safety. Following the standout sequence, fans on Reddit clamored for him to receive his own jetpack, so he can keep up and continue to walk the way of the Mandalorian. 
Fans agree Grogu needs a jetpack for his new tech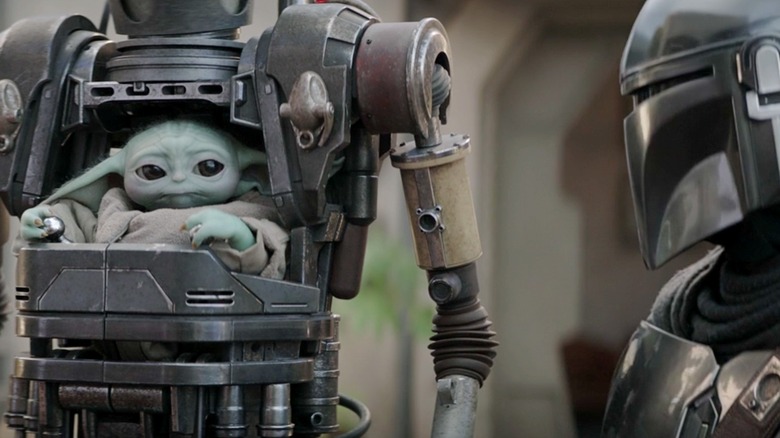 Disney+/LucasFilm
Though Grogu's gift is a welcomed surprise, it may foreshadow dark times ahead for the beloved young one. In the latest episode of 'The Mandalorian," Moff Gideon's (Giancarlo Esposito) unforgiving presence was a terrifying reveal, signaling he may not be done with Grogu yet. We were also introduced to the sinister Shadow Council, which will surely wreak dastardly havoc across the galaxy, starting with our favorite Mandalorians. Grogu will need all the help he can get to help face these enemies, leading fans to urgently call for further upgrades for the force-user.
Grogu has been protected by his guardian Din Djarin, aka Mando (Pedro Pascal), countless times. Sometimes, Grogu returns the favor, too! While he's not entirely helpless — especially with his new upgrade — the latest episode proves he needs more enhancements. On Reddit, fans unanimously agree that Grogu is in need of some rocket boosts. Reddit u/ThexanI kicked off the discussion with, "I do wish he got a jetpack, running around with a Mandalorian scout party will make you quite immobile without a jetpack." We witnessed this firsthand in "Chapter 23: The Spies," with Grogu frantically searching for help. u/Unknown1776 noted, "It was cool though that Paz and another Mandalorian grabbed him when the giant dinosaur attacked and flew him to safety."
Unfortunately, there may not always be someone else around to help Mando and Grogu, making a jetpack a necessity for the young one's guaranteed safety.