The Night Agent: Peter & Rose's Chemistry All Started With A Bungee Jump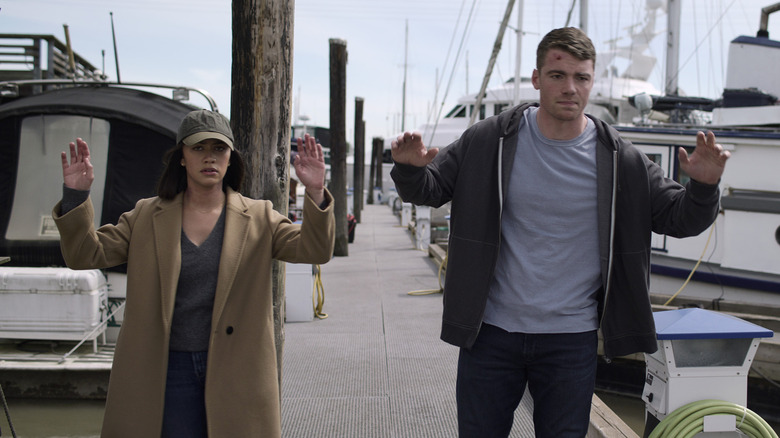 Netflix
"The Night Agent" delivers all the thrills, shootouts, and surprises that fans have come to expect from Netflix action offerings. If it didn't, then it wouldn't be delighting so many lovers of the genre. However, it's the series' characters — and, specifically, their chemistry — that have kept the show at the top of Netflix's Top 10 List for four straight weeks. Gabriel Basso, as the gruff underdog Peter Sutherland, and Luciane Buchanan, as the brilliant entrepreneur Rose Larkin, have charmed audiences to no end.
It took a surprise move on Basso's part to help develop that sparkling chemistry that viewers have come to love. Namely, Basso forced Buchanan to go bungee jumping with him — and only moments after the pair's first official meeting. In a chat with uInterview, Basso described the spontaneous outing as "bonding through trauma," adding that the resultant friendship helped the two actors develop their romance later on "The Night Agent." However, that didn't mean that Buchanan was thrilled with the date idea.
Buchanan had to be pushed off the bungee platform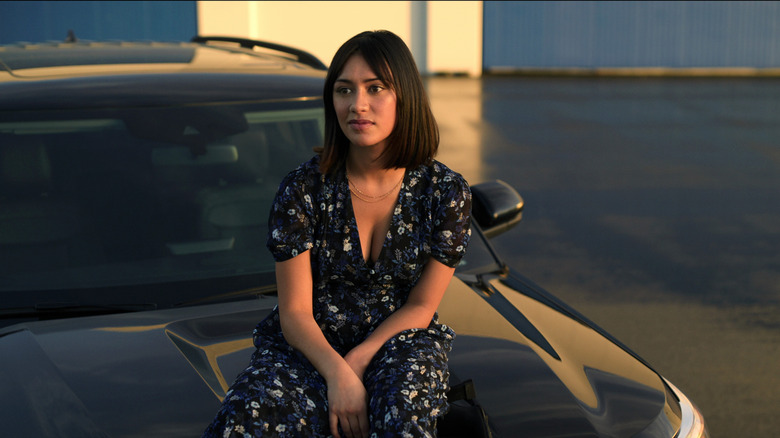 Netflix
As Luciane Buchanan had never gone bungee jumping before, she initially balked at the idea of catapulting herself off of an unfamiliar cliff in Canada. However, Gabriel Basso insisted three more times, urging Buchanan to finally acquiesce and thus consign herself to a future filled with terror. "The whole time we drove to Whistler in Vancouver, I was just like, 'I'm going to jump off a bridge. I've just met this person and ... I'm going to jump off a bridge,'" explained Buchanan in the Q&A with uInterview. 
Buchanan also needed a literal boost to get her feet off of the bungee platform. In addition to swearing throughout the prep process, she ended up requiring an actual push from the bungee station employees to get into the canyon. In her recounting of the event, she also poked fun at her inability to feign calm during the excursion. Basso, for his part, had a great time.
Of course, Buchanan was just reserving all of her pretending skills for "The Night Agent," which has pulled glowing reviews for Buchanan's and Basso's performances. Ultimately, it seems that the terrifying, traumatic bungee date helped Buchanan and Basso deliver exactly what the show needed.