Why Peter Sutherland From The Night Agent Looks So Familiar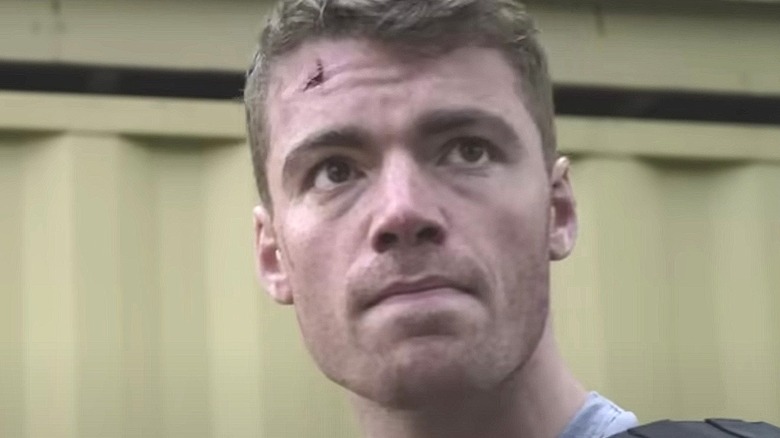 Dan Power/Netflix
Producer/writer Sean Ryan knows a thing or two about intense episodic drama series. Running shows like "S.W.A.T.," "Timeless," and "The Shield" have all led the showrunner toward a new Netflix series, "The Night Agent," a 10-chapter thrill ride dropping on March 23, 2023, on the streaming channel. As an adaptation of the 2019 best-selling novel of the same name written by author Matthew Quirk, the show follows a low-level FBI agent posted in the underbelly of the White House, forced to man a telephone hotline meant for American spies in dire need. But one phone call is all it takes to send this agent into a tangled web of conspiracy and political power.
Right off the bat, viewers will find that this particular FBI agent, Peter Sutherland, didn't land in the basement of the White House due to inexperience in the field. Before being stationed at the American spy hotline phone, he found himself in the wrong place at the wrong time, discovering a planted bomb on a passenger train. Pulling the emergency brake before the bomb actually goes off targets him as a suspect, which leads to his miserable position in the agency. 
But Agent Sutherland's unfortunate situation doesn't last long as he soon finds himself twisted in a thrilling plot that only he can unravel. And if you recognize the actor who portrays Agent Sutherland, his name is Gabriel Basso. Here's what you may remember him from.
Gabriel Basso's super breakout role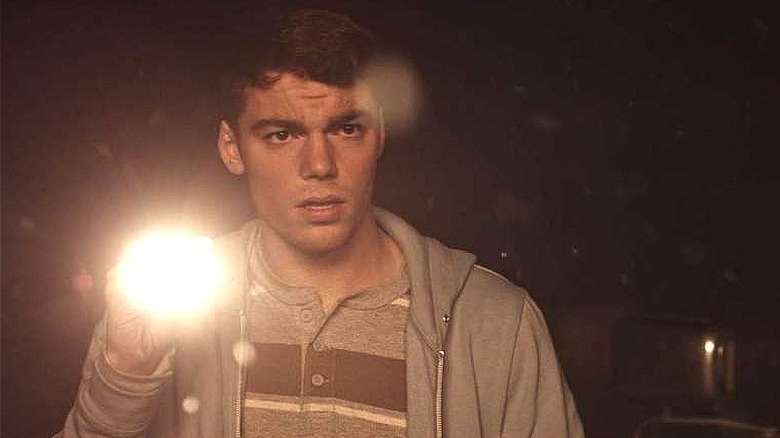 Paramount Pictures
Gabriel Basso was a young teen when he started his career by scoring several minor roles in TV series like "Ghost Town," "iCarly," and "The Middle." But the St. Louis native achieved his breakout role costarring in J.J. Abrams's "Super 8." The movie, which was also produced by Steven Spielberg, felt like a throwback to the science fiction films of the '80s. It follows a group of young teenagers who use a Super 8 movie camera to film their own zombie movie in their small Ohio town. While shooting a nighttime scene for their homemade flick, they witness a train derailment that sets off a chain of events that thrusts these young teens into a real-life science fiction thriller.
In the homemade movie that the teens are filming to win a competition, Martin Reid (Basso) has been cast as the lead. But before he and the others can make much progress, the chaos of the train derailment separates the group of teens while also unleashing a dangerous alien presence. Basso's Martin, who is good friends with one of the amateur filmmakers, Joe (Joel Courtney), is injured by military tanks and is forced to hide out of sight. The character eventually plays a critical role in the climactic conclusion of this popular 2011 film that helped propel Basso's career to the next level.
Basso went off the grid in The Kings of Summer
What's a young acting career without a coming-of-age film on the résumé? Gabriel Basso successfully checked that box by co-starring in the 2013 comedy-drama movie "The Kings of Summer." This winner of multiple film festivals also starred Nick Offerman and Erin Moriarty. The movie follows three teen friends who decide to tap into nature by spending their summer vacation building a house in the woods, all while disconnecting from the outside world. With each character needing an escape for their own individual reason, the trio successfully constructs the crude dwelling while dealing with all the emotions and drama that comes with being a young teen.
One of the teens portrayed in the film is Patrick, played by Basso. Patrick, who is protagonist Joe's best friend, joins the adventure because he is tired of dealing with his irritating parents at home. In addition to Joe and Patrick, Biaggio (Moises Arias) also tags along. As the house is coming along, Joe decides to bring his crush, Kelly (Moriarty), to see it. However, that backfires as she develops a crush on Patrick instead.  
Kelly eventually starts a relationship with Patrick, causing friction between him and Joe. Although the independent film is a bit obscure and possibly missed by many moviegoers, its 76% Rotten Tomatoes score proves that checking out Basso in "The Kings of Summer" is probably worth a try.
He tackled heavy moments in The Big C
Viewers who can handle series that tackle some of the toughest subjects may recognize Basso from portraying Adam Jamison on the Showtime original series "The Big C." Basso's Adam is the son of Cathy (Laura Linney), who has been diagnosed with terminal cancer. Attending the same school where Cathy works as a teacher, the character is nowhere near a well-behaved teenager. 
With his mother deciding not to reveal her diagnosis to him until the very end of the Season 1 finale, he is forced to deal with the ongoing, unexplainable changes in their relationship. Once learning of her illness, though, Basso was finally given the opportunity to express his character's emotional reaction.
Basso's character as a typical boundary-testing teenager shifts tremendously after not only learning of his mother's cancer but also after he finds a storage area that is filled with a mountain of gifts for his future birthdays and holidays. By the end of the final season, Kathy has her son open all the presents so they can have the experience together. Knowing that his mom will most likely not make it to his scheduled high school graduation, he accelerates his credits with online courses to receive his degree, leading to a climactic emotional moment where Cathy gets to watch him graduate and receive a diploma wearing a cap and gown.
Basso headed back to his roots in Hillbilly Elegy
Before Basso stepped into Peter Sutherland's shoes in "The Night Agent," he co-starred in the 2020 film "Hillbilly Elegy." The drama, directed by Ron Howard, was based on the 2016 novel of the same name written by J.D. Vance. Basso co-starred alongside a cast that included Glenn Close and Amy Adams. The movie was met with mixed reviews despite receiving nominations for multiple categories at the Academy Awards, Screen Actors Guild Awards, and Golden Globes. Basso plays J.D., a Yale Law School student who is forced to return home to care for his mother, who is addicted to and has overdosed on heroin.
Basso truly puts in an emotional performance as his character attempts to be the glue that holds his family together during such a trying time. His mother, Bev (Adams), continues to relapse while his character, J.D., does his best to encourage her not to give up hope. J.D.'s persistence, in the long run, pays off. Not only does he support his mother, who we see by the end of the movie has been sober for six years, but he works hard to graduate from Yale and start his own family. He even moves back home to be closer to his mother and grandmother.
Basso's role and performance added another impressive credit to his ever-growing resume. And now, with his new series on Netflix, that trend doesn't seem to be stopping anytime soon.