Ginny & Georgia Fans Despise Hunter's Treatment Of Ginny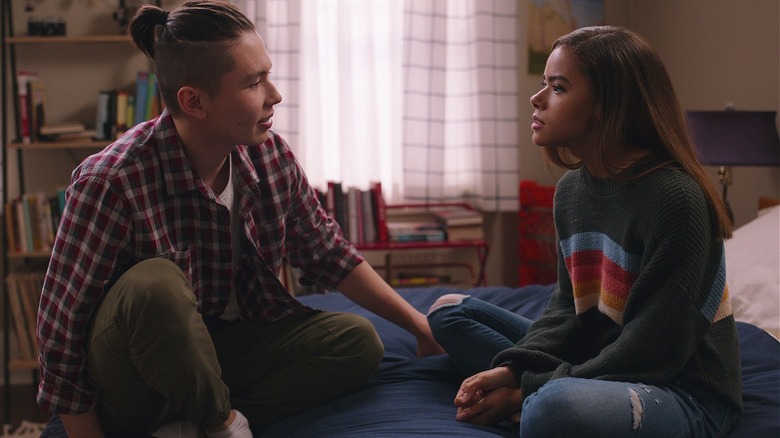 Netflix
Fans are never one to keep their opinions to themselves, and that's certainly true with Netflix's popular coming-of-age dramedy "Ginny & Georgia." More than 52 million viewers watched the series in its first 28 days in February 2021, and fans were ecstatic to learn the YA show was renewed for Season 2. It was only bumped off Netflix's all-time Top 10 for English-language shows in April 2023, thanks to the new series "The Night Agent." 
As fans enjoy the exploits of mom Georgia (Brianne Howey), running from her past and trying to protect her teenage daughter Ginny (Antonia Gentry) and pre-teen son Austin (Diesel La Torraca) in their idyllic new (fictional) town of Wellsbury, Massachusetts, they have a lot to say — particularly about the love triangle between Ginny, Marcus (Felix Mallard), and Hunter (Mason Temple). There's an obvious sexual chemistry between Ginny and "bad boy" Marcus, her best friend's twin brother, but Marcus seems to want to keep their relationship hidden, while "nice guy" Hunter is open about his admiration for Ginny. However, not all the fans have fallen for Hunter's act. Many are noticing that Hunter is not the "nice guy" they thought he was.
"I thought Ginny didn't deserve [Hunter] at first but he seems like one of those fake nice guys, who aren't nice because they want to be, but because they feel like it's what people want," u/DoorWarrior09 said in a Reddit thread. Others replied in agreement, and some took it further, even calling Hunter abusive.
Ginny & Georgia fans think Hunter is toxic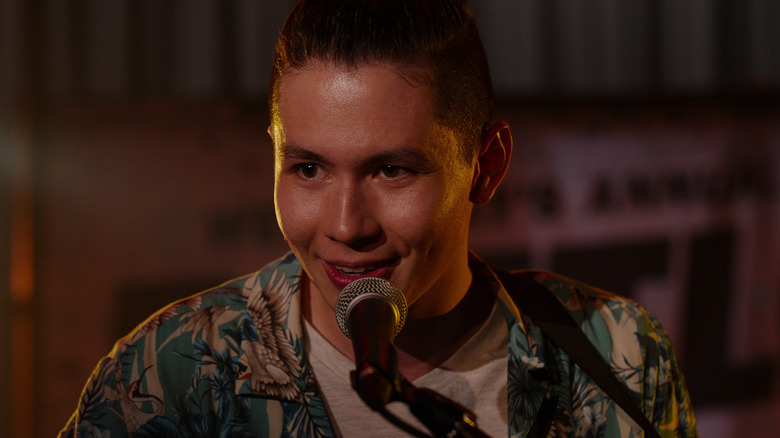 Netflix
u/DoorWarrior09 was not alone in thinking Hunter was "one of those fake nice guys." Other commenters, such as u/OutwithaYang, agreed. "Exactly! Hunter always felt like the type of guy who would do big gestures for the sake of showing how much of a 'good boyfriend' he is, not about celebrating Ginny," they wrote. u/Imaginary-Edge3575 elaborated, accusing him of showboating and chasing fame, saying, "The only time he showed affection towards Ginny was in front of an audience."
Similar comments occurred in a different Reddit thread, from u/Aggravating-Idea-492, who took their criticism of Hunter even further by calling him abusive. As examples, they said Hunter was this way because he love-bombs Ginny with his performances, gaslights her, denies her intimacy, and ignores her around his friends. u/Rxthless agreed, finding him "performative and downright fake," and u/DueDay8 said Hunter "has textbook red flags for an emotionally abusive relationship." It's especially dangerous because Hunter gives the appearance of being a good guy. 
u/Red_haze957 also picked up on this in u/DoorWarrior09's thread, saying Hunter "reminds me of my ex abuser... she deserves better and those are alllll red flags." Oof, that's not good. They also added, "Marcus cares about her, [while] Hunter clearly is in love with the girl Marcus is sleeping with."
At least one commenter had another hilarious, more superficial reason to dislike Hunter. "And his hair style bothers me so much," u/GinnyandGeorgia said. "I can't, I just reallly can't with his weird hair." Lol.