The Modern Family Snoop Dogg Cameo You Might Have Missed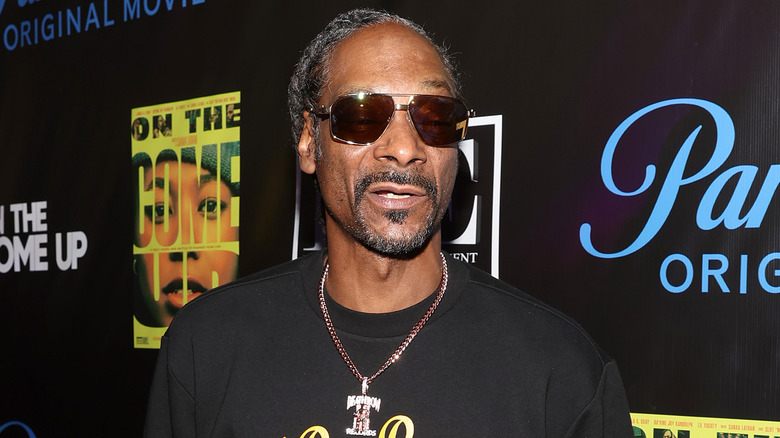 Jesse Grant/Getty Images
With everyone from Lin-Manuel Miranda to Kevin Hart briefly appearing at one point or another, it may be difficult for "Modern Family" fans to keep up with every famous person that's credited with a guest spot, which is why it's understandable if even the most devoted followers of the Emmy-winning comedy may have forgotten that Snoop Dogg himself was part of the mockumentary-style show's cherished legacy.
A user on Reddit noticed the name of the hip-hop legend in the end credits under the title "Special Guest Star," and while he wasn't seen in the episode, several others confirmed he most certainly made an impact during his brief "Modern Family" cameo. Season 11, Episode 10, titled "The Prescott," takes place in a luxury apartment complex for the rich, famous, and affluent, including David Beckham. In the entry, Cameron Tucker (Eric Stonestreet) hopes to meet the soccer icon and continue his streak of getting celebrities to record his outgoing message by replacing the current recording, which is revealed to be done by Snoop Dogg, who he met at a bank. But when he plays it back, it doesn't seem like Snoop Dogg was very excited about the encounter, considering he can be heard saying, "I'm busy" and "Get away from me," before finally yelling out for "Security."
The Grammy-nominated artist known for his accomplishments in music has always been notorious for making his presence known without being seen, and it's safe to say he did the same in his "Modern Family" cameo, which is another indicator that Snoop Dogg might just have another talent people have not yet recognized.
Snoop Dogg is a major player when it comes to cameos and guest appearances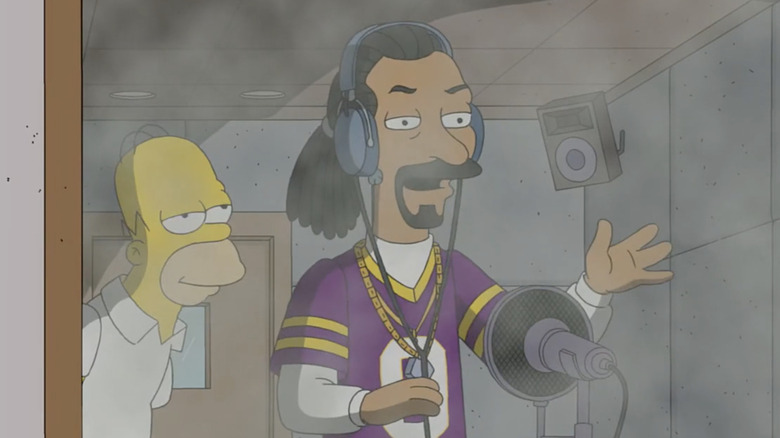 Fox
For anyone thinking "Modern Family" was his first foray into the world of one-off appearances on shows and movies, think again. While it's pretty well known that Snoop Dogg is a powerhouse in the music industry, some may not realize he has accumulated over 270 acting credits over the years. Making up his body of work in the acting game is most assuredly a number of main and supporting roles, but a fair amount of his resume in this department consists of cameos and guest appearances.
When it comes to movies, Snoop Dogg has had several roles, but he also plays himself in a robust amount of motion pictures. Of the many examples that solidify his status as one of the candidates for the king of cameos, cinematic and otherwise, the few that top the list include "Old School," "Pitch Perfect 2," and "Popstar: Never Stop Never Stopping." His achievements in the field of portraying oneself in another forum expand beyond the big screen into the world of video games as well. His greatest hits record regarding his exploits as himself in the gaming world consist of recognizable titles such as "Grand Theft Auto Online," and "Family Guy: The Quest For Stuff." And he has played the cameo game on TV a few times, with other notable outings on shows like "The League," "Weeds," "Mythic Quest," "Empire," and "The Simpsons." And who could forget his legendary appearance on "The Price is Right"?
There is no denying that the man's cameo credentials are strong, and it will be fascinating to see if such an achievement gets brought up alongside his other milestones when they make the Snoop Dogg biopic.