The Last Kingdom: Alexander Dreymon Auditioned For Uhtred By Playing In A Park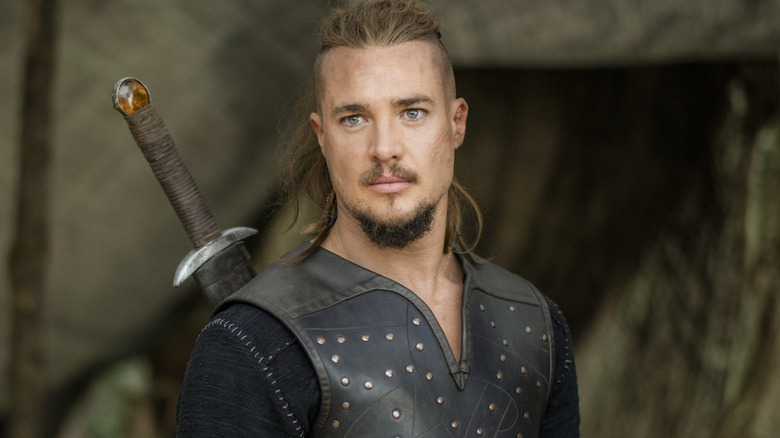 Adrienn Szabo/Netflix
Just because you land on a show with expansive and costly sets pieces doesn't mean the journey starts out all that glamorous. For Alexander Dreymon, the road to portraying "The Last Kingdom" protagonist Uhtred began with him running around in the woods for his audition. 
Uhtred is the heir to the kingdom of Bebbanburg and after an attack, his journey thrusts him into a much larger game of warring factions and backroom political maneuvering. Dreymon portrayed Uhtred through five seasons of "The Last Kingdom" and in the 2023 Netflix film "The Last Kingdom: The Seven Kings Must Die," which follows Uhtred attempting to unite a fractured England following the death of King Edward (Timothy Innes). Dreymon scored his role as the great English warrior by auditioning in a park while people were out doing everyday things like walking their dogs. 
After a self-tape and a Skype audition, Dreymon made his way to a park with "The Last Kingdom" director Nick Murphy. "We met in a park with the director who launched it all, Nick Murphy. And we were just playing around in the woods while people were walking their dogs by. We hid in the undergrowth and played scenes that ended up in the first season," Dreymon told Vogue in an April 2023 interview.
Alexander Dreymon's inspiration for Uhtred came straight from the books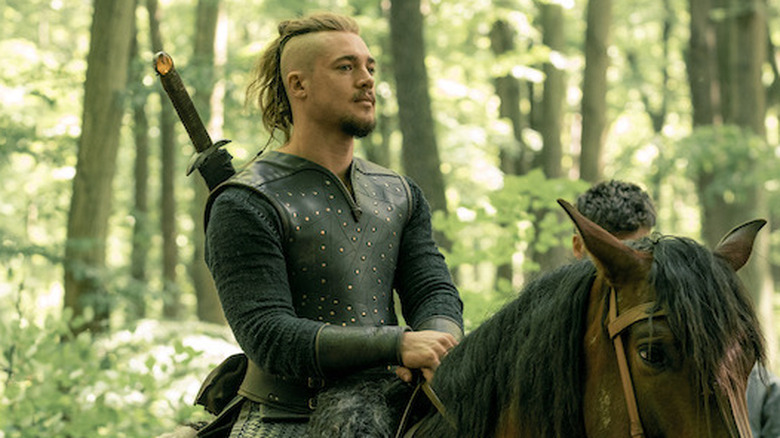 Adrienn Szabo/Netflix
In the same Vogue interview, Alexander Dreymon revealed that he's a fan of the "Saxon Stories" books by Bernard Cornwell that provide the basis for "The Last Kingdom." The actor said through the long process of attempting to actually land the role of Uhtred, he found the character by going straight to the source material.
"The biggest inspiration came from Bernard's books, where Uhtred has a sense of humor. It was important to show that mischievousness, especially in his younger years. He's like the kid at the back of the class who has a slingshot in his pocket. He's extremely impetuous and impulsive," the actor told Vogue, adding that only showing the impressive warrior side of Uhtred would not have inspired the longevity of five seasons of a TV show plus a movie since "The Last Kingdom" premiered in 2015.
In an interview with Radio Times also reflecting on his time as Uhtred, Dreymon said that leaving the character behind is actually the easiest part, explaining letting go of the cast and crew he's become friends with was the true challenge. 
"The hard part is just knowing that you won't work again with all of these people in that same configuration," he said. Hard to believe it all began in a park with an actor running a park in front of a whole lot of undoubtedly confused dog owners.