Jake Gyllenhaal's Roadhouse Remake Won't Feature The Patrick Swayze Butt Scene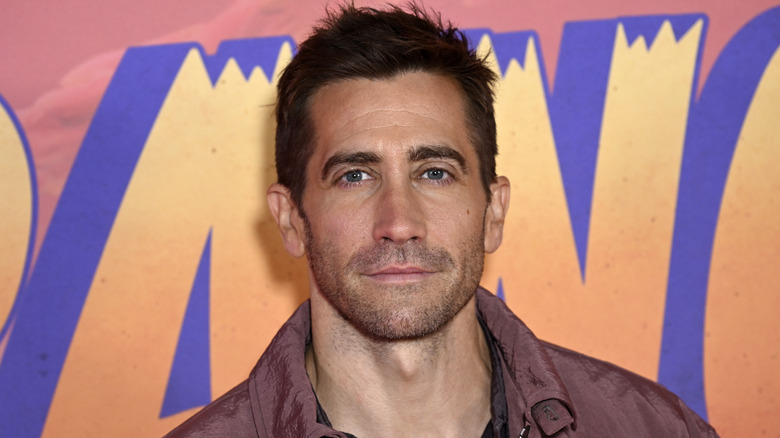 Gareth Cattermole/Getty Images
Let's not get too cheeky here and go straight to the bottom of things. It appears that a notorious scene from "Road House" will be missing from its Amazon Studios remake, as star Jake Gyllenhaal isn't interested in bearing all for the big screen. Well, at least not a certain sort of all.
During an appearance on the podcast Armchair Expert with Dax Shepard, Shepard recalled in detail a scene from the original film in which James Dalton (Patrick Swayze) leaves his bed early in the morning and the camera lingers upon his bare derriere, which he flexes. Shepard also notes a lens swap mid-scene, indicating the actor may have requested a more flattering version of a take. "Do we see your buttcheeks?" Shepard asked Gyllenhaal about the remake, noting that the actor has put in the work and time to look extra muscular for the very physically demanding film.
"We did not do that scene, but man, did we get close," Gyllenhaal revealed during his April 17 appearance. The actor, who said that he was a fan of the film as a teenager, admitted he was quite aware that appearing in a physically-demanding film like Road House requires reenacting certain moments in a way that pays homage to the original. "You don't make 'Road House' unless it's body-body," he said. After making some joking references to clenching, he added that "We did not shy away."
That won't be the only change made to the Road House remake
It seems there'll be a number of other changes made to the Double Deuce in this new version of "Road House." It's worth noting that Jake Gyllenhaal's version of Dalton is, instead of being a legendary cooler, an ex-UFC fighter who's looking for a new occupation. He finds it bouncing in a backwoods Florida Keys roadhouse. But Dalton soon learns that what you see there is not what you get when it comes to his place of employment.
It sounds like a slight departure from the original, which takes place in Missouri and has more of a Cajun flavor to it. We'll have to wait to see whether or not there are gangsters trying to take hold of the Double Duce. as well. Amazon Prime Video's version of the film features the screen debut of UFC champion Conor McGregor. Also in the cast are Daniela Melchior, Billy Magnussen, Gbemisola Ikumelo, Lukas Gage, Hannah Love Lanier, Travis Van Winkle, Arturo Castro, and Beau Knapp, among others. The film has no release date yet, but it's been filming since late 2022.