What Rotten Tomatoes Reviews Are Saying About Evil Dead Rise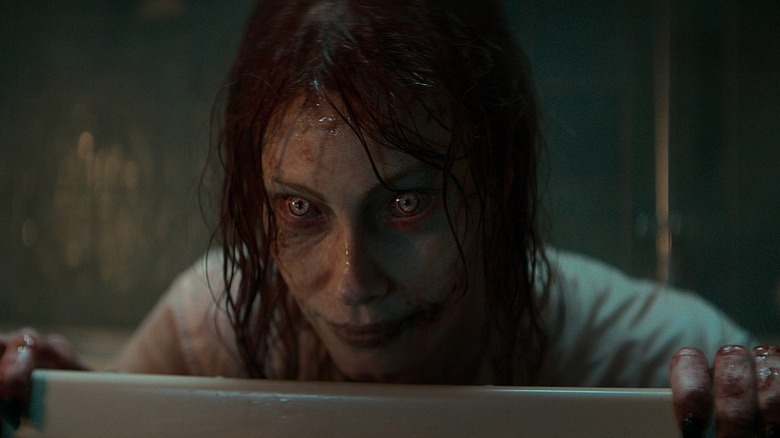 Warner Bros. Pictures
The "Evil Dead" franchise is one of the most consistently blood-curdling and entertaining horror franchises in Hollywood. The original put direct Sam Raimi on the map and spawned a slew of sequels that are equal parts terrifying and downright bonkers. Reviving such a franchise is no easy feat, but if early critical reception is anything to go by, "Evil Dead Rise" has cleared the hurdle and then some.
As of this writing, 44 critics' reviews have turned up on Rotten Tomatoes, with 95% giving the film a positive score. That's very good news for fans, new and old, of the series. Whether you got invested from the beginning or took notice when "Ash vs. Evil Dead" was airing, "Evil Dead Rise" promises to be a bloody good time. Many critics have high praise for the revival, including Perri Nemiroff, who said, "Evil Dead continues to be one of the most consistent horror franchises we have. Lee Cronin & co. could not have understood the assignment any better." And she's not alone in her assessment, as many others uniformly love what Cronin has done with Raimi's world.
Evil Dead Rise stands apart from its horror brethren
As a genre, horror has been on an excellent streak as of late. 2022 had a bevy of excellent horror projects, such as "Nope," "Barbarian," and "Bodies Bodies Bodies." 2023 has taken that torch and ran with it with the immense success of "M3GAN," and it appears "Evil Dead Rise" isn't letting the good times end soon. Anticipation has been high ever since the film premiered at SXSW. While most of social media's attention went toward Bruce Campbell's expert handling of a heckler, everyone else seemed to adore the flick. 
Kat Hughes of Film Disclosure also praised Lee Cronin's direction, writing, "Horror comes home in Lee Cronin's reweaving of the Evil Dead lore; the result is a finely-tuned, expertly executed, genre film that is destined to be a future classic." The praise toward Cronin is well-earned. Sam Raimi hand-selected Cronin to helm the new "Evil Dead" movie, which was initially supposed to be called "Evil Dead Now." The two had previously collaborated on the horror streaming series, "50 States of Fright."
Maria Lattila of WhyNow also gives props to the director: "Cronin is clearly a fan of the franchise and understands the inner workings of how to make not just a good but a great Evil Dead film. Evil Dead Rise is gory, fun and relentless in its terror." Suffice it to say, fans who love prior "Evil Dead" films should get a kick out of the new one. 
Bring on more Evil Dead
Going off of critics' reviews, it appears the most impressive thing about "Evil Dead Rise" is how it manages to honor what's come before in the franchise while still adding new elements that take the series in exciting directions. That's why Kofi Outlaw of ComicBook.com wrote, "The main goal is achieved in that the film sets up a much wider application of the Evil Dead curse, which could make for some fun sequels to come. This may not be the Evil Dead reboot or Army of the Darkness sequel hardcore fans were hoping for, but as far as fresh starts go, Evil Dead Rise is pretty good."
Such praise could easily mean more "Evil Dead" could be on the way. The franchise clearly has a rabid fanbase, as evidenced by the 2013 soft reboot "Evil Dead" as well as "Ash vs. Evil Dead," which ran from 2015 to 2018. And "Evil Dead Rise" pays tribute to its roots by relying heavily on practical effects, especially when it comes to the copious quantities of blood. Lee Cronin reportedly used 6,500 liters of fake blood for the gore, and it paid off in a big way. The review on Casey's Movie Mania had this to say, "The gore is as graphically violent as it gets with a dash of European horror sensibility as if Cronin is channelling Alexandre Aja and Pascal Laugier in some parts."
All of this to say that "Evil Dead Rise" appears to have succeeded in carrying on the legacy of its predecessors. You can see it for yourself while preparing to sleep with the lights on when it comes out in theaters on April 21.