Mike White Explains How The White Lotus Is All About Self-Created Problems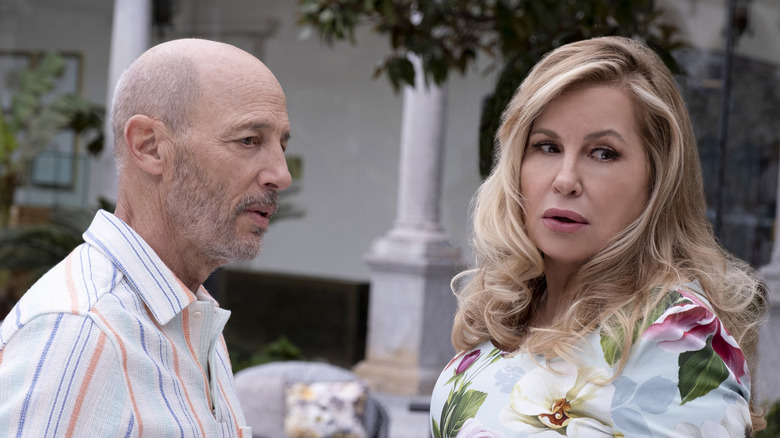 Fabio Lovino/HBO
In its first two seasons, HBO's "The White Lotus" has featured the tragic stories of people stuck in holes they appear to be digging deeper with each moment. In Season 1, that pathology falls mostly to Rachel Patton (Alexandria Daddario), a fledgling journalist in an unsatisfying marriage with Shane (Jake Lacy), a wealthy real estate agent with an anger management problem and a comically overbearing mother. Rachel spends the entirety of Season 1 extracting herself from her marriage before running back to Shane's arms in an airport scene that crushed the hearts of viewers.
In Season 2, the focus shifts to Daphne (Meghann Fahy) and Cameron (Theo James). Daphne is willing to overlook Cameron's brazen infidelity if she is allowed her own discreet transgressions and fleeting instances of private control in their relationship. Season 2 also brings back Tanya McQuoid (Jennifer Coolidge), who hurriedly marries Greg (Jon Gries) in Season 1, only to have him spend Season 2 engaged in a plot to kill her.
In an interview with The Ringer, series creator Mike White explained how many of the show's characters are creating their own adversity. "These people are creating problems for themselves," White said."They don't really have problems. To me, romance is the definition of a self-created problem. You've decided to give up the power of your self-narrative to this idea. Maybe that's cynical, but then it does make you go, like, 'Well, there's other ways to engage sexually and with other people.'"
Mike White singled out Lucia and Mia for getting what they want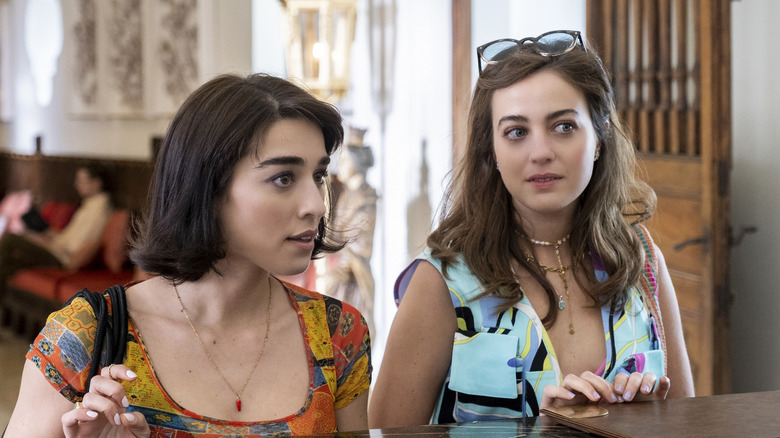 Fabio Lovino/HBO
Season 2 of "The White Lotus" also introduces two Sicilian sex workers, Lucia (Simona Tabasco) and Mia (Beatrice Grannò), who spend the season trying to extort money from Hollywood producer Dominic Di Grasso (Michael Imperioli) and his son, Albie (Adam DiMarco). In the Ringer interview, Mike White went on to single out Mia and Lucia for elevating themselves from the trappings of romantic love. "This isn't a pro-transactional sex show, but what I like about Mia and Lucia is that they know what they want," he says. "They go and they get it."
"Compare that to Tanya, where she's so obsessive about Greg. I know women like this where they like to finger the wound. They like to live in the pain of it. They're tragic people and that's why, in this case, she has a tragic ending." 
Where Tanya's tragic ending involves her falling to her death from a yacht, Daphne appears headed for perpetual dissatisfaction with her relationship. Meanwhile, Albie will likely continue to be taken advantage of in the futile pursuit of his own unreachable romantic goals. 
Variety has reported that Season 3 of "The White Lotus" is headed for Asia with a focus on religion and spirituality, so the show may be moving its emphasis away from unsatisfying earth-bound relationships. Still, viewers will have to wait and see exactly what White has in mind for his next contingent of White Lotus resort-goers.