New Amsterdam Honored Jery Hewitt For His Work As A Stunt Coordinator
Bobby Bank/Getty Images
The Season 3 premiere of "New Amsterdam" ended with a title card that paid respects to Jery Hewitt. "In memory of Jery Hewitt and the lives we lost in 2020," it read. The reference to the rest of the lives lost in 2020 likely refers to the COVID-19 pandemic, which has been incorporated into the plot of "New Amsterdam." However, casual viewers probably didn't know who Hewitt was.
Hewitt was a big deal in the stunt world, serving as the stunt coordinator for 14 episodes of "New Amsterdam." He also worked on multiple films, including "The Big Lebowski," "No Country for Old Men," "The Bourne Ultimatum," and "Coyote Ugly," just to name a few. 
In addition to being a frequent collaborator with the Coen Brothers, working as the stunt coordinator on 14 of their films, he also worked on Dick Wolf's "Law & Order" franchise for many years. In fact, he was the stunt coordinator for the entire run of the original "Law & Order" series (before its revival) as well as 22 seasons of "Law & Order: Special Victims Unit." In total, he's worked on over 300 episodes of "Law & Order" between the two shows.
Hewitt died in 2020 at age 71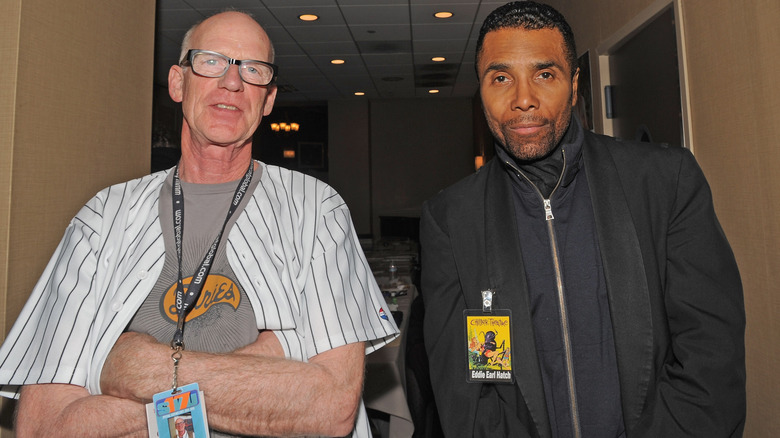 Bobby Bank/Getty Images
According to Deadline, Hewitt died of a stroke on November 21, 2020, at the age of 71. His wife, Jennifer Lamb, was with him at the time. Lamb worked with her husband as a stuntwoman on some of his projects, most notably, "Law & Order." The cause of death was confirmed by both his family and Wolf Entertainment. He is also survived by his four children, Harry, Kevin, Sam, and Molly.
Although Hewitt was best known as a stunt coordinator with dozens of projects under his belt dating back to the 1980s, he was also an actor. He often played small roles, but he did appear in films like "The Wanderers" and "Get Rich or Die Tryin'."
Hewitt even made a few appearances in some of the shows where he did stunts. In 1997, he appeared in Season 8, Episode 3 of "Law & Order." He played the SWAT leader in an episode titled "Navy Blues." Hewitt also appeared in an episode of "New Amsterdam" in February 2020. In the Season 2 episode, "In the Graveyard," he played the black car driver.