New Wicked Images Give A Magical First Look At The Witches Of Oz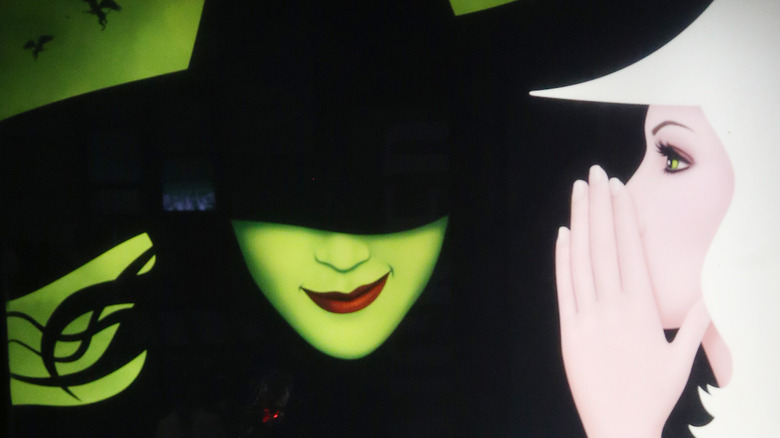 Bruce Glikas/Getty Images
The stars of "Wicked," a two-part cinematic adaptation of Stephen Schwartz's hit musical, just dropped a pair of first-look costume teaser images. 
On her Instagram, Cynthia Erivo shared an image of herself as Elphaba — better known to fans of "The Wizard of Oz" as the Wicked Witch of the West. Erivo's face is mostly obscured, and she's mostly covered in a black, billowing cloak, but her green-tinted skin is visible just beneath the brim of her pointed witch's hat. It looks as if she's carrying a broom as well. In conjunction with the emerald-painted architecture, this suggests that Erivo has shared a still from the movie's version of "Defying Gravity," the Act 1 finale number where Elphaba escapes the Emerald City after being falsely accused of heinous crimes. 
And on her Instagram, Ariana Grande shared an image of herself as Galinda, better known to fans of "The Wizard of Oz" as Glinda the Good Witch. Grande's face is similarly difficult to make out, as the shot is wide enough to capture a sprawling, floating staircase. That said, her blonde curls and voluminous pink gown are on full display. In the still, Galinda appears to be running up some steps, possibly toward the location seen in Erivo's picture. 
Neither Erivo's post nor Grande's was shared with any adjoining comment. 
Wicked is a story about unanswered questions
s_bukley/Shutterstock
The stage musical "Wicked" is based on "Wicked: The Life and Times of the Wicked Witch of the West," an unauthorized prequel novel by Gregory Maguire. The story questions our perception of evil and how it's shaped by those in charge. During a 2020 interview with Broadway World, Maguire said as much, stating, "To be ambiguous was my intent in the novel ... I wanted to pose the question, 'How do we know what evil is and how do we know when we see it?' ... but I did not want to answer it. I wanted that answer to have to be the job of the reader ... I wanted people to think ... because all human behavior is mysterious and ambivalent, and it is our job to look at contradictory information and come to the best conclusions about it that we can."
As of this writing, "Wicked" is in principal photography under the direction of John M. Chu, who recently landed another musical movie adaptation — Tim Rice and Andrew Lloyd Webber's "Joseph and the Amazing Technicolor Dreamcoat." 
The first "Wicked" film is set to release on Christmas Eve, 2024, with the second film scheduled for release on Christmas Day, 2025.