Wicked - What We Know So Far About The Two-Movie Adaptation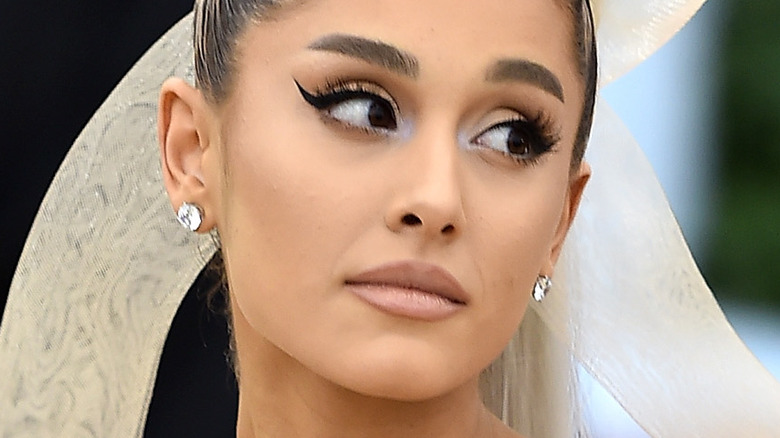 Theo Wargo/Getty Images
There's always more than one side to every story; "Wicked" puts a new spin on the classic "The Wizard of Oz." Instead of young Dorothy Gale as the heroine, this enthralling narrative spins perspectives to that of Elphaba and Galinda (later Glinda). Their names might not seem familiar at first glance, but these figures will become the Wicked Witch of the West and Glinda the Good Witch, respectively.
Gregory Maguire's novel "Wicked: The Life and Times of the Wicked Witch of the West" was a revelation for "Oz" fans upon its release in the '90s. This contemporary look at the characters created by L. Frank Baum almost 100 years earlier caught the eye of Broadway. The musical adaptation of "Wicked" by Stephen Schwartz and Winnie Holzman proved to be a hit in and of itself, winning numerous awards and seeing productions staged throughout the world.
It was inevitable that talk of a movie adaptation would quickly follow the musical's release. Since the early '00s, however, the project has been stuck between shifting dates, changing creatives, and numerous starts and stops. All of it finally appears to be over with a confirmed director, cast, and release dates for a story so ambitious it will take two films to tell.
Here's what we know so far about the "Wicked" films.
When will Wicked be released?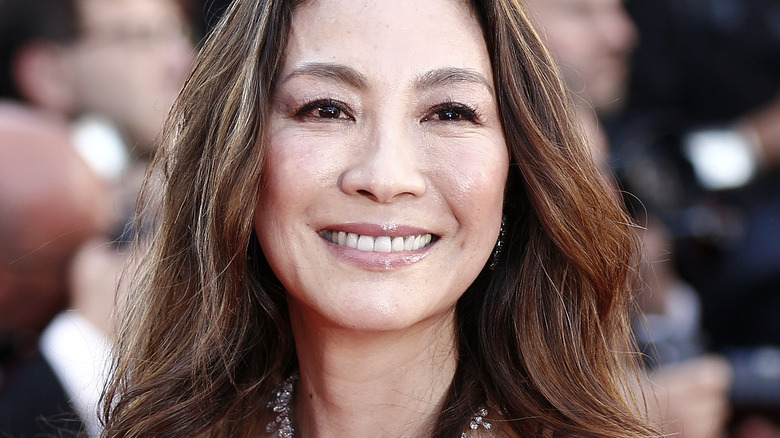 Andrea Raffin/Shutterstock
The current schedule sees "Wicked" broken into two films, premiering in 2024 and 2025. This strategy offers viewers more time with the characters as well as a more faithful adaptation of the source material. Director Jon M. Chu brought the news to fans through social media. In his statement, Chu spoke about the reasons behind the extended schedule. The filmmaker divulged that pre-production showed how massive a project "Wicked" would be. He went on to say a single film would do damage to this large narrative. "With more space, we can tell the story of 'Wicked' as it was meant to be told while bringing even more depth and surprise to the journeys of these beloved characters," he tweeted.
Release dates are always subject to change, something this project has proven time and time again. As the film jumped from rumored director and producer, release dates also got pushed back. Since 2010, there have been at least two announced, with production apparently stuck in the early stages (via Vulture).
Who stars in Wicked?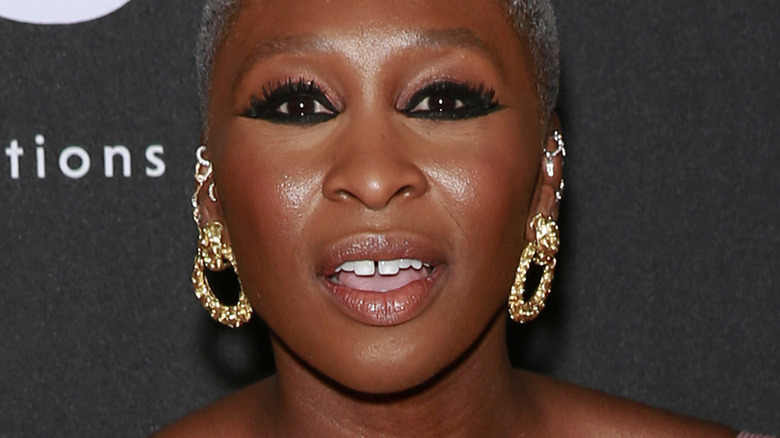 Ovidiu Hrubaru/Shutterstock
It goes without saying but the women at the heart of the story, Elphaba and Glinda, require dynamic performers. The original Broadway run more than fit that criteria with Idina Menzel starring as Elphaba and Kristin Chenoweth as Glinda; their pairing created an iconic experience for theater fans. While the duo was rumored to star in a film at one point, it was not to be. For Menzel, there's still interest in appearing in some capacity (via People).
The films are not suffering for talented leads though, with Ariana Grande and Cynthia Erivo starring as the witches. Erivo will be starring as the future Wicked Witch Elphaba and Grande takes on the role of Glinda. In a nod to the musical's fanbase, both actresses reached out on social media to announce the casting. "Pink goes good with Green," Erivo posted. Grande was equally excited about the project, simply writing "thank goodness" in the caption of her post (via Deadline).
Erivo and Grande will be surrounded by an equally talented cast for this two-part musical journey. Michelle Yeoh has been announced as Madame Morrible — The Crage Hall at Shiz University headmistress who plays an important part in the lives of young witches. Her connections to the Wizard himself provide intriguing clues into the character later encountered in "The Wizard of Oz" (via Deadline). This marks another collaboration between Yeoh and director Chu, previously working together on 2018's "Crazy Rich Asians." Jeff Goldblum is another addition to the cast. He'll play The Wizard himself, a familiar role that has become a part of film history with the 1939 classic (via Broadway.Com).
What is the plot of Wicked?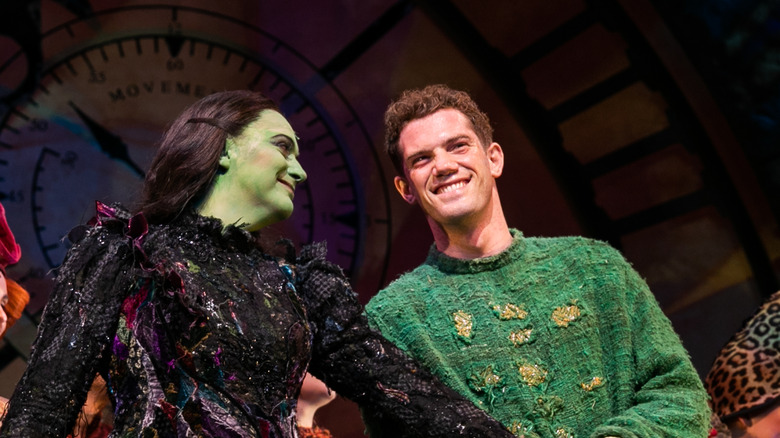 Darren Bell/Getty Images
The musical version of "Wicked" takes part in two acts; that might be a clue as to how the films will present the narrative across their 2024 and 2025 releases. Act 1 of the musical introduces the audience to Elphaba. Glinda recounts how the recently deceased witch came to be the figure everyone knew as the Wicked Witch of the West. The two met while at Shiz University and began an unlikely friendship. Recollections reveal why Glinda changed her name and how Elphaba's upbringing was anything but nice. It ends with Elphaba leaving the university after learning a dark secret.
Act 2 shows a new perspective as to how Elphaba got back to Oz. Her quest to do right by old friends leads to serious consequences. Both witches learn disturbing truths about this seemingly perfect place as well as the man who leads it. As events unfold, those out to get Elphaba face their own reckoning. It all points to a surprising end that is both heartbreaking and beautiful.
Who is directing Wicked?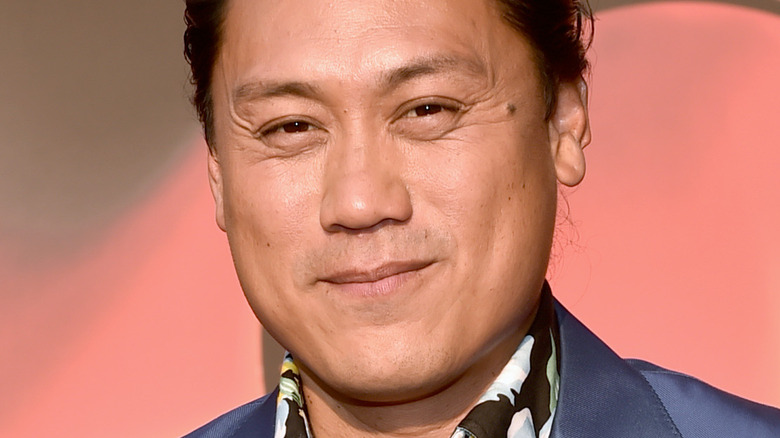 Alberto E. Rodriguez/Getty Images
Jon M. Chu is set to direct both "Wicked" films. The director seems a perfect fit for a musical full of energy and fantasy. Prior to taking on the ambitious two-film project, Chu helmed "In The Heights." A Broadway adaptation itself, it brought Lin-Manuel Miranda's pre-"Hamilton" work to life with a vigor that matched the original production. The film hit an unexpected roadblock thanks to the pandemic and was the subject of a release scattered between theaters and streaming service HBO Max.
Chu has also been behind some projects which helped define dance for a new generation. He directed "Step Up 2: The Streets" and "Step Up 3D," which are both ranked by Looper among the 35 best dance movies of all time. Each entry saw the franchise build on its fanbase while increasing the depth and difficulty of each dance sequence. After "Wicked" completes production, the filmmaker is expected to return to the "Crazy Rich Asians" franchise with its upcoming sequels, "China Rich Girlfriend" and "Rich People Problems."