What Parents Should Know Before Letting Their Kids Watch All Of Us Are Dead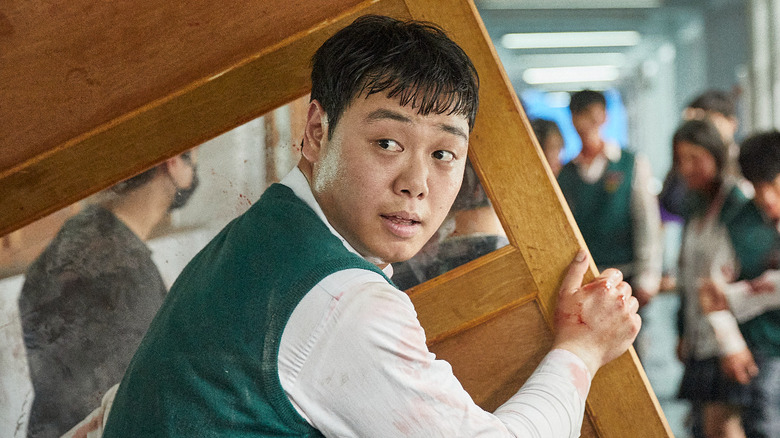 Yang Hae-sung/Netflix
Netflix has obviously gotten the memo that some of the shows to come out of South Korea aren't just worth rolling the dice on, but can even grow to become some of the biggest shows in the world. After the runaway success the streamer had with "Squid Game," Netflix has since gone on to bring other South Korean shows like "Hellbound" and "All of Us Are Dead" to a wider audience.
Based on the webcomic by Joo Dong-geun, "All of Us Are Dead" follows the student survivors of a zombie virus outbreak as they struggle to fight off the undead hordes in their high school. Naturally, considering the popularity of the zombie horror subgenre and the unique nature of this setting, parents might find their kids wanting to check out the popular series.
There is good news for parents. According to Common Sense Media, if your child is old enough to be in high school, they should be able to handle the blood and gore of Netflix's "All of Us Are Dead." Beyond this, however, there is some debate as to what exact age of viewer the show is appropriate for.
The suggested age for viewers ranges from 12 to 15 years old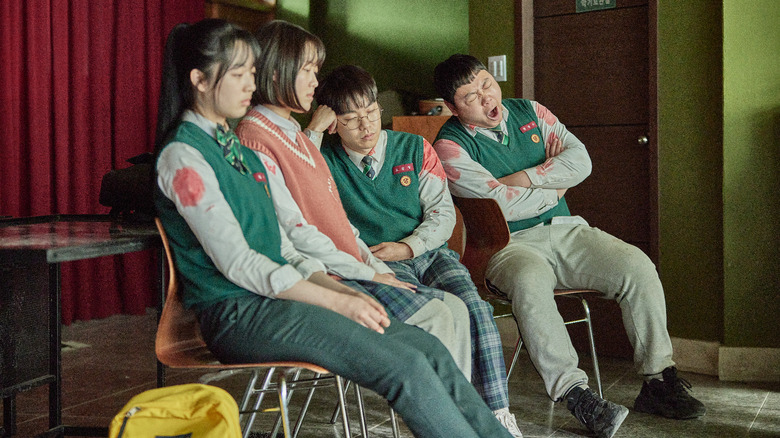 Yang Hae-sung/Netflix
While the official age recommendation from Common Sense Media was that viewers 15 and older are the appropriate age category for "All of Us Are Dead," viewers and parents who use the site weighed in with their own approximations based on experience with their own families and how they responded to the show.
Though the parents polled suggested that the horror series is fit for viewers 12 and older, the kids themselves seemed to put the number appropriate age for the series at 13+. This is only natural when it comes to a show like "All of Us Are Dead," though, as everyone's tolerance for this kind of terror, blood, and gore is different.
The official description from Common Sense offered some pretty clear reasoning for why they rated the series at 15+, however. "The series features heightened violence and gore, including fight scenes and some body horror," the site explained. "There's also at least one scene of sexual assault."
That last bit might especially be something that parents want to know about, as the context of the scene involves bullying and peer pressure. Either way, though these guidelines are no doubt helpful, parents will ultimately have to decide for themselves what age they think is appropriate for a show like "All of Us Are Dead." This is especially important, as Netflix has already revealed the exciting news that Season 2 of the series is on the way.
If you or anyone you know has been a victim of sexual assault, help is available. Visit the Rape, Abuse & Incest National Network website or contact RAINN's National Helpline at 1-800-656-HOPE (4673).