Cobra Kai Season 5 Honored Jeff Kay After Crew Member's Untimely Death
As with all television shows, it takes a whole village to keep Netflix's "Cobra Kai" moving. Fans and viewers are all used to seeing the names of stars, directors, writers, and producers run across our screens at the beginning of each episode, but most of us are also aware of dozens or even hundreds of others who don't make it above the line, but whose work is absolutely necessary in getting a movie or TV show made. And of course, when they're suddenly gone, their absence is noticed by the rest of the cast and crew.
So it is with Jeff Kay. Viewers may have noticed a dedication to him in the Season 5 episode "Playing with Fire." Kay worked on "Cobra Kai," and died suddenly of a heart attack on October 17, 2021, while the series was still filming its fifth season. He is credited as first assistant director on two episodes in Season 5, including Episode 3, "Playing with Fire," and Episode 5, "Extreme Measures." According to IMDb, Kay was born April 11, 1965, making him 56 years old at the time of his death. 
A long career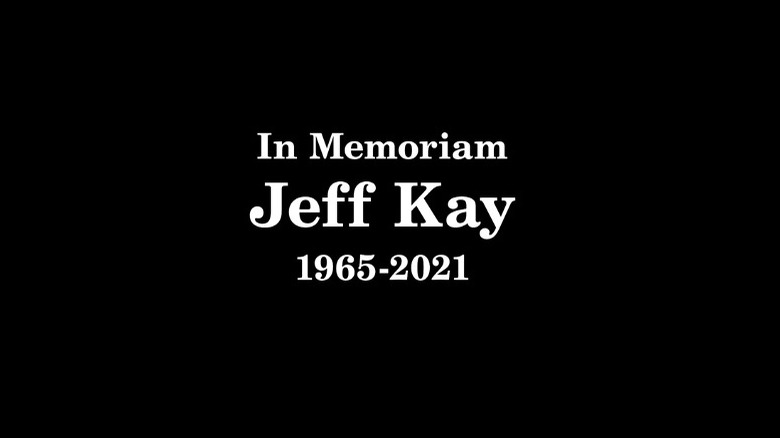 Netflix
Jeff Kay's IMDb page lists more than 40 credits, films, and TV shows he worked on in one way or another since the early 1990s. This includes some work as a production assistant on a handful of films and production manager on a few others. By far the most common role listed on his resume, however, is that of assistant director, both first and second, on projects ranging from "Entourage" to "Numb3rs," "NCIS: Los Angeles" to "Rizzoli & Isles."
A first assistant director's job is rather important if just about anyone on a set wants to get just about anything done. In essence, they are the project manager for day-to-day tasks, assembling the filming schedule, figuring out who and what needs to be where and when. During the shoot they manage all people on set, allowing directors the space to focus on composing shots and directing the actors. 
After hearing of his death, actor Diedrich Bader, who worked with Kay on "American Housewife," shared on Twitter, "My friend Jeff Kay the longtime AD on @AmericanWifeABC died today. He was a beautiful joyful ebullient ray of light and brought nothing but joy to every second and the world is a dimmer place without him & everyone who ever had the chance to know him is better off bc of it. RIP."