Why Corrine From The Marvelous Mrs. Maisel Looks So Familiar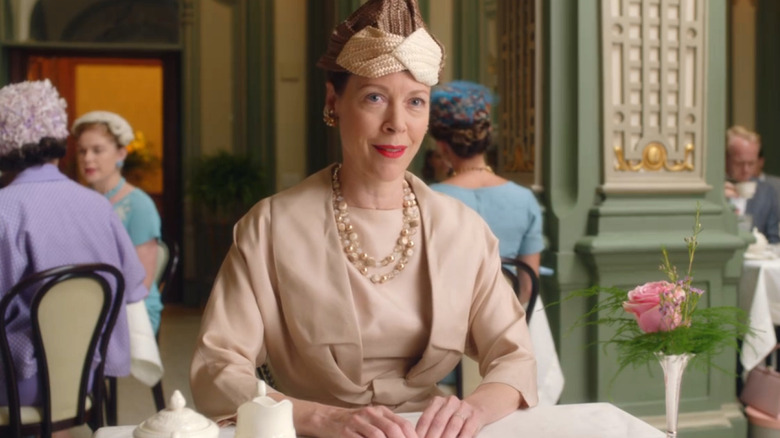 Amazon Prime
Contains spoilers for "The Marvelous Mrs. Maisel" Season 5, Episode 2
"The Marvelous Mrs. Maisel" is just as much about business as it is about friendship. Of course, Miriam "Midge" Maisel (Rachel Brosnahan) and Susie Myerson's (Alex Borstein) friendship drives much of the series, but they're not the only gal pals stealing the screen. While Midge and Susie are working to make people laugh, Rose (Marin Hinkle) and her friend Corrine's (Veanne Cox) friendship is centered on the business of true love.
Corrine first appears while Rose is having tea and praises Rose for her past love matches in Season 3, Episode 7, "Marvelous Radio." At this point, Rose is not considering a matchmaking business and doesn't think much of her success in helping others find romance. Corrine returns in Season 3, Episode 8, "A Jewish Girl Walks into the Apollo ... " and thanks Rose for helping her daughter Shira find love with a veterinarian. To show her appreciation, Corinne gives Rose a set of glasses and starts spreading the word about Rose's matchmaking skills. Corinne has been by Rose's side ever since, and returns in Season 5, Episode 2, which finds Rose in the middle of a war with a group of matchmakers who believe she is intruding on their turf.
And this is not the first time that Cox has found herself in a comedy, or a romance. Here is why Corinne looks so familiar.
Cox played Brandy's evil stepsister in 1997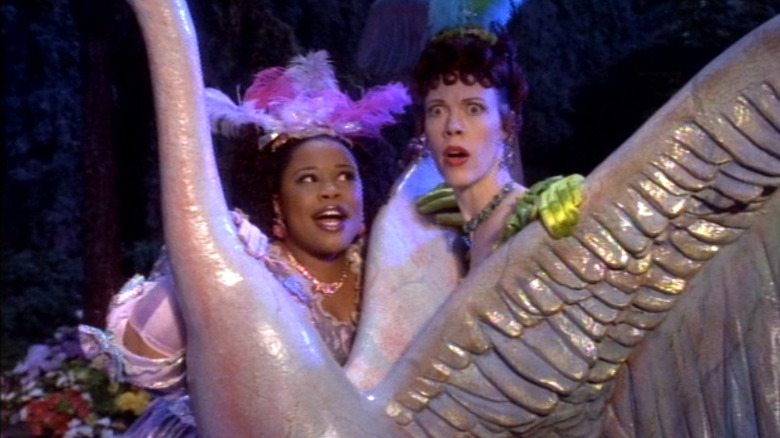 ABC
Before Veanne Cox was encouraging a friend to share her matchmaking abilities, she was bringing plenty of laughs to the small screen in 1997's "Rodgers & Hammerstein's Cinderella" as she tried for her own love match. Cox played Calliope, one of Cinderella's (Brandy) two step-sisters. To the excitement of many, "The Wonderful World of Disney" movie made its way to Disney+ in 2021, and a 20/20 special celebrated the movie's 25th anniversary in 2022. Cox told Entertainment Weekly, "There are very few weeks that go by, even now ... that somebody could not come up to me and say how much it meant and how much it changed their lives and how much it started their lives."
While its equal parts comedy and heart, "Rodgers & Hammerstein's Cinderella" is filled with catchy tunes, many sung by music icons like Brandy, Whitney Houston, and Bernadette Peters. And Cox shows off her own musical talents as well, sharing a duet with fellow stepsister Minerva (the late Natalie Desselle Reid), which finds the sisters expressing their frustration over Cinderella after she charms the prince at the ball. Like much of the cast, Cox also comes from a big musical background, playing roles in the 1986 Broadway musical "Smile" and the 1995 Broadway production of Stephen Sondheim's "Company."
Cox has continued to add iconic projects to her list of credits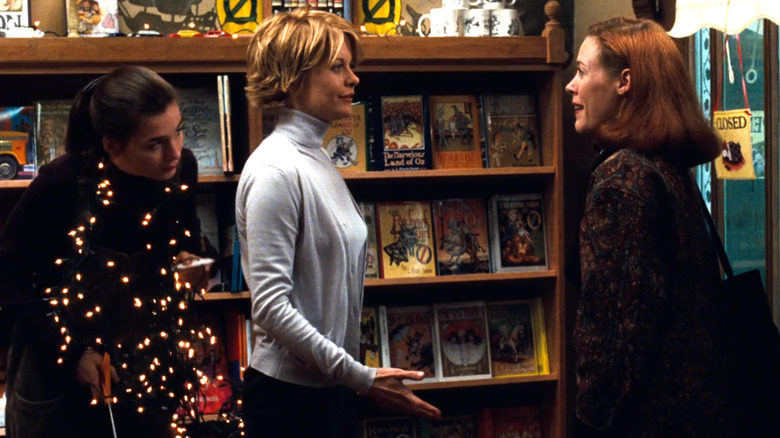 Warner Bros. Pictures
After Cinderella found her glass slipper, Veanne Cox went on to lend her acting talents to some iconic big-screen projects throughout the 1990s and early 2000s. She would appear in Nora Ephron's 1998 rom-com "You've Got Mail," playing Miranda Margulies, an author who pushes off a proposed book signing at Kathleen Kelly's (Meg Ryan) bookshop in order to appear at Joe Fox's (Tom Hanks) new bookstore that is crushing smaller shops, including Kathleen's.
In 2000, Cox would head to the big screen again, playing Theresa Dallavale in the Julia-Roberts-led drama "Erin Brockovich," based on the true story of a lawyer who fought a power company accused of water pollution. Two years later, Cox would share the big screen with another rom-com icon: Sandra Bullock. This time, she played Melanie Corman, a woman who works in hospital administration and is eager to introduce billionaire George Wade (Hugh Grant) to a friend of hers at the beginning of the film.
Since the early 2000s, Cox has spent a lot of time on the small screen, working on shows like "Judging Amy," "Blue Bloods," and "Law & Order: Special Victims Unit." She can even be spotted on "The Mandalorian," appearing as an aristocrat in Season 3, Episode 3, "Chapter 19: The Convert."