The Marvelous Mrs. Maisel: What's The Song In S5 Episode 1's Airport Scene?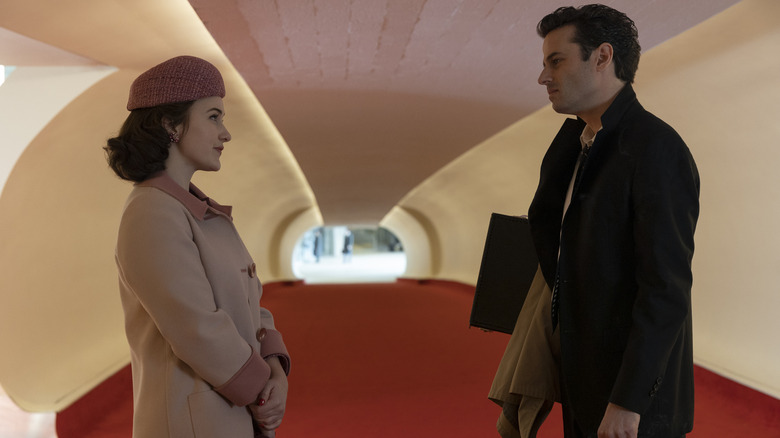 Prime Video
Contains spoilers for "The Marvelous Mrs. Maisel" Season 5, Episode 1
"The Marvelous Mrs. Maisel" central characters are plagued by problems as they move through the Season 5 premiere. Midge Maisel (Rachel Brosnahan) is dealing with a battered toe and career issues. Her agent, Susie Albright (Alex Borstein), busts a tooth on a hard dinner roll and spends much of the rest of the episode avoiding a trip to the dentist. Midge's ex-husband, Joel (Michael Zegen), is falling apart as he deals with running his club, watching the kids, and the fact that his girlfriend Mei Lin (Stephanie Hsu) has rejected his marriage proposal and procured an abortion without consulting with him first. And Midge's ex-in-laws, Moishe (Kevin Pollak) and Shirley (Caroline Aaron), announce they're about to get divorced — at Thanksgiving dinner, no less. But there's nothing that can't be soothed with a little sweet music, and the series offers that in spades.
Take the song that plays over Midge's journey to LaGuardia Airport to deliver Alfie (Gideon Glick), Susie's magician client, to his flight. There, she bumps into Lenny Bruce (Luke Kirby) and the detritus of their one-night stand and argument. That's the smooth, bossa nova-esque sounds of Dinah Washington singing "Relax Max" backing Midge's every move.
Dinah Washington's groovy tunes have a way of popping up in odd places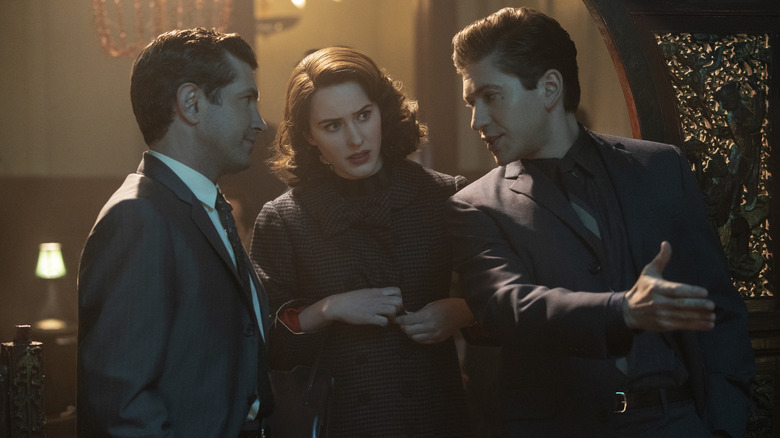 Philippe Antonello/Prime
Dinah Washington had a number of popular covers that made her a must-listen artist from the 1940s onward. Straddling the line between jazz, big band music, and early rock sounds, she ended up becoming very formative in the shaping of rock and roll. Her renditions of "What a Diff'rence a Day Makes," "Unforgettable" and "Teach Me Tonight" have all made it into the Grammy Hall of Fame. Her 1953 song "TV is the Thing (This Year)" was honored by the Rock And Roll Hall of Fame as a formative track that helped shape the early sound of rock music. She's also both a member of the Rock and Roll Hall of Fame and the Big Band and Jazz Hall of Fame.
This isn't the only time "Relax Max" has shown up on TV screens worldwide. The song was also a major part of a mid-2000s ad campaign for the Doubletree Hotel chain. That commercial series helped repopularize the song with the general public; it's since turned up in the 2008 film "Nights in Rodanthe" and the 2018 film "Wildlife." It's the kind of tune that Midge would savor over a highball, making it a perfectly chic pick for the show's soundtrack.