The Covenant's Jake Gyllenhaal Was Told To Not Memorize Any Of His Lines
Jake Gyllenhaal is truly in his action director era. After working with Antoine Fuqua on "The Guilty" and Michael Bay's "Ambulance," Gyllenhaal is now teaming up with Guy Ritchie. Best known for directing "Snatch" and "The Gentlemen," Ritchie has cemented himself as one of the most prolific action directors working today. With "The Covenant," Ritchie is set to work alongside Gyllenhaal for the first time.
The thriller follows Gyllenhaal as an Afghanistan veteran who returns to the war-torn country to save his former interpreter (Dar Salim) from the Taliban. Per the trailers, it looks to be Ritchie's most grounded and restrained project to date.
While promoting the film on Hot Ones, Gyllenhaal discussed the amount of freedom Ritchie afforded him. One of the ways Ritchie allowed Gyllenhaal to explore? Skipping out on memorizing his lines. "With Guy, it was unlike anything I've ever done. He said to me, 'Don't memorize any of your lines,'" Gyllenhaal revealed. It's a rather unorthodox approach, especially when forgetting lines can screw up a scene. The actor continued by saying that "The Covenant's" script came in at 50 pages, as opposed to the standard 100-plus page screenplay he's used to. "[Ritchie] said, 'You come to set. We'll work on it on the day. And you'll go shoot your thing.'"
Jake Gyllenhaal has nothing but praise for Guy Ritchie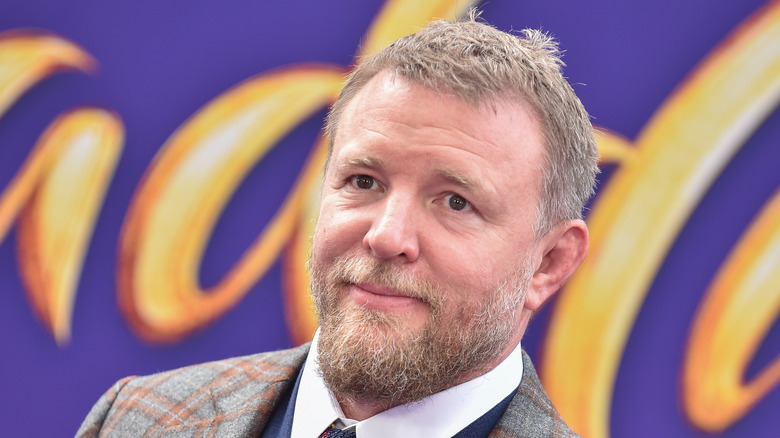 DFree/Shutterstock
While there are several actors, like Donald Glover, who choose not to memorize scripts, it's interesting to learn that Guy Ritchie was behind the unconventional suggestion. Some might even consider Ritchie's proposition to be lazy. The director, however, doesn't see himself as slothful at all. "I'm not lazy when it comes to filmmaking," Ritchie told Vulture in 2017. Taking his job seriously means he has more control. "I set myself quite a high standard when making films, and I'm quite pleased I did, because I could see that the more control of the process I had, the less room there was for volatility and people getting upset," Ritchie continued. 
For Jake Gyllenhaal, not learning lines for "The Covenant" was a worthwhile suggestion. Earlier in the interview, Gyllenhaal expressed how the best part of his job is working with unique creative minds. He described working with the director as "unlike anything [he'd] ever done." Gyllenhaal has worked with a number of prolific creatives in the past, including Ang Lee, David Fincher, and Bong Joon-ho, making his description of Ritchie all the more notable.
The actor continued by describing filming "The Covenant" as "one of the most inspiring creative experiences" he's ever had. "Cause it asked for total let go," Gyllenhaal added. "Just let go. Come in. Figure it out. Figure it out together. I loved it." Memorizing lines over a period of time can lead to a rote performance. If the actor is forced to recite lines with no prep, it's easy for a spontaneous and more involved performance to manifest, which is probably why Gyllenhaal found the experience so pleasing. 
"The Covenant" hits cinemas on April 21 2023.