Why Russell Crowe Took The Pope's Exorcist Role Despite Not Being A Horror Movie Fan - Exclusive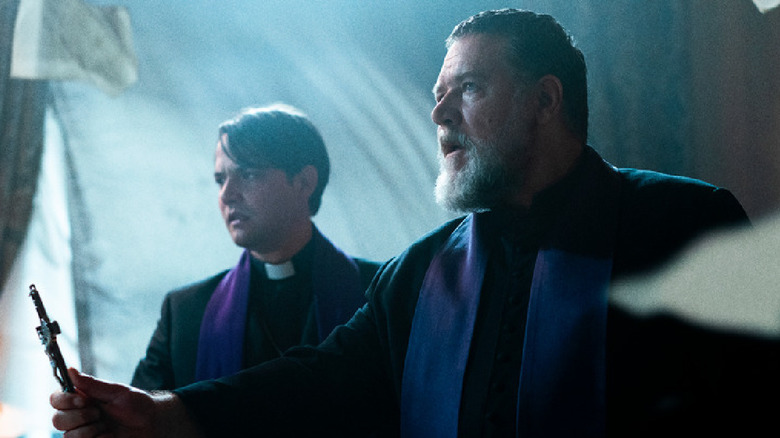 Sony Pictures Entertainment
Russell Crowe has appeared in many film genres. He's done historical melodramas like "Gladiator" and "Robin Hood." He's also donned a different set of capes and tights for superhero fare like "Man of Steel" and "Thor: Love and Thunder." Meanwhile, he's got a couple biopics under his belt with "A Beautiful Mind" and "Cinderella Man." Crowe has even done musicals, Westerns, and comedies throughout his career, but the one genre he hasn't tackled is one of the most popular: horror.
"I'm not really a fan of horror movies," Crowe told Looper in an exclusive interview. "It's not sort of a go-to thing for me." It's not that he hasn't brushed up against the genre now and then. He played classic literary character Dr. Jekyll — and his loathsome alter ego Mr. Hyde — in "The Mummy," but that was more of a dark fantasy adventure. He also played a road rage-fueled menace in "Unhinged," but the violent thriller was perhaps horror-adjacent.
"I like psychological drama stuff and things like that, but I'm not necessarily a cut-and-dried horror movie fan," Crowe said. This makes his new movie — "The Pope's Exorcist" — that much more intriguing, and fans are all in too.
Why did Russell Crowe pick The Pope's Exorcist as his first horror movie?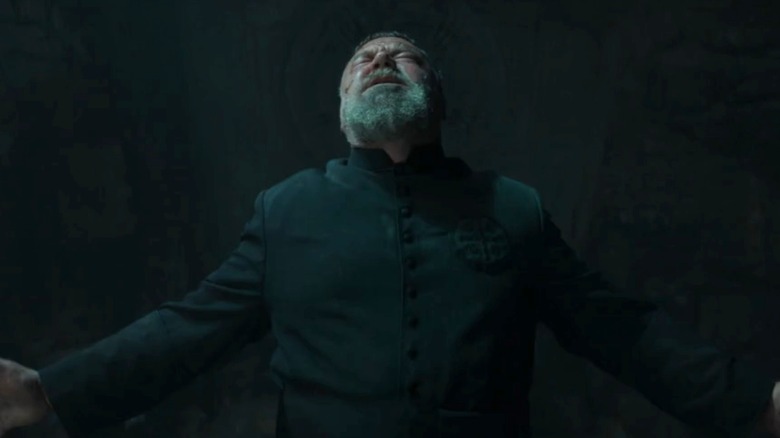 Sony Pictures Entertainment
In "The Pope's Exorcist," Russell Crowe stars as Father Gabriele Amorth, an Italian priest who works for the Vatican as an exorcist; however, the seasoned Amorth is not prepared for the evil unleashed in a Spanish abbey when a young boy is possessed. While the plot is interesting, it was something else that hooked Crowe.
"What was interesting about this movie was the fact that the central character was a real-life person," Crowe said. Father Amorth was a real priest who worked as an exorcist for the Vatican while writing a dozen books detailing his many experiences. "When I read 'Chief Exorcist for the Vatican,' I thought this was a snappy work title that would be made up by a Hollywood screenwriter," Crowe said. "I had no idea it was a real job, but it was the research and looking into it that actually really caught me up."
While the movie's events are fictional, it was the real-life component that made this Crowe's horror baptism. Specifically, the fact that Amorth became the Chief Exorcist for the Vatican and left behind so many first-person accounts is what intrigued Crowe. 
"The events of the real-life of Father Gabriele Amorth are fascinating," Crowe said. "Becoming an exorcist and then becoming the actual legitimate Chief Exorcist for the Vatican — that just caught my imagination. It's such a rich vein because he's a guy that documented his experiences. He left behind 12 books of his first-person experiences, so from my perspective, you can't get better than that."
"The Pope's Exorcist" is in theaters now.