'Are You Not Ordained?' Russell Crowe Fans Are All In For The Pope's Exorcist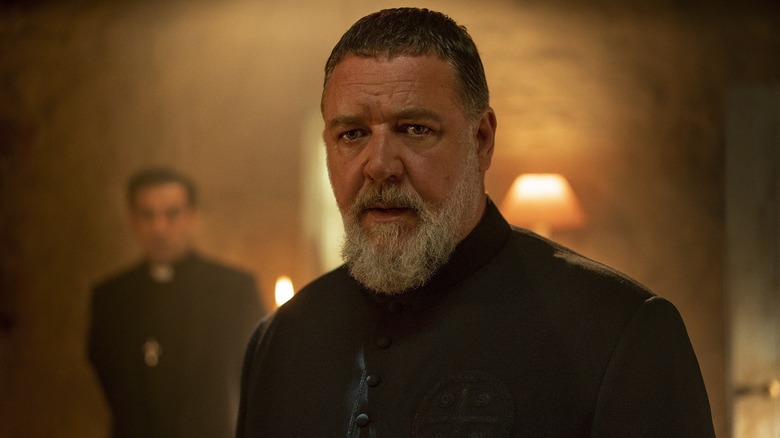 Sony Pictures
The horror genre has come a long way in the past four decades. A far cry from the fear and nausea that 1973's "The Exorcist" inspired, we now bathe in the warm waters of horror camp. Prolific series such as "The Conjuring" has attracted well-regarded actors Vera Farmiga and Patrick Wilson into the demon-infested territory. And now the next up for the challenge is none other than Academy Award winner Russell Crowe. "L.A. Confidential." "Gladiator." "A Beautiful Mind." Crowe's impressive credits started him on a path that has led him to a new journey into demon possession: "The Pope's Exorcist."
Starring as the real-life priest, Father Gabriele Amorth, Crowe appears to be going all in if the trailer for "The Pope's Exorcist" is any indication. The titular exorcist admitted to performing a myriad of exorcisms and also wrote his accounts in a book before his death in 2016. With Crowe in the driver's seat, there is no doubt that the upcoming film will be a wild ride, and fans can't wait to get on board.
The more outrageous the better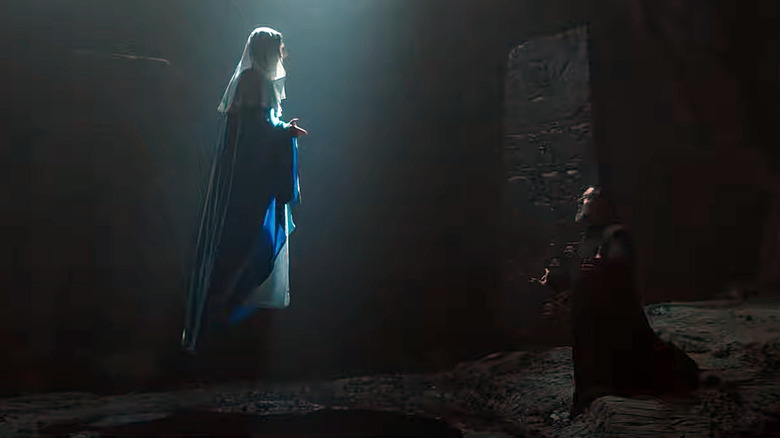 Sony Pictures
The fun of these religious-themed horror movies is how willing fans are to buy into the concept. "The Conjuring" is also based in some truth, even if the story of Ed and Lorraine Warren's investigations are stretched for entertainment value. Hoax or not, an entertaining film is an entertaining film. And after news of "The Pope's Exorcist" broke, it seems to have delighted fans on Reddit in quite the same fashion.
"This is like one of those fake movies from '30 Rock.' I'm totally in!" proclaimed melcolnik. Like "30 Rock," many fans are fully committed to the bit and completely self-aware about it. Crowe has proven he has a sense of humor with comedies such as "The Nice Guys." And with this caliber of performer behind the movie, it could be better than fans ever could have dreamed. Many have encouraged the film to go even more over the top than featured.
"I kinda wish they played this completely straight but he used a shotgun to exorcise demons," noted ArchDucky. Fans on Twitter added to the discourse, noting the fine line the film looks to be balancing on. "[I]t looks like it falls into the gap between fun hokey nonsense (The Conjuring 3) and serious examination of faith (The Exorcist 1 & 3)," posted @WhitlockAndPope. For fans of the genre, this has been nothing but good news.