Vanderpump Rules: Tom Sandoval Reveals He Dumped Ariana On Valentine's Day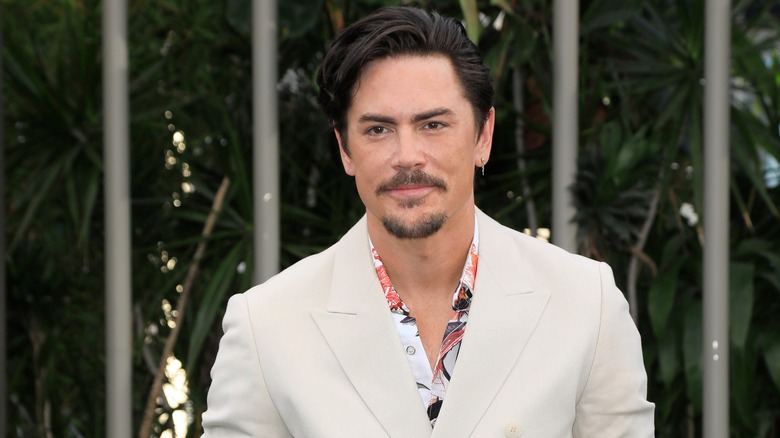 Joe Seer/Shutterstock
The "Vanderpump Rules" scandal to end all scandals — dubbed "Scandoval" by fans after one of the major players — just keeps getting weirder.
On April 11, 2023, Howie Mandel (yes, the guy from "Deal or No Deal") had Tom Sandoval, the center of Scandoval itself, as a guest on his podcast "Howie Mandel Does Stuff." This marks Sandoval's first interview after news broke that he spent seven months having an affair with fellow cast member Rachel "Raquel" Leviss behind his girlfriend Ariana Madix's back... and it was a bombshell.
Sandoval made quite a lot of claims in this interview — mostly, that Madix was unhinged throughout the end of their relationship and refused to accept that he wanted to end things. Telling Mandel that he ended his relationship with Madix on Valentine's Day 2023 but that she refused to accept it, Sandoval said, "We were broken up. She knew we were broken up. We didn't tell anybody, but she knew." He also claimed that the two had been growing apart for some time, saying, "I still love Ariana, and I care about her very much. But we, for a while, had sort of just having our own lives."
Tom Sandoval says Ariana Madix just refused to accept their breakup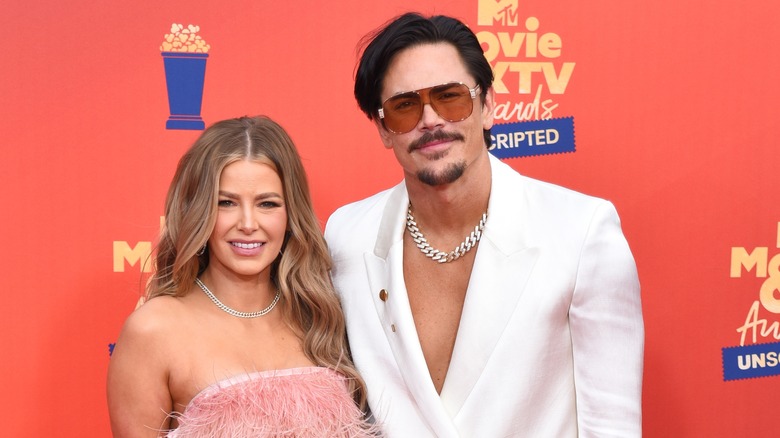 Michael Mattes/Shutterstock
According to Sandoval, Madix just refused to believe that they were broken up. "We didn't tell anybody, but she knew," he told Mandel. "She was trying to, like convince me not to be broken up ... but that was not the case. She asked me that day as we were leaving about, like — because we had talked about fertilizing [her] eggs, which I never did. She was like, 'So, what do you think about doing a sperm check to fertilize my eggs?' And I'm like, 'What? We're broken up.' ... I was like, 'We'll talk about this later, I gotta go do my show.'"
Sandoval is, of course, referring to the day that he played a show with his cover band that he personally subsidizes, Tom Sandoval and the Most Extras. During his concert, where he did not perform any original music and paid his band to be there, Madix allegedly found explicit videos of Leviss on Sandoval's phone when it fell out of his pocket and onto the stage. 
It's important to note here that Madix, apart from an Instagram post where she dropped the iconic line "whatever doesn't kill me better run," has not spoken out yet in any official interviews — making this Sandoval's account, and not the full story.
What's going on with Tom Sandoval and Rachel Raquel Leviss?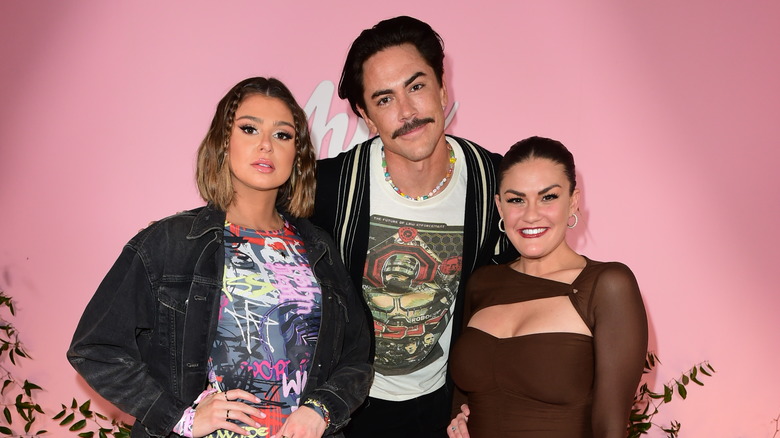 Vivien Killilea/Getty Images
So what's happening with Sandoval and Leviss if, as he claims, he did end his relationship with Madix before the entire scandal actually broke? Well, for starters, he told Mandel that the two began their affair after the "guy's night" that viewers saw in Season 10, Episode 7 of "Vanderpump Rules." Apparently, things got going not long after that night: "And then we were back at my house, just talking. I'm locked out of my house. We just kissed. It was magnetic. We were talking, moving closer, and as we were talking, as time went on, we would just start talking closer and closer, and then all of a sudden, we're kissing. I felt something I haven't felt in so long — like, emotionally."
The two haven't revealed much about their current relationship standing — Leviss staged a bizarre interview by a nail salon in a strip mall where she stayed mum on their relationship status, and Sandoval told Mandel they're not "putting a label on it" and are "taking a break." Fans will have to wait until the reunion, which airs on Bravo on May 24, to get more information, and for now, new episodes of "Vanderpump Rules" air on Wednesdays at 9 P.M. EST on Bravo.