Whatever Happened To Red Dress Boutique After Shark Tank?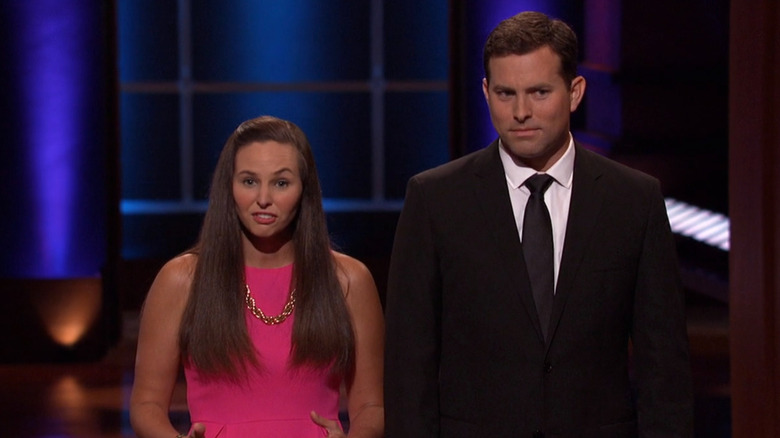 ABC
We all want to dress to impress, but no one wants to go broke while doing so. That's where Diana and Josh Harbour's curated fashion company, Red Dress Boutique, comes in to offer a stylish solution. Created in 2010, Red Dress Boutique offers quality dresses and other women's clothing at significantly more affordable prices than competitors. 
The sharks got to try the business on for size on "Shark Tank" Season 6 when Diana and Josh asked for an investment of $600,000 for 5% of the company. Red Dress' rapid growth blew the sharks away, as the company grew from $83,000 in revenue in 2010 to $7 million in 2013 and was on track to hit $12 million by the end of that year. Much of this was thanks to Diana's heavy use of social media marketing and customer interaction. Some of the sharks ultimately felt that they offered little if any value to the business. However, Robert Herjavec and Mark Cuban showed interest and, after some negotiating, were willing to give $1.2 million for 20% of the business, with each shark taking 10%, which the couple accepted. 
Sadly, Herjavec did not close in on the deal, leaving Cuban to help build the company further. But things with the ever-growing business haven't always been a perfect fit. 
Diana and Josh had a big decision to make
Diana and Josh Harbour's Red Dress Boutique saw some major attention after their "Shark Tank" deal — but it came with a big catch. The team made $1 million in only six days — an amount that normally took a month to generate prior — after the episode's airing. As a result, their website received immense traffic and ended up crashing. With worries that the website wouldn't be able to take on the mass influx of new customers, the couple figured that getting a new website built would be the best option. But such a move came at the risky cost of $250,000. Despite numbers doing well for the company overall, investor Mark Cuban thought the new website is a bad idea, with worries that too much change to the brand will drive down sales. Initially, Diana and Josh pushed past his recommendation and set off to make the new site. 
However, they ultimately didn't go through with the action and instead allowed Mark's team to give appropriate updates to the old site. With the money that they saved, the couple was able to expand their business further. They expanded their product line to include home decor and are developing an in-house clothing line and an app. By the end of 2014, they made $14 million and have since had an annual revenue of nearly $30 million.