Shark Tank's Robert Herjavec Gets Candid About The Show's Ability To Change Lives
The road to success for any business is a long and arduous one. The trials and tribulations of operating one can prove exhausting, with even successful businesses coming across their fair share of major hurdles. So it helps to have someone on your side who can ensure that things run smoothly through any and all challenges. And that's where "Shark Tank" comes in.
Since debuting in 2009, the show's panel of wealthy investors, known as the sharks, have made dreams come true everywhere. A well-done business pitch and a wide-eyed entrepreneur are all it takes for the sharks to go gaga and even fight amongst themselves for the chance to invest their millions into the opportunity. While there has been a fair share of less successful partnerships, many of these collaborations ultimately benefit everyone involved, with Lori Grenier's investments alone making a combined $1 billion.
It seems almost impossible for such an opportunity to exist for regular, everyday people, but "Shark Tank" has proven that anyone has the potential to make it big. And for longtime shark Robert Herjavec, that notion is what makes it all worthwhile.
Herjavec is a believer in the American dream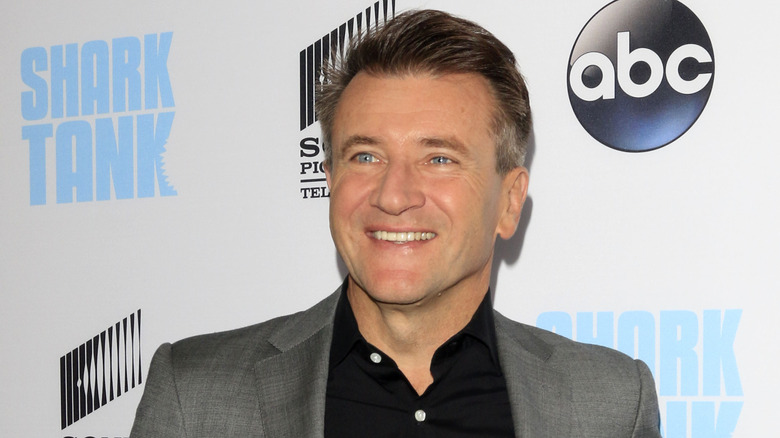 Kathy Hutchins/Shutterstock
Perhaps there's no shark more fun to party with than Robert Herjavec. The Canadian businessman is well-known on the show for his jovial and infectiously fun personality. Many things can make Herjavec crack a smile — whether it be rock and roll guitars or puppies — but what makes him truly satisfied is knowing what "Shark Tank" has managed to do for countless individuals.
In an interview with The Kelly Clarkson Show, Herjavec excitedly shares what makes him so passionate about working on the show. "When those doors open and somebody comes out, it's their opportunity to change their life," he explains. "And as melodramatic as it sounds, America is about possibility ... it completely changes their lives, and I love that about the show." He goes on to describe the benefit of entrepreneurs learning the ins and outs of running a business when paired with a shark.
If anyone knows about the American dream, it's Herjavec. Having immigrated as a child from socialist Yugoslavia, Herjavec and his family struggled initially before his big break with the internet security company BRAK Systems. When describing what makes him stand out in a Shark Tank interview, he says, "I think what makes me different from the other sharks is I'm an actual immigrant. I actually came here on a boat. That shapes a lot of how I think and who I am."