Why Longmire's Walt Looks So Familiar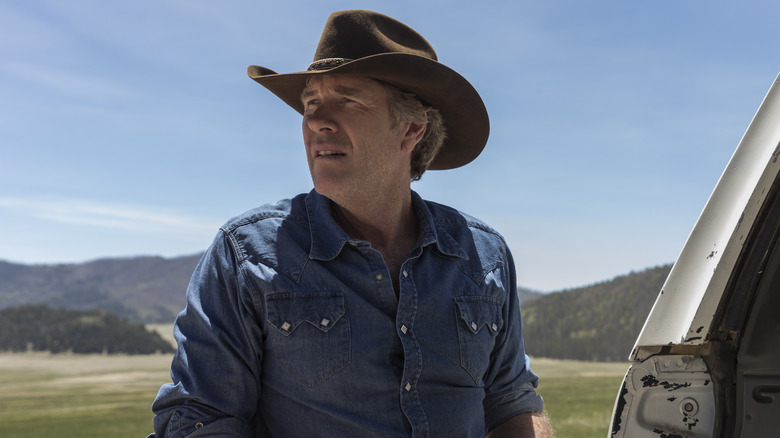 John Golden Britt/Netflix
Based on Craig Johnson's mystery series, "Longmire" centers on Walt Longmire, the elected sheriff of Absaroka County, Wyoming. An intelligent but reserved lawman, Longmire investigates crimes around the area alongside his deputies Branch Connally (Bailey Chase), Archie "The Ferg" Ferguson (Adam Bartley), and Victoria "Vic" Moretti (Katee Sackhoff).
In fact, the sheriff is so terse, he tends to answer questions about injuries with "Hurt it" or "Started bleeding." Luckily he's also an honorable man with a strong sense of justice. Show writer Sarah Nicole Jones told Criminal Element in 2012, "Walt is that guy, that one teacher or boss that taught you something, for better or worse."
Actor Robert Taylor is certainly best known for his performance as the title character, and he played the role across the show's entire run, which included six seasons and 63 episodes, first on A&E and later on Netflix. However, Taylor has also been appearing in blockbuster movies, TV films, and television shows since 1988. Here's where you've seen him before and after the hit series.
Taylor appeared on multiple episodes of Home and Away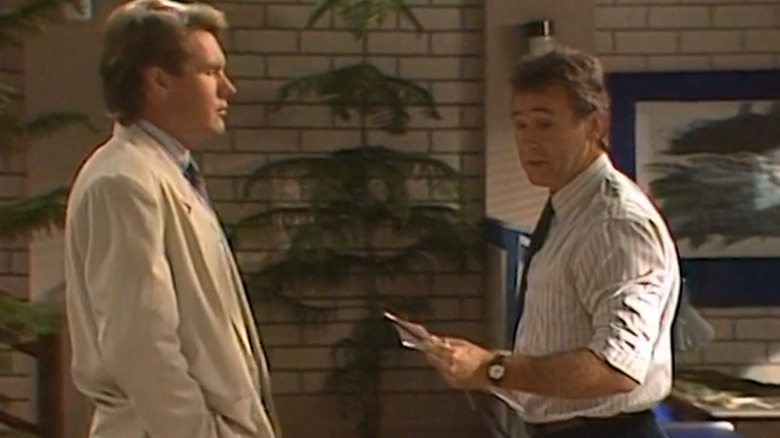 Seven Network
Robert Taylor has largely worked in his home country of Australia's television and film industries. He even made his debut in the Lee Majors TV movie "Reed Down Under." Taylor told the Houston Chronicle in 2013, "The last time I had a job that wasn't an acting job was '88, and I'm quite proud of that."
His first big break was a recurring part on multiple episodes of the long-running Australian soap opera "Home and Away," which is still on the air as of 2023. Taylor debuted on the series as villain Nicholas Walsh in 1989. Nicholas is a scheming businessman engaged to Stacey Macklin (Sandie Lillingston). However, Walsh is actually working with Stacey's father Gordon (Ron Haddrick) to buy the caravan park from the Fletchers.
Ultimately Walsh's various machinations are foiled, with Taylor not appearing on the show again after 21 episodes. He continued to work on Australian productions for another decade, including "The Feds" mini-series and even an episode of "Flipper," until a massive film came calling.
He's Agent Jones in The Matrix
It's no surprise Robert Taylor was cast as Longmire given the actor's strong, square-jawed look and presence. Still, fans of the show might not connect the dots with his clean-shaven performance as Agent Jones in "The Matrix," though both characters are laconic agents of the law.
Jones, Agent Smith (Hugo Weaving) and Agent Brown (Paul Goddard) are machines who enforce the Matrix's rule over the human population. However, where Smith speaks the most and is slowly developing a fanatical hatred of humanity, Jones and Brown are much more "programmed" and only talk when they absolutely have to.
The agent helps Smith interrogate Neo (Keanu Reeves) and he later famously takes a bullet from Trinity (Carrie Anne-Moss) during the climactic fight. It's not a flashy part, despite "The Matrix" becoming an outright pop culture phenomenon, but this suits Taylor just fine. In his 2013 interview with the Houston Chronicle, Taylor said, "It's been my goal to work as much as possible, and be as unknown as possible."
Taylor was a K2 base camp operator in Vertical Limit
Taylor's next big role was as a supporting character in the 2000 climbing thriller "Vertical Limit." Skip Taylor is the leader of the K2 Base Camp, where the main characters, including Annie Garrett (Robin Tunney) and her brother Peter Garrett (Chris O'Donnell), plan a summit to K2, the second-highest mountain on Earth.
Later in the film, Skip warns the crew over the radio against taking the trek any further as a storm is approaching. However, financier Elliot Vaughn (Bill Paxton) insists on the expedition continuing up the mountain. As a result, several expedition members are killed, while Annie and multiple other characters are trapped in a crevasse. Skip originally joins the rescue mission alongside Peter, though he ultimately hangs back at base camp to direct them in saving the mountaineers.
"Vertical Limit" received mixed reviews, earning a "Rotten" 48% on Rotten Tomatoes, but was a big winner at the box office in 2000. This would be Taylor's last blockbuster for some time as he soon pivoted back to television.
He was the last lead of the BBC show Ballykissangel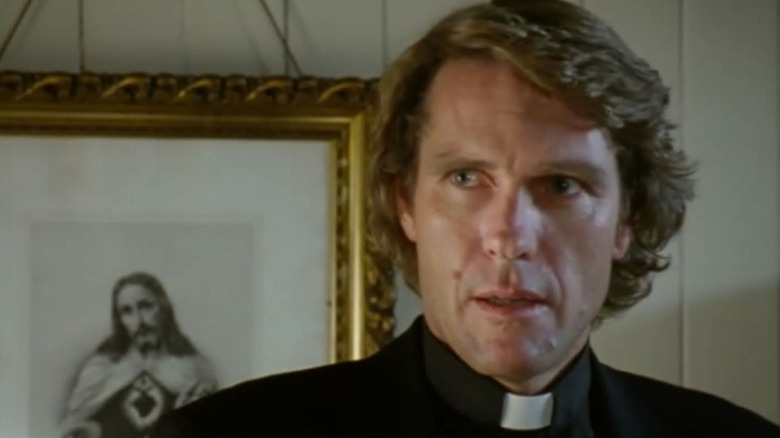 BBC
In 2001, Robert Taylor signed on as the Series 6 lead of "Ballykissangel," which originally centered on a young Roman Catholic priest joining a remote Irish village. Taylor plays Father Vincent Sheahan in the final eight episodes of the series. Sheahan is an Australian cleric who certainly has more world experience than your average priest. Compared especially to other characters, he also quickly adapts to the highly specific ways of the village over the course of the season.
But unfortunately, by the time Taylor joined the show, ratings had declined since the actors playing the two main characters, Father Peter Clifford (Stephen Tompkinson) and Assumpta Fitzgerald (Dervla Kerwin), left after Series 3. Taylor then was the third and final lead actor of the show after Don Wycherly played Father Aiden O'Connell in Series 4 and 5. Once it wrapped up its final season, "Ballykissangel" was, alas, canceled by the BBC.
The actor was Dr. Heller in The Meg
With "Longmire" concluding in 2017, Robert Taylor appeared as a major supporting player in the following year's sci-fi blockbuster "The Meg." As played by Taylor, scientist Dr. Heller is not a big believer in the megalodon shark that damages a nuclear submarine in the film's opening. Heller even accuses Jonas Taylor (Jason Statham) of suffering from psychosis after he witnesses the "Meg" wreaking havoc.
Years later, Heller is working at the Mana One underwater research facility, while Taylor has become a broken man. Nevertheless, despite the scientist's objections, the Mana One crew recruits Taylor to rescue a submersible now out of contact with them. They soon discover the giant shark is very real, and is even more of a threat than they realized.
Despite Heller's initial skepticism and unfair treatment of Taylor, however, the scientist does go out on a high note. When the second "Meg" destroys the crew's ship, Heller sacrifices himself, distracting the Meg so that Jaxx (Ruby Rose) can get to safety. It is, after all, the kind of strong, solid supporting performance Taylor has given now for several decades.