Who Did Millie Bobby Brown Play In Modern Family?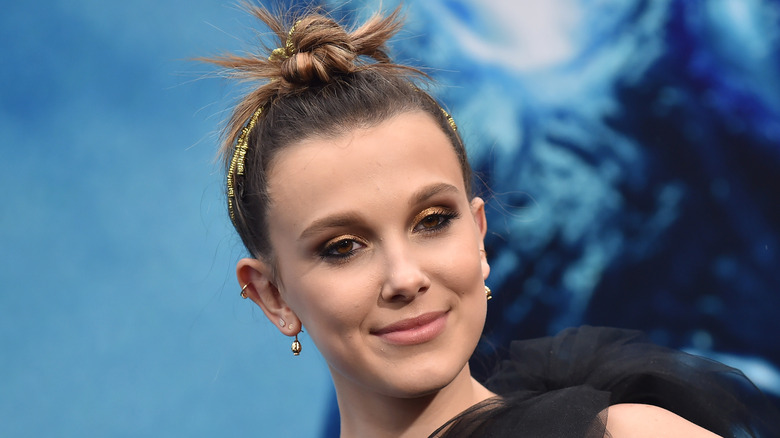 DFree/Shutterstock
Since the release of "Stranger Things" Season 1 way back in 2016, Millie Bobby Brown has grown into one of the most prolific young actors on the planet — endearing herself to millions of fans worldwide with her performance as the psychokinetic test subject "Eleven."
Over the years, we've seen her take on several other prominent roles in films like "Godzilla: King of the Monsters," and the "Enola Holmes" franchise (in which she played the titular lead), though you might have missed one of her earliest roles as a minor character in Season 6 of the beloved ABC comedy series "Modern Family." Brown appears in just one scene during the Season 6 Episode "Closet? You'll Love it!" and plays a young girl named Lizzie riding a bicycle.
Manny Delgado (Rico Rodriguez) steals her bicycle to race after a runaway drone, and although he promises to give it back, Lizzie yells after him, "That's what you said about my Mom's humidifier!" As brief as this scene is, it's somewhat surreal to see a young Millie Bobby Brown being shaken down for her little bicycle, especially since only two years later, she would find her big break in "Stranger Things."
Brown cropped up in a lot of shows before hitting it big with Stranger Things
Although this brief appearance in "Modern Family" is perhaps the most hilarious role of Millie Bobby Brown's pre-"Stranger Things" career, it's worth noting that she also appeared in several other high-profile television shows during this time.
These appearances include small roles in shows like "NCIS;" in which she played the daughter of an alleged murderer, and "Grey's Anatomy;" playing a girl named Ruby, who is forced to give medical care to her mother, using advice from the doctors over the phone. Other roles from around this point in her career include the part of "Young Alice" in ABC's "Once Upon a Time in Wonderland" and a prominent role in BBC's supernatural thriller series "Intruders" — in which she played a young girl possessed by a serial killer.
Indeed, Millie Bobby Brown can be found across a wide variety of shows throughout the early to mid-2010s, and her small part in "Modern Family" is one of many minor roles from the earliest days of her acting career.