Stranger Things' Matthew Modine Reflects On Millie Bobby Brown's Evolution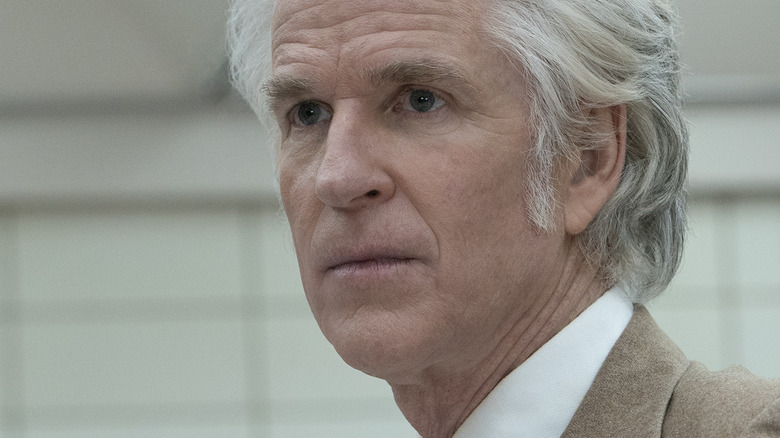 Netflix
Millie Bobby Brown is one of the biggest names to come out of "Stranger Things," the Duffer Brothers' paranormal horror thriller series on Netflix. Though her role in Season 1 was mostly wordless, she conveyed the depths of her character's tumultuous emotions through an unmatched physicality. Over time, Brown became a central figure on the show — and has consistently delivered across seasons. While most of her work is alongside actors of her age, she has often been part of dramatic scenes opposite veterans such as David Harbour and Matthew Modine.
Modine plays the scientist Dr. Martin Brenner, the main antagonist of Season 1 and the secondary antagonist of Season 4. Brenner is the man responsible for overseeing the Hawkins National Laboratory where Eleven was experimented on to harness her terrifying powers. Season 4 reveals that Brenner started it all with a boy who would eventually become the demonic Vecna (Jamie Campbell Bower).
The latest season of "Stranger Things" gave the pair plenty of screen time together, thanks to a combination of flashbacks to her initial time under Brenner — which required intensive makeup — and scenes set in the show's present, where the somehow-alive Brenner gets a hold of Eleven again for experimentation. In an interview with Vulture following Season 4, Modine opened up on his experience acting alongside Brown since the show's beginning, noting how far she has come.
The Serena Williams of acting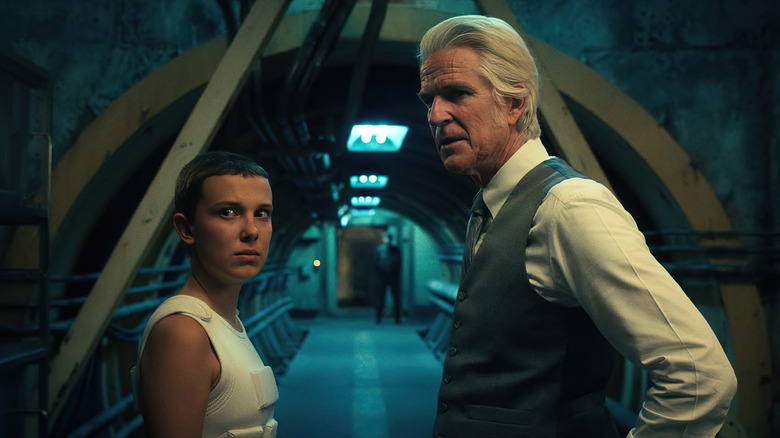 Netflix
Having had the opportunity to perform opposite Millie Bobby Brown in Season 1 of "Stranger Things" before returning in Season 4, few actors have the perspective of Matthew Modine on the young star's transformation: "Millie was 11 years old when we began working. The thing about children is the best thing to do is leave them alone. [... All] I wanted her to do was succeed and be the best actor she could be. If I'm Björn Borg, John McEnroe, or Rafael Nadal, if my partner can't hit the ball back over the net, I can't show you how good my game is."
According to Modine, Brown's acting abilities were clear from the beginning: "The gift that Millie has is a tremendous intelligence and understanding of what I was talking about and the ability to take a very specific direction." By the time they reunited to reprise their roles for Season 4 of "Stranger Things," Modine was stunned by Brown's growth as an actor: "By Season 4, using the tennis metaphor again, I was playing with Serena Williams. I was playing with an expert at her craft." Indeed, it's hard to choose among Brown's best scenes as Eleven.
Modine was last seen as Brenner in Volume 2 of Season 4, as he tried to escape the Nevada laboratory with a drugged Eleven but was shot by a sniper and bled out in the desert. It's unlikely that Modine will return for the fifth and final season of "Stranger Things," but hey, if the Duffers found a way before, they can do so again.