Millie Bobby Brown Names Enola Holmes As The Most Important Project Of Her Career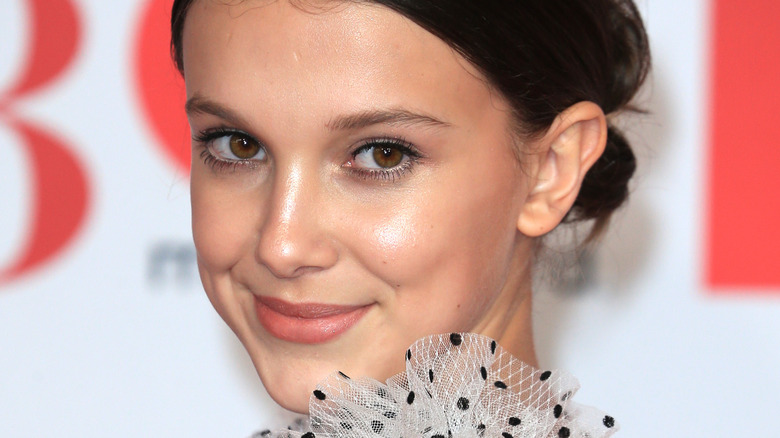 Fred Duval/Shutterstock
The first thing people think of when they hear the name Millie Bobby Brown is probably "Stranger Things." While the first season of the series sees Brown's character, Eleven, start out as a poorly socialized telekinetic prodigy, she learns to make friends and control her awesome powers, which will later be instrumental in saving the world several times over. And Brown is quickly becoming a household name beyond the scope provided by "Stranger Things."
Brown's first acting credit is the television series "Once Upon a Time in Wonderland," on which she played a young Alice in 2013. From there, she starred in the 2014 series "Intruders" before appearing in single episodes of "NCIS," "Modern Family," and "Grey's Anatomy" in 2014 and 2015. Besides "Stranger Things," Brown is also known for appearing in "Godzilla: King of Monsters," as well as the sequel "Godzilla vs. Kong," and most recently, the "Enola Holmes" movies.
In both "Enola Holmes" and its sequel, Brown plays the titular character, who is the younger sister of the world-famous detective Sherlock Holmes. This means that Enola is just as cunning, intelligent, and resourceful as her prolific brother, which allows her to effect some positive change and solve cases in England's Victorian era. As both an actor in and a producer on the "Enola Holmes" movies, Brown believes these films to be the most important project in her career — but why?
Brown is incredibly proud of her work on developing Enola Holmes
In an interview with Entertainment Weekly, Millie Bobby Brown explained why her dual role of acting in and producing "Enola Holmes" is probably the most important thing she has worked on thus far. Not only does she play the main character, but since she helped develop the films, she also had creative freedom during production, ranging from set designs to costumes to plot elements. In other words, Brown seems to have put her own personal touch on these films, which is certainly something to be proud of.
In fact, Brown finds the work she puts into "Enola Holmes" rewarding. "Obviously, it can be tiring, and when you look back on it, you're like, 'Gosh, I can't believe I didn't fall asleep.' But there were so many things that I got to be a part of, and I was really grateful for that," she said. "My age and gender [have] never defined [my job], so everyone on set really respected me and heard me. It was such a nice environment to be able to experience." Despite becoming famous for her role as the waffle-loving psychic known as Eleven on "Stranger Things," it sounds like Brown is currently proudest of her efforts on the "Enola Holmes" films.