The Time Kurt Sutter Bought 5,000 Copies Of Sons Of Anarchy For Hurricane Sandy Victims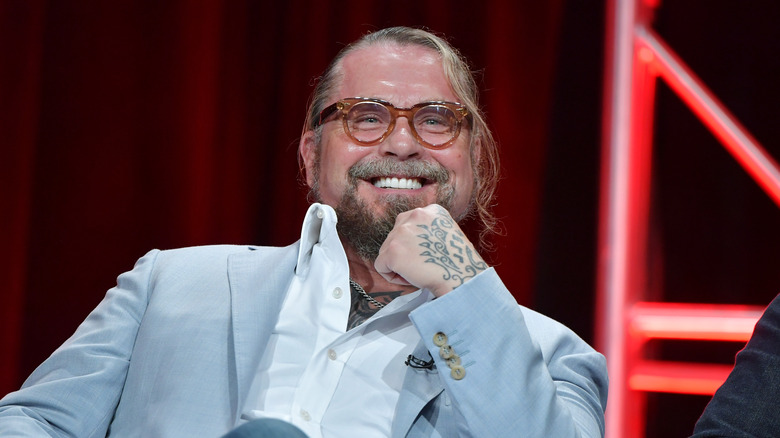 Amy Sussman/Getty Images
Kurt Sutter's "Sons of Anarchy" was set in sunny California, but the writer was born on the same streets that gave us everyone from Bruce Willis to Snooki to Jay and Silent Bob. That's right — Sutter hails from the glorious streets of New Jersey. No matter how far away his writing journey has taken him from Jersey, Sutter has always kept his home state close. He showed his appreciation once by offering to buy thousands of copies of a "Sons of Anarchy" episode that those who suffered through Hurricane Sandy may have missed. 
After Hurricane Sandy led to mass power outages across New Jersey, Sutter promised to buy 5,000 video-on-demand copies of the episode Jersey residents may have missed. The episode was the eighth episode of the fifth season, titled "Ablation." 
"[When] power is restored back east, I will buy 5000 copies of SOA episode 508 on Amazon Instant for those who couldn't see it or DVR it because of Sandy," Sutter tweeted in November 2012. "I'll post the details on how to claim it later today. I know 5k is only a fraction of people who missed it, but I want my peeps in Jersey to know I care... at least a fraction. Stay whole. We love you."
Sutter's efforts to help New Jersey residents recover from the hurricane went well beyond giving away his work for free too.
Kurt Sutter and the Sons of Anarchy cast held a fundraiser for Hurricane Sandy victims
In November 2012, Kurt Sutter and some of his "Sons of Anarchy" cast traveled to New Jersey to hold a fundraiser to benefit Hurricane Sandy New Jersey Relief Fund and Staten Strong, both organizations working to help victims.
According to a Daily Mail report on the event, Sutter arrived at the Paramount Theatre in New Jersey along with cast members Theo Rossi, Kim Coates, and Katey Sagal. At the event, Sutter and his cast held a question-and-answer session with fans, gave a first look at "Sons of Anarchy" Season 6, and Sagal even put in a musical performance. In a statement at the time about the fundraiser, Sutter wore his connection to his home state loud and proud.
"I'm a Jersey boy, born, bred, and beaten. When Sandy hit and f***ed up the state, the initial outpouring of aid was fantastic, but a year later, only a fraction of the damage has been repaired. I wanted to do something to help, not just with some cash, but also to remind folks that people in South Jersey still need aid and services. They need a break," Sutter said.