Rob Zombie Confirms We've Likely Seen The Last Firefly Family Outing (At Least In Movie Form)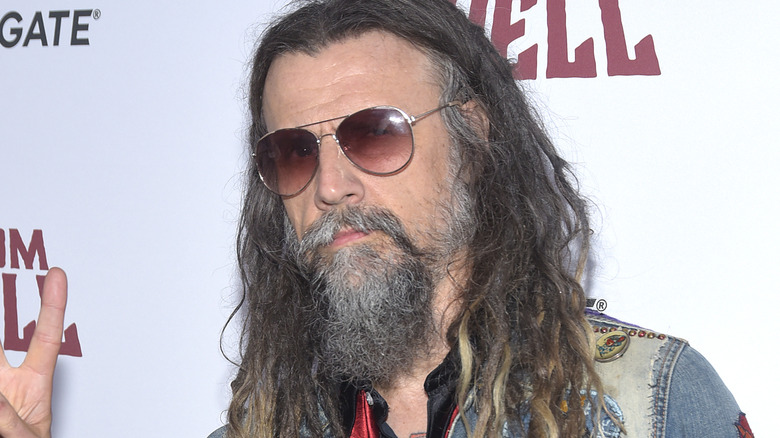 Michael Tullberg/Getty Images
Rob Zombie made a name for himself in the 1980s and '90s heavy metal scene as the frontman for White Zombie before pursuing solo projects. However, he soon proved he could do more than slam in the back of your Dragula by proving himself a talented horror filmmaker, bursting onto the cinematic landscape with 2003's "House of 1000 Corpses," which recently celebrated its 20th release anniversary. The movie went on to become a cult classic and spawn two sequels — 2005's "The Devil's Rejects" and 2019's "3 From Hell."
The first film follows teenagers who get tortured by the psychotic, antagonistic Firefly family, who become the murderous protagonists of its follow-ups. It's only natural for fans to wonder if Zombie would ever return to this storyline, but when asked by Entertainment Weekly if there was any chance for more sequels, he responded, "Probably as far as theatrical films go. Maybe there'll be graphic novels or other things. At this point, the three movies feel like they go well together." And his reasoning behind keeping the franchise a trilogy makes sense.
No one's getting any younger
A big part of the reason why it would be difficult to make another film in the Firefly family franchise is due to the passing of Sid Haig, who played Captain Spaulding in all three films. He passed away in 2019, the same year "3 From Hell" came out, and Rob Zombie admitted that making that final movie was tough for him in the medical state he was in. He went on to say, "It took a lot of work to get the third one made and no one's getting any younger. Even with the third one, Sid Haig, from the time that we started talking about the movie to the time we shot it, his health declined so severely that he went from being one of the leads to barely being able to keep him on set for an hour to work."
Zombie pursued another title in the aftermath of "3 From Hell," namely 2022's "The Munsters." While that film certainly has potential for a franchise, Zombie's not inclined to make sequels to that either, as he bluntly stated, "I won't and I don't want to." But he admitted that part of the reason why he liked making sequels to "House of 1000 Corpses" was because he enjoyed the transformation of the Firefly family, going from torturers to on the run from the law. He concluded, "That's why I like the Firefly stuff — I really got to develop them over the course of three movies, because the characters, by the third movie, are not the characters they start out as in the first movie."
There's no word on what Zombie's next movie might be. For now, he's focused on music and touring, and hopefully, fans haven't seen the last of him behind the camera.