Every Rob Zombie Movie Ranked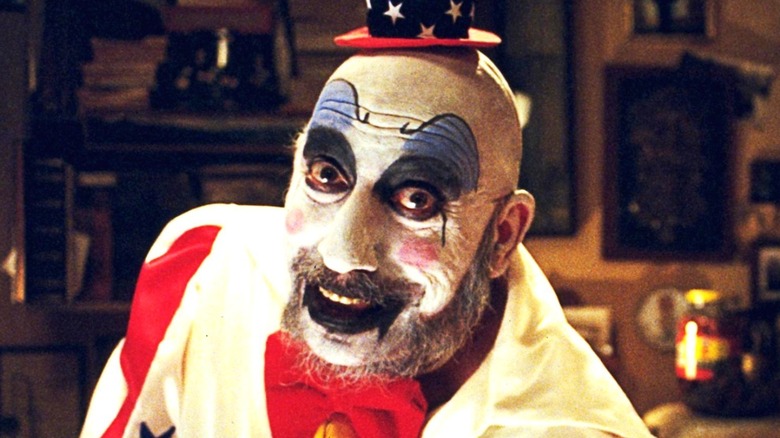 Lionsgate
Rob Zombie has been directing since the 1990s when he directed a music video for White Zombie, the band he belonged to at the time. Since then, Zombie has gone on to direct several music videos for his solo music work, a stand-up comedy special, an episode of "CSI: Miami," a concert documentary, and nine narrative feature films (via IMDb).
His filmmaking career becomes even more impressive when you consider that he's been able to maintain a parallel music career the entire time, releasing seven full-length studio albums since 1998 (via Spirit of Metal). More pertinent to his directing work is the fact that he doesn't just direct his films, he's also written every single one himself, and only once worked with a co-writer.
With the release of Zombie's most recent film "The Munsters," a prequel to the classic TV show of the same name, we thought it would be an interesting time to consider and rank the prolific and divisive writer/director's filmography. All of Zombie's films are distinctly his own, whether that works for audiences or not, and what makes him such an interesting filmmaker is that fans of his work will have vastly different personal rankings of his work. Here, we'd like to do our best to make the case for our ranking with consideration to the many aspects of what makes him such a specific creator. So without further ado, let's dive into ranking every Rob Zombie movie from worst to best.
The Haunted World of El Superbeasto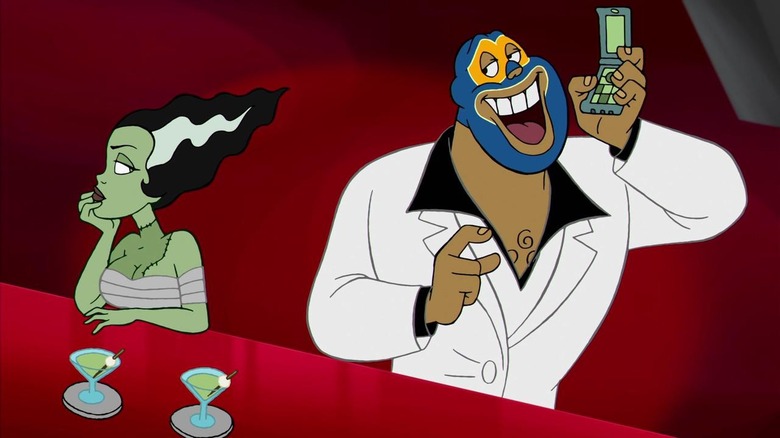 Anchor Bay Entertainment
The only animated film in Zombie's filmography, and the only one that he co-wrote with another writer, is also his worst. Based on the comics of the same name, "The Haunted World of El Superbeasto" follows the titular El Superbeasto (voiced by co-writer Tom Papa), a former wrestler who is now an aspiring film star and director, and his super agent sister Suzi-X (voiced by Sheri Moon Zombie) on an adventure to stop the evil Dr. Satan (voiced by Paul Giamatti).
El Superbeasto and Suzi-X have to ensure that Dr. Satan doesn't marry Velvet Von Black (voiced by Rosario Dawson), who has the mark of the Devil on her butt (via IMDb). The marriage would afford Dr. Satan all the powers of the devil, allowing him to take over the world.
Like all of Zombie's films, there's a clear love for the horror and exploitation genres, but unlike many of his other works, "The Haunted World of El Superbeasto" only ever feels like it's riffing on other, better, works instead of taking influences to create something original. It also doesn't help that as a comedy, it's simply not that funny.
The Devil's Rejects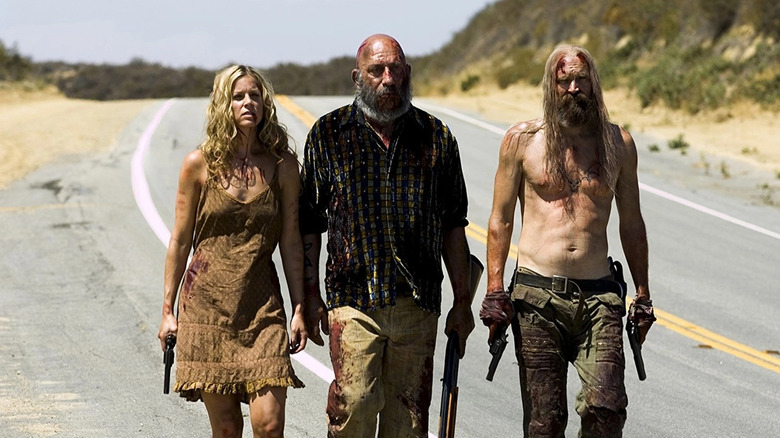 Lionsgate
A film that some consider Zombie's best lands low on our ranking not for any issues with its filmmaking — it's an undeniably successful love letter to the early exploitation cinema of Tobe Hooper and Wes Craven – but like some of those movies, it simply pushes its cruelty too far to be enjoyable. "The Devil's Rejects" trades the over-the-top gonzo style of its predecessor, "House of 1000 Corpses," for something much more grounded and painfully realistic.
The film follows Baby (Sheri Moon Zombie) and Otis (Bill Moseley) after their home is beset by the sheriff and they are the only family members able to escape. The two hole up at a motel where they wait to rendezvous with their father, Captain Spaulding (Sid Haig), who was not at the home when it was attacked. While at the motel, the family assaults and torments other guests in genuinely vile displays of sadism that are effectively disturbing, but don't feel like anything more than edgy button-pushing.
Halloween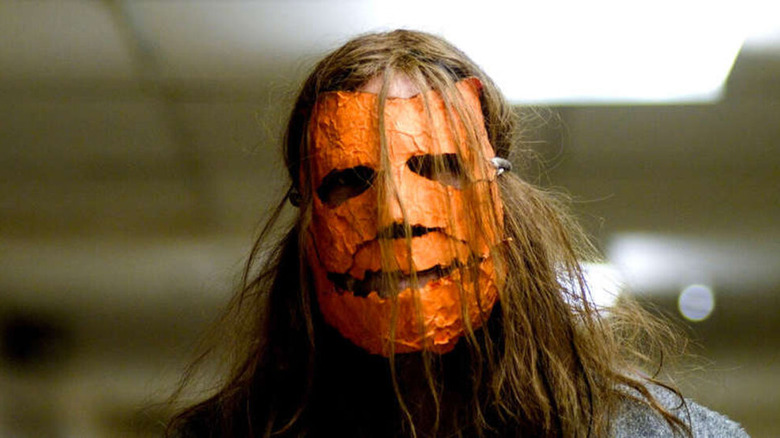 Dimension Films
Rob Zombie's "Halloween" is the stuff of remake legend. With his remake, Zombie admirably refused to simply retell the same story with the same beats, a move that also seems wise given the impossibility of competing with John Carpenter's original 1978 classic. But it's hard to say that Zombie's version of the Michael Myers story is a rousing success.
The movie tells the story of young Michael (Daeg Faerch) growing up in an unhappy home. After being bullied at school, on one fateful Halloween night, he kills his mother's abusive boyfriend, his older sister, and her boyfriend. The film then shows young Michael working with psychologist Sam Loomis (Malcolm McDowell), but instead of getting better, he continues to get worse.
Zombie's "Halloween" does eventually repeat the beats of the original — in its latter half, the film recreates the babysitter murders in gruesome fashion, but the prelude to this section has already either drawn viewers in or pushed them out. It's a brutal film that's undeniably a fascinating entry into the modern slasher canon, but we can't say that fascination translates into it being one of Zombie's best films.
3 From Hell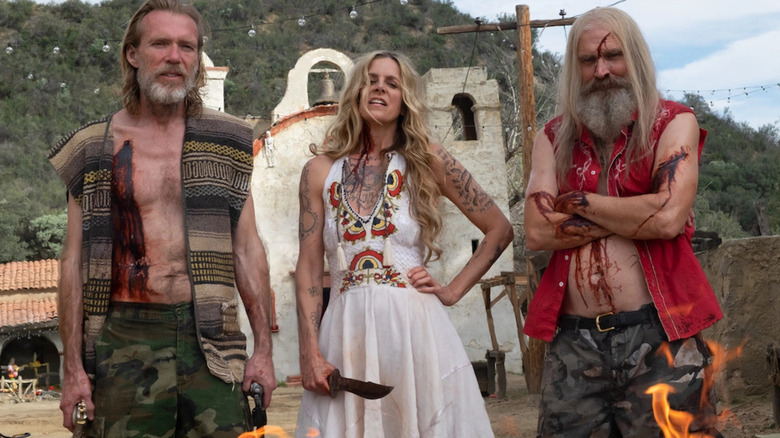 Lionsgate
"3 From Hell" finds the sweet spot between the deranged energy of "House of 1000 Corpses" and the exploitation movie cruelty of "The Devil's Rejects" to bring a surprisingly fitting conclusion to the Firefly family saga 14 years after the previous installment. Even more surprising is that the film manages to succeed despite some last-minute changes to the script in response to Sid Haig's falling ill.
Zombie had initially planned to have the film focus on the three leads from "The Devil's Rejects:" Baby, Otis, and Captain Spaulding. But when Sid Haig became seriously ill, changes were made to introduce Richard Brake's Foxy, Otis's half-brother, and round out the titular three (via PopCulture.com).
The movie follows Foxy as he frees the incarcerated Otis. Then, they together free Baby before setting off for Mexico, where they find themselves in a major shoot-out as the son of one of their victims seeks revenge. "3 From Hell" is still a vicious movie, but it's balanced with over-the-top energy, style, and a chaotic joy that was absent from "The Devil's Rejects" which we think makes it better than that film, but not quite up to the delightful madness of the first film in the Firefly trilogy.
The Lords of Salem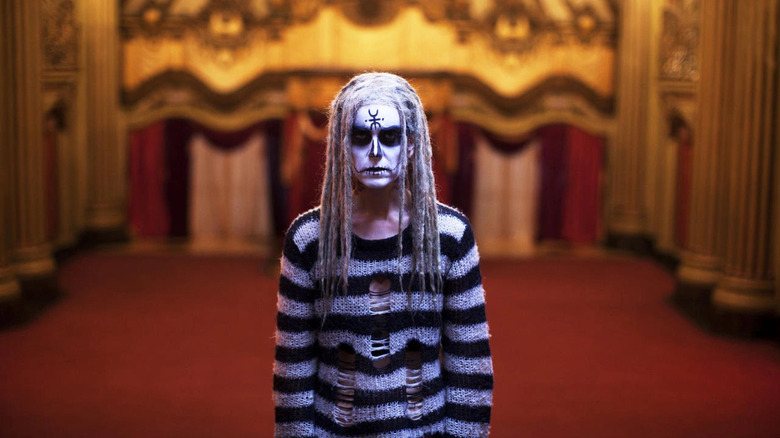 Anchor Bay Films
Another movie that is sometimes considered Zombie's best (often by those who don't care for his other movies) but doesn't take the top spot for us, "The Lords of Salem" is a much more reserved and small-scale project than Zombie's other films. "The Lords of Salem" follows DJ Heidi (Sheri Moon Zombie) as she struggles with sobriety and becomes the center of a revenge plot for an ancient coven of witches.
While the narrative spans hundreds of years, the film is entirely focused on the internal life of Heidi. It's almost a character study as a horror film that parallels the visions and supernatural horrors Heid experiences with her increasing difficulty remaining sober. The movie is thus largely more atmospheric and purely psychological than Zombie's other work.
Zombie does a good job of drawing the audience into Heidi's state of mind, and the film offers one of Sheri Moon Zombie's best performances, but "The Lords of Salem" doesn't have the same visceral bite or propulsive momentum that Zombie's best work offers viewers.
31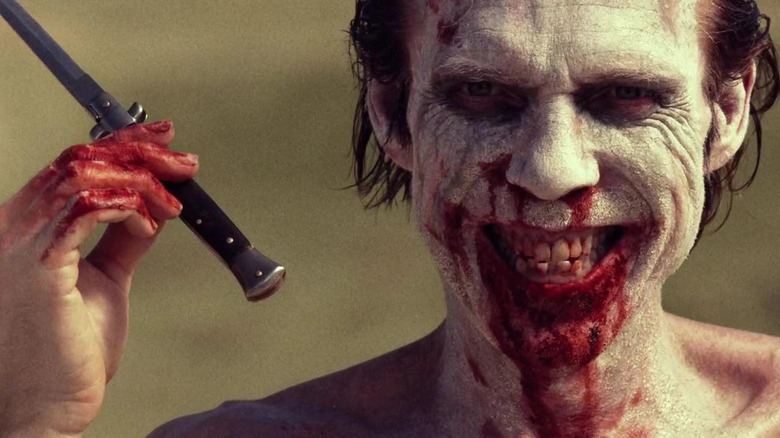 Saban Films
"31" is another film of Zombie's, like "The Devil's Rejects," that is a love letter to the exploitation films of the 1970s, but this time Zombie succeeds in balancing the viciousness and heart. The movie centers on a group of five carnies who, while making their way across the American Southwest in 1976, are captured and forced to play a "game" called "31."
That game sees them tossed into an abandoned maze-like industrial factory and hunted by a series of clowns. The characters are given odds to survive by the game organizers, who bet on their captives' survival and change the odds and their bets after each battle.
It's a simple movie, but it spends time with its carny characters before they are thrown into the violent game and allows the audience to grow to care for them. The movie is also increasingly ridiculous as the protagonists find themselves facing off with a neo-nazi little person, a pair of chainsaw-wielding brother clowns, and a sadistic clown who likes to take his time killing.
The mix of care for its characters and the outlandish premise, visceral violence that Zombie has become known for, outstanding performances from everyone involved, and beautiful cinematography make "31" one of the best movies in Zombie's filmography.
The Munsters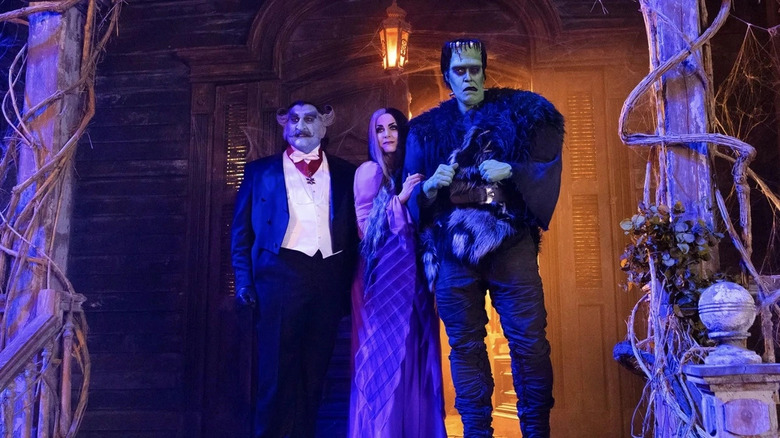 Universal Pictures
"The Munsters," Zombie's first movie not to be rated R (and in fact to be rated PG and deemed suitable for children by the MPAA) is a prequel to the beloved sitcom of the same name. The film follows Lily (Sheri Moon Zombie) and her whirlwind romance with Herman Munster (Jeff Daniel Phillips) in Transylvania before they move to America.
The film is a fever dream of astounding set design, gorgeously colorful lighting, captivating camera movement, and wildly committed performances. It's essentially a hangout movie, but instead of hanging out with the morally reprehensible characters who make up some of Zombie's other films, these characters are silly and sweet.
"The Munsters" is a movie that is so committed to bringing its world to life, that it doesn't always abide by the usual standards. Herman is a comedian who makes some almost unbelievably unfunny, cringe-inducing jokes, but his delight at his own humor is part of what makes the character charming. The lack of narrative momentum here doesn't hold the movie back and instead allows the audience to simply drink in the amazing aesthetic feast that Zombie and company have served up.
"The Munsters" is yet another love letter from Rob Zombie, but instead of the gritty and gruesome films of the 1970s, the movie adoringly recreates the cozy feeling of watching a sitcom while Zombie delivers some of his most eye-popping visuals.
House of 1000 Corpses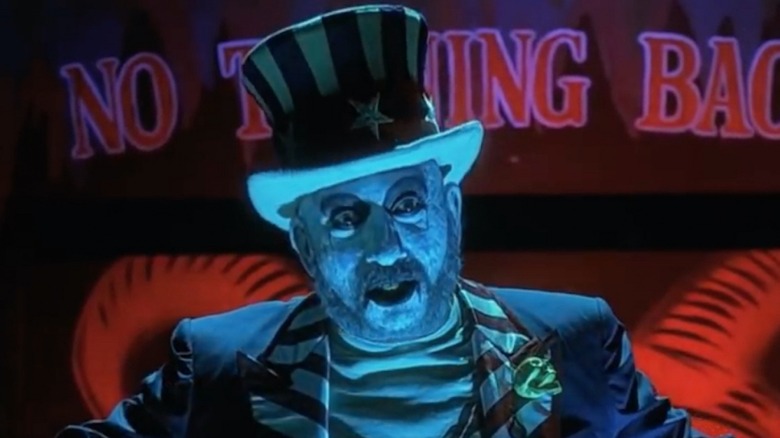 Lionsgate
Zombie's first film has the feeling of a movie made by someone who wasn't sure that they'd get another chance to ever make a movie. There's so much going on here from the clear influence of "The Texas Chainsaw Massacre" and "The Hills Have Eyes" to the frenetic editing and over-the-top performances from every member of the Firefly family.
Like the films that inspired it, "House of 1000 Corpses" follows a group of young people who find themselves held captive by a family of bloodthirsty characters unlike anyone you'd encounter in daily life. The Firefly family is full of absurd characters, and none more iconic than Captain Spaulding in a role that would make Sid Haig a 21st-century horror icon.
The movie was dismissed by critics upon its release in 2003, but has become a cult classic over the years and is beloved by its fervent fans (via Rotten Tomatoes). It's not hard to see why, either — the combination of exploitation film influence with Zombie's own hyper-stylized music video aesthetics make "House of 1000 Corpses" one of the most unique and exciting horror movies ever made.
Halloween II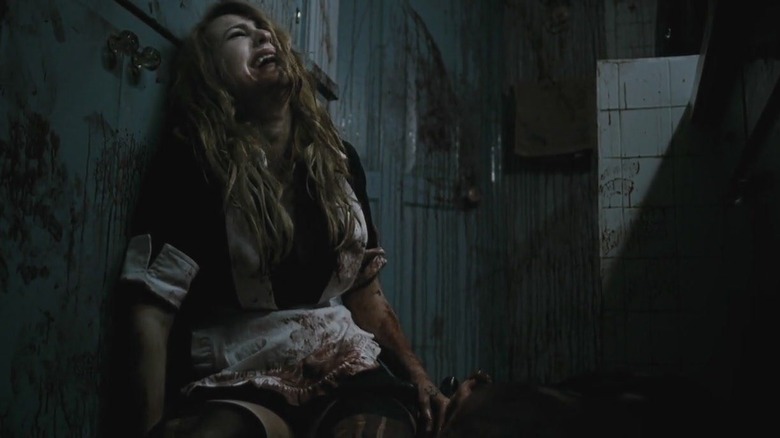 Dimension Films
While Zombie's attempts to inject his own ideas and storyline into his remake of "Halloween" in 2007 was met with mixed to little success, Zombie's "Halloween II" is almost entirely its own film devoid of any connection to the original film series. The movie starts off with a breakneck chase sequence in a hospital that mirrors the entirety of 1981's "Halloween II," but then brings the story to two years after the events of the first film where we find Laurie (Scout Taylor-Compton) struggling to move on with her life after Michael's devastating attack.
We see Laurie attempt to work through her trauma in therapy and maintain a good relationship with her friend Annie (Danielle Harris), whose scars are a constant reminder of the violence they experienced. But the film also shows us how Dr. Loomis attempts to cash in on the horror of Michael's attacks by writing a book about his experiences with the killer, something it's clear he is attempting to work through himself without ever facing his feelings of guilt and helplessness.
It's a powerful movie that packs a shocking emotional punch, but as a "Halloween" movie, it also delivers the requisite kills, which are perhaps never more brutal or difficult to watch than in this film. "Halloween II" is a slasher movie that considers the real-world and psychological impacts of violence in a way that almost no other slasher movies do, and for that, we think it's Rob Zombie's best film.