What Rotten Tomatoes Reviews Are Saying About Renfield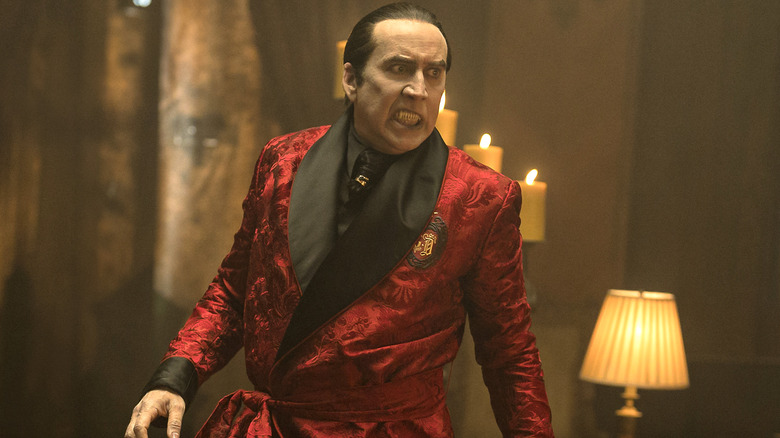 Michele K. Short/Universal Pictures
Nicolas Cage is returning to the big screen this month as one of the most iconic fictional characters of all time: Dracula.
The Oscar winner stars alongside Nicolas Hoult in "Renfield," the new film from "The Tomorrow War" director Chris McKay. Based on an original idea by "Walking Dead" creator Robert Kirkman, the film follows Hoult's Renfield, the longtime henchman of Cage's Dracula, as he tries to start a new life for himself away from his bloodthirsty boss. As its tongue-in-cheek premise suggests, the first "Renfield" trailers have sold the film as a bloody but lighthearted horror comedy that, perhaps more than anything else, will give Cage the chance to chew up the scenery once again.
Now, ahead of the film's forthcoming April 14 release, the first reviews for "Renfield" are starting to roll in. While an overall critical consensus has yet to be cemented, too, the early buzz for "Renfield" seems to be mostly positive right now. That isn't to say that the early reviews for the film have been overwhelmingly glowing. As is usually the case, some critics have taken to "Renfield" far more easily than others. Consequence critic Liz Shannon Miller, for instance, gave the film a B+ score in their review, writing, "'Renfield' knows exactly what it wants to achieve and does so effectively."
Critics are calling Renfield a gory, fun time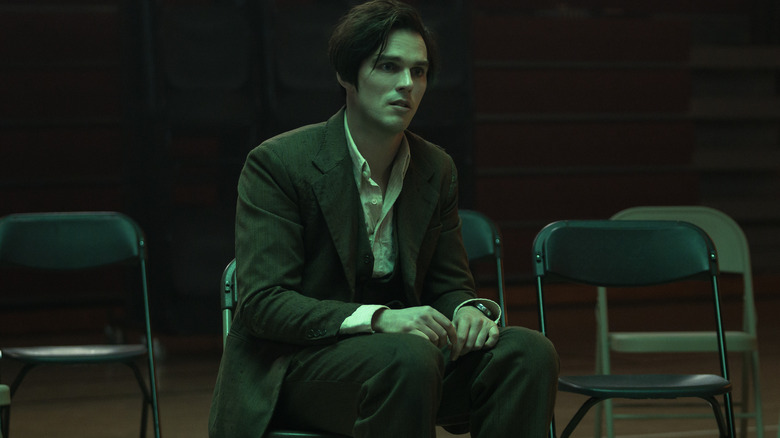 Michele K. Short/Universal Pictures
Miller isn't the only critic that enjoyed "Renfield." In fact, of the film's first 25 Rotten Tomatoes reviews, only five are negative. While each critic has offered their own takeaways from the new horror comedy as well, those who enjoyed "Renfield" have repeatedly emphasized the film's combination of its gory violence and chaotic sense of humor. Those aspects of the film were specifically highlighted by Espinof critic Jorge Loser, who wrote in their review, "'Renfield' is silliness full of explosive gore."
Maggie Boccella similarly praised the film's horror-comedy tone in their review for Collider, noting that it has more in common with genre classics like 1981's "An American Werewolf in London" than it does any of its scarier vampire movie predecessors. Boccella went on to write, "Ultimately ['Renfield' is] fun primarily because it doesn't commit too hard to any one thing."
Moviegoers will likely be delighted to hear that, in addition to the film's comic horror spirit, Nicolas Cage's performance as Dracula has also been the subject of much praise. Indeed, the trailers that have been released for "Renfield" have all suggested that Cage's performance in it will be one of his most unabashedly over-the-top in years, and it sounds like the actor has more than delivered on that front.
In their review of the film for The Playlist, Matthew Monagle specifically praised the actor's turn as fiction's most iconic vampire, writing, "In Nicolas Cage's hands, Dracula is the perfect marriage between the rock star and the jilted lover."
Renfield isn't a total knockout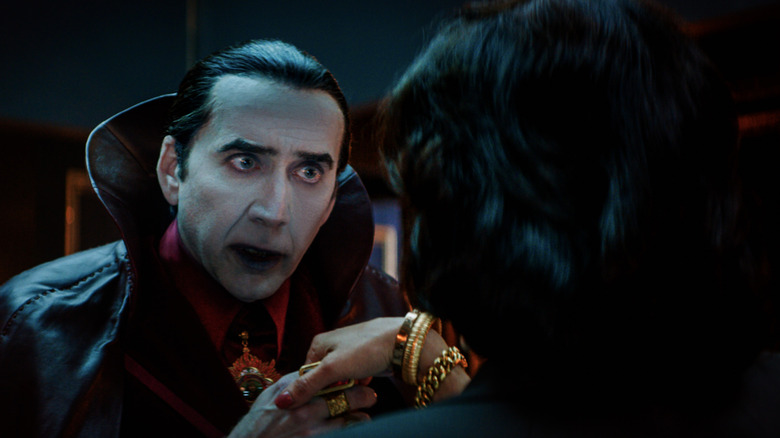 Universal Pictures
As noted previously, the early reviews for "Renfield" haven't been totally positive. A handful of critics have, in particular, criticized the film for apparently failing to explore its story as much as it potentially could have. The Seattle Times' Moira MacDonald said as much in their negative review of "Renfield," noting, "Even with its brief running time, the movie runs out of steam too quickly." Elsewhere, Variety critic Owen Gleiberman took issue with the thinness of the film's script, writing, "It's a scattershot lark jam-packed with 'ideas,' none of which really take hold."
Even some of the positive reviews for "Renfield" have lamented the lightweight nature of the film. In their ScullyVision review, Dan Scully gave the horror comedy a fresh rating on Rotten Tomatoes but was also quick to note that it doesn't quite live up to its own promise. "['Renfield'] proves to be a broadly pleasing, remarkably safe studio comedy. This isn't necessarily a bad thing so much as it's a case of squandered potential," the critic observed.
With all this in mind, it seems safe to say that "Renfield" delivers an enjoyable, if not necessarily impactful, experience at the movie theater. Thanks to its mid-April release date, the film should, in other words, offer interested viewers a refreshingly R-rated, bloodsoaked counter to "The Super Mario Bros.," which has taken the moviegoing world by storm this month. It sounds like audiences shouldn't, however, go into "Renfield" expecting much more than a fun, inconsequential vampire adventure.