Winnie The Pooh: Blood And Honey - How To Watch At Home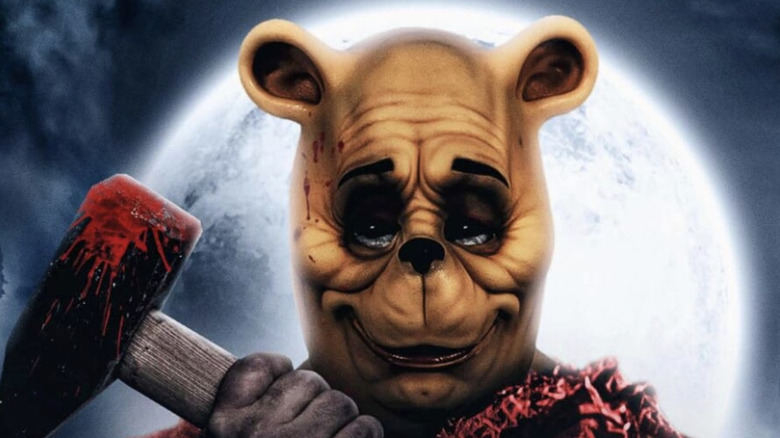 Altitude Films
A lot of recent horror films are choosing to lean into the overall silliness of the slasher subgenre. From the quippy meta subtext of "Scream 6" to the campy tone of "M3GAN" and "Cocaine Bear," though the blood continues to flow, it's regularly staunched with bursts of laughter.
While "Winnie the Pooh: Blood and Honey" tried to lean into this trend with its absolutely absurd premise, not even the lapse of the property into the public domain could make a film like this resound with audiences or critics. Still, if you want to take the plunge on the film anyway or if you and your friends are looking for your next bad movie night, this could be just the ticket for you.
Luckily, you don't even need to buy a ticket, though, or even leave the comfort of your own home to sit down with "Winnie the Pooh: Blood and Honey." According to Bloody Disgusting, this grisly adaptation from Altitude Pictures is available to watch on several streaming services, including Prime Video.
The film is available to rent on services like Prime Video
Of course, this news comes with a small caveat that the viewer must either rent or buy "Winnie the Pooh: Blood and Honey" on their service of choice in order to watch it, as it can't be viewed for free on any service as of yet. The price to rent it at the moment is $9.99, while the film can be purchased outright for $19.99.
While horror hounds itching for their latest fix may be considering "Winnie the Pooh: Blood and Honey," it's also worth remembering that after their initial premiere windows of roughly 30 days, many films will drop down to a more reasonable $4.99 rental price. Ultimately, this more patient approach might be the better choice here, considering how heavily the film was panned.
However, if you're dead set on renting or buying "Winnie the Pooh: Blood and Honey," you can head over to Amazon's Prime Video series and make your purchase today. Just make sure that the kiddies aren't around all those disturbing moments when you're watching this version of the lovable little bear and his friends.