First Poster For John Wick Spinoff The Continental Proves There Will Be Blood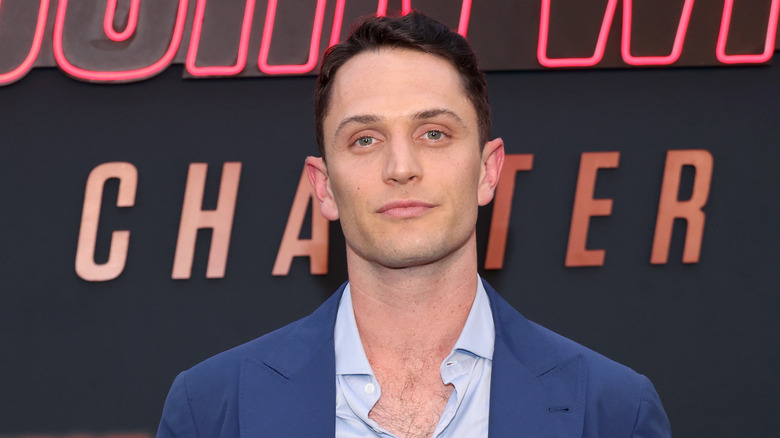 Monica Schipper/Getty Images
Despite seeming like a no-brainer, "John Wick" television spin-off "The Continental" has been in the works for quite some time. The mini-series was first in development at Starz for some time but then moved to Peacock in 2022. And now, after years of news trickling out about the show, an official poster for "The Continental" is finally here.
The teaser depicts the elevator panel for the infamous hotel, designed as a neutral space for the world's deadliest assassins. The panel is marked with the "C" initial for "Continental" and the phrase "Prepare for check-in."
The green metal plate and buttons look standard enough for a classic hotel, and the elevator appears to be on the 9th floor. But you don't need reading glasses to notice the smear of red blood splashed against the panel. The Continental may promise neutrality to the lodging hitmen, but audiences know they're getting plenty of violence and mayhem out of the upcoming series.
The Continental featured in the prequel won't be a peaceful place
The hotel is infamous in the "John Wick" franchise as a safe haven for wary assassins, but the Continental wasn't always like this. The new Peacock series, set in 1975, will explore how a younger Winston Scott, played by Colin Woodell, will shape the destiny of the hotel after taking over as the manager.
It appears the show will take place before Winston and the High Table decide on the Continental becoming a non-violent zone. "What we're exploring in 'The Continental' is the young Winston and how it came to be that he and his team of confederates found their way into this hotel which we have met for the first time in the movie franchise 40 years later," Lionsgate Television chairman Kevin Beggs told Deadline.
"John Wick" fans will find out how Winston took over the place, and what the hotel is like without a non-violence rule, when "The Continental" premieres on Peacock in 2023.