The Walking Dead: Chandler Riggs Wanted To Keep This Iconic Carl Prop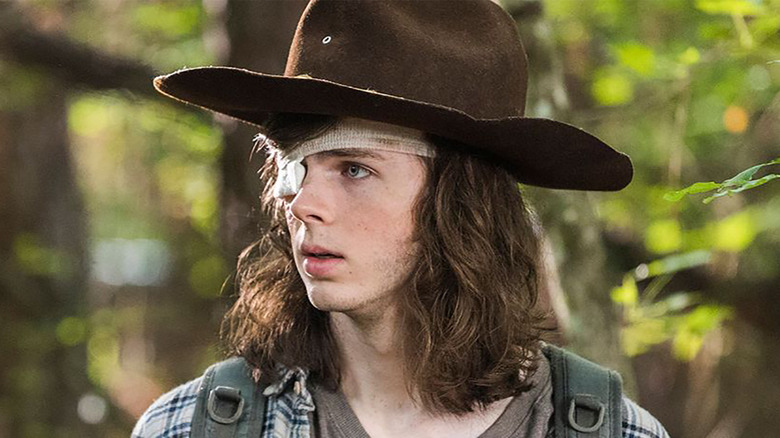 AMC
Many of the characters on "The Walking Dead" have a trademark item. For instance, Negan (Jeffrey Dean Morgan) wields his barbed-wire bat, Lucille; Michonne (Danai Gurira) is always ready to protect those she loves with her katana; and the Governor (David Morrissey) sports his patch after Michonne stabs him in the eye in Season 3, Episode 8, "Made to Suffer," with a shard of glass. In Carl's (Chandler Riggs) case, he almost always wears his father's deputy sheriff hat, and it's a prop the actor wanted to abscond with after his departure from "The Walking Dead."
"I'd really like to keep the hat after the show is done," Riggs posted during a February 2017 Reddit AMA. "It'd be a really cool souvenir." Carl wears the iconic attire both in the source material — he actually grows up and survives the entirety of writer Robert Kirkman and artist Charlie Adlard's comic books — and on the television drama. Unfortunately, Carl dies in Season 8, Episode 9, "Honor," passing the hat on to Judith (Cailey Fleming). There must be something to being a child of Rick Grimes (Andrew Lincoln) because it turns out, Riggs got his wish. But so did someone else.
Riggs and Fleming ended up with hats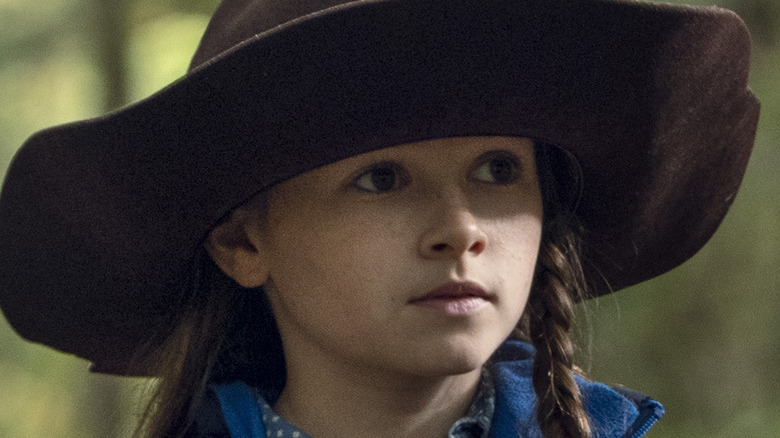 Eli Ade/AMC
In the same Reddit AMA, Chandler Riggs confirmed there were at the very least two versions of Rick Grimes' deputy sheriff hat. Riggs wore one when he was much younger and the other as he grew up on the set. "We had a smaller[-]sized one in season 2 so it'd fit me, but I've grown out of that one since then," he explained. But with at least two hats, Riggs didn't go home empty-handed. "I have one of the hats," he said during an interview with MLive. "One of the hats that Andy wore in Season 1, I still have."
So who took home the other iconic prop? Cailey Fleming. "I also kept the iconic Grimes hat, which is probably my favorite thing that I got to keep," Fleming said in an interview with Entertainment Weekly. She also told the outlet that she loves the story behind the hat and that it will always remind her of the memories she made on "The Walking Dead."