The Walking Dead's Chandler Riggs Found Job Security To Be One Of The Greatest Perks Of The Show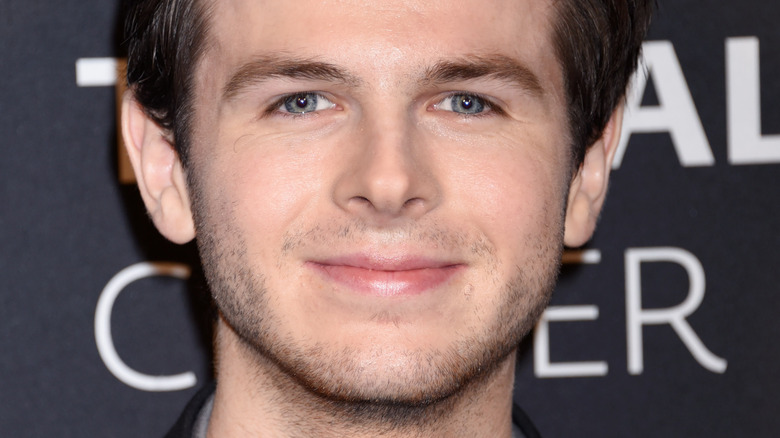 Ga Fullner/Shutterstock
"The Walking Dead" is hands-down one of the biggest franchises that AMC has ever wielded. While the series began trepidatiously with a small stint of only six episodes, the horror-drama would eventually go on to shamble forward for 11 long seasons. Furthermore, the show is so popular that it has led to spin-off series like "Fear the Walking Dead" and "Tales of the Walking Dead."
Of course, none of this would be possible without the source material written by Robert Kirkman and illustrated by Tony Moore. "The Walking Dead" comics had a reputation that already preceded them by the time AMC adapted the series, and that unpredictable, shocking brutality was also present on the small screen. Chandler Riggs, who played Carl Grimes across eight seasons of the show, knows this perhaps better than anyone. After all, not even being a kid could save Carl from a grim death in the Season 8 episode "Honor." But, while his character was still alive, the young actor appreciated the job security that the show provided.
Chandler Riggs loved that he wasn't constantly looking for new jobs while making The Walking Dead
Chandler Riggs stopped by the r/thewalkingdead subreddit for an ask-me-anything session and naturally, there were plenty of fans eager to get the inside scoop on "The Walking Dead" from one of the stars of the show. On that note, one of the most popular questions in the thread came from u/7929, who asked Riggs what was his favorite thing about working on the series.
"To be honest, actually having a stable job has been one of the best parts," Riggs answered frankly. "Most shows end so quickly that you constantly have to go from show to show, but with this it's been nice not having to worry." It's easy to see where Riggs is coming from here, as being a central cast member on one of the most popular shows on television no doubt means that your job is relatively safe.
Unfortunately for Riggs, being the son of the central protagonist, Rick Grimes (Andrew Lincoln), didn't provide quite as much job security as he maybe would have liked. Though Carl survives in the comics, the character succumbs to a walker bite in Season 8 of the show and he left the series from that point on, aside from a few cameo appearances. Still, to Riggs' point, eight years at a steady acting job is definitely more career security than your average performer has in Hollywood, particularly at such a young age.