Who Plays Shin Hati In Disney+'s Ahsoka?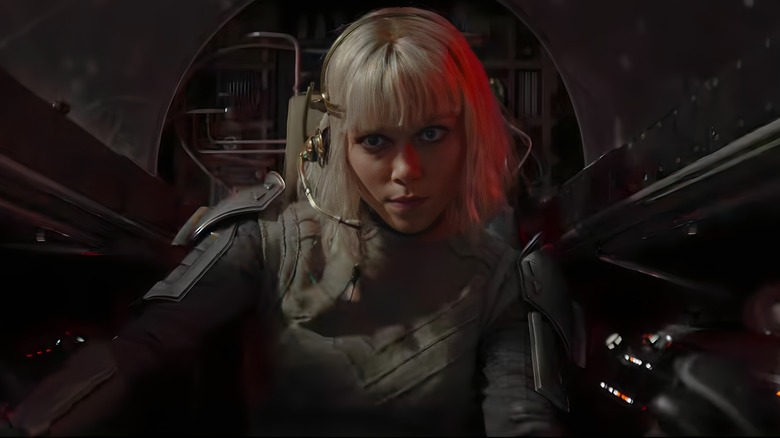 Disney+/Lucasfilm
The upcoming Disney+ series "Ahsoka" certainly made an X-wing-crashing-on-Dagobah-sized splash at Star Wars Celebration in London. Once the trailer dropped, fans realized that not only was the return of Anakin Skywalker's (Hayden Christensen) one-time Padawan imminent — she last appeared on "The Book of Boba Fett" — but a new and much darker apprentice was fixing to make her debut in the franchise. That orangish lightsaber-wielding character is named Shin Hati, and she is portrayed by Ivanna Sakhno.
25-year-old Sakhno was born in the Ukraine in 1997, and she's been acting professionally since making her debut on the television series "Lesya plyus Roma" in 2005. With nearly 20 years of work on her resume, Sakhno has starred in a number of high-profile projects and co-starred with the likes of Mila Kunis, Kate McKinnon, Scott Eastwood, Charlie Day, and John Boyega. Sakhno portrayed Cadet Viktoria in "Pacific Rim: Uprising," Nadedja in "The Spy Who Dumped Me," and Kat Monroe in two episodes of "High Fidelity."
But Sakhno's next role as Shin Hati will introduce her to a whole new fanbase and a level of celebrity she may not be accustomed to. And judging from the color of the Kyber crystal powering her character's lightsaber in the new trailer, Ahsoka Tano (Rosario Dawson) has yet another formidable opponent waiting in the wings.
Ivanna Sakhno stars as Baylan Skoll's apprentice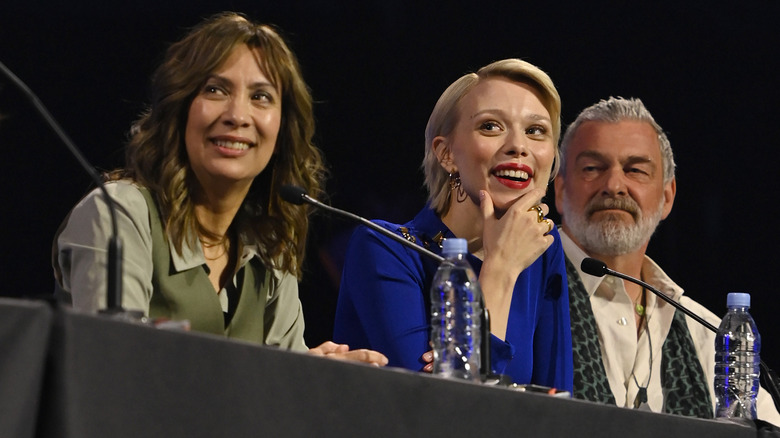 Kate Green/Getty Images
The Disney+ series "Ahsoka" is essentially a live-action sequel to "Star Wars: Rebels." And while the show will bring a number of beloved, animated characters from that series to life on the streaming service, Ivanna Sakhno gets to portray an entirely new Sith-ish warrior, Shin Hati. Most recently, Sakhno showed off her acting range in the dark mini-series "The Reunion," which is based on the bestselling novel "La Jeune fille et la nuit" by author Guillaume Musso.
But who is Shin Hati? Sakhno was asked if she could give the fans a glimpse into her character during Star Wars Celebration in London. "Absolutely, as much as Dave Filoni allows today," Sakhno said in an interview. "I play Shin Hati, and Shin is a young apprentice to Baylan Skoll [Ray Stevenson]." Stevenson returns to that galaxy far, far away after reprising the role of Gar Saxon in "Rebels" for a pair of Season 7 episodes in "Star Wars: The Clone Wars."
"She [Shin] is very ambitious, quite intense, and an incredibly skilled lightsaber user," Sakhno continued. "I mean, she's incredibly skilled in lightsaber combat. She's a Force wielder." Sakhno also alluded to both her character's darkness and humanity, which foreshadows a complex apprentice who may or may not be completely consumed by the dark side of the Force. Fans can find out more about Shin's motives and her modus operandi when the first episode of "Ahsoka" drops this August.