Star Trek: Picard's Final Episodes Will Take Flight In IMAX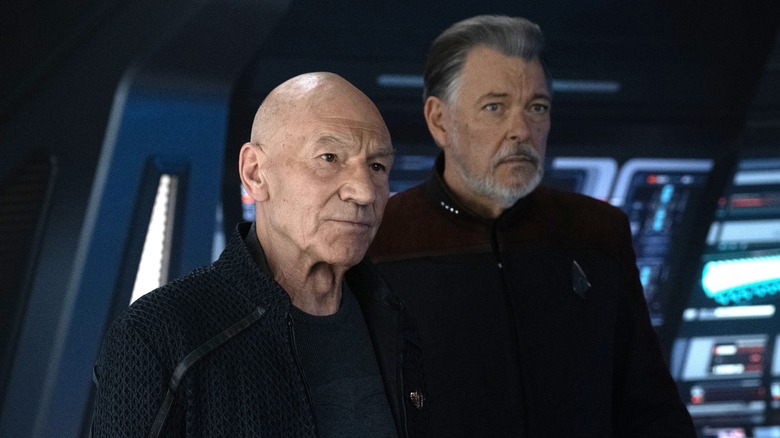 Trae Patton/ Paramount+
"Star Trek: Picard," now in the final leg of its third and final season, is Patrick Stewart's final bow as the titular Starfleet captain he has played since 1987. It's the end of an era, though spin-offs are being discussed. To give Jean-Luc Picard the larger-than-life sendoff he deserves, Paramount has partnered with IMAX to screen the final episodes of "Picard" live on their colossal silver screens, Variety reports.
The final two episodes of the series will be screened ahead of their release on the Paramount+ streaming service at participating IMAX theaters on Wednesday, April 19. In addition to the unique experience of getting to see the culmination of over 35 years of "Star Trek" in an immersive theatrical setting, fans who attend the IMAX screenings will receive a collectible poster and free concessions — no small value proposition, given the price of theater popcorn these days.
Additionally, tickets to the screenings themselves are free of charge, though availability is limited by seating.
Only 10 IMAX theaters will screen the Picard finale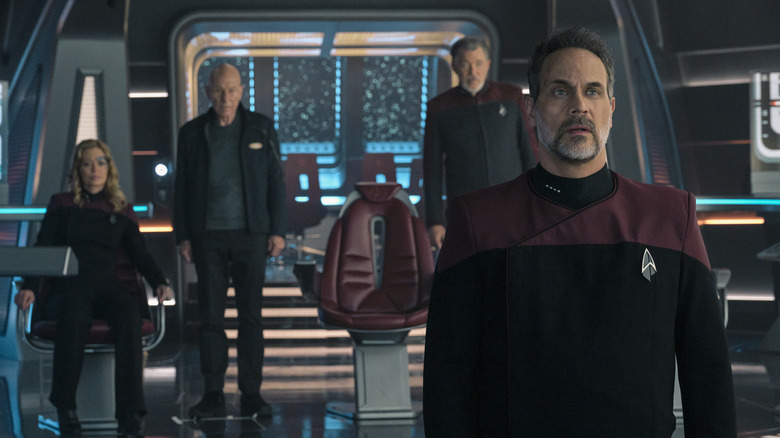 Trae Patton/ Paramount+
The IMAX screenings of the "Star Trek: Picard" Season 3 finale come with one major caveat: only 10 theaters across the country are participating in the event, meaning those who don't live close to a major city may be out of luck unless willing to travel.
At the time of writing, IMAX theaters in Los Angeles, New York, Seattle, Orlando, San Francisco, Atlanta, Dallas, and Washington, D.C., are participating in the event. Beginning on Wednesday, April 12, at 1 p.m., fans can register by heading to the Star Trek Picard Final Screenings website.
The biggest celebrations will take place at the Los Angeles screening, where Patrick Stewart will be in attendance for a Q&A session alongside cast members LeVar Burton, Michael Dorn, Jonathan Frakes, Gates McFadden, Jeri Ryan, and Brent Spiner, joined by executive producers Alex Kurtzman and showrunner Terry Matalas. The Q&A will be live-streamed to other participating theaters.
For those who boldly go to a participating theater, the IMAX screenings of the "Star Trek: Picard" finale are sure to be a once-in-a-lifetime experience and a fitting sendoff for Picard and his crew.