Why Huyang From Ahsoka Sounds So Familiar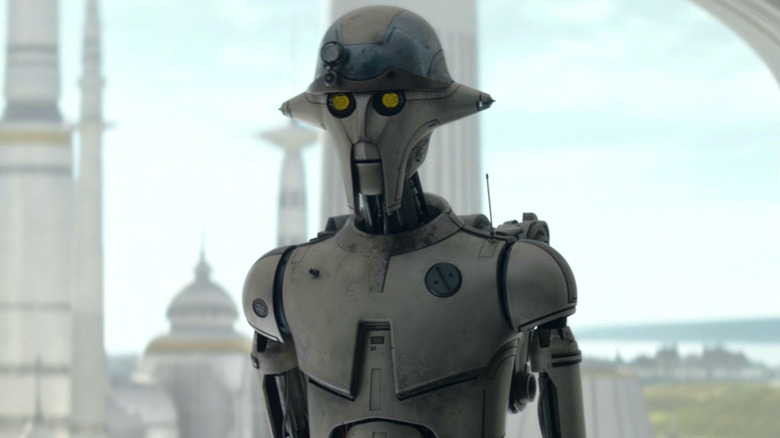 Disney+
There are more than a few awe-inspiring details in the first "Ahsoka" trailer. The forthcoming Disney+ series is already shaping up to be an action-packed sequel to "Star Wars Rebels." That means "Ahsoka" won't just resolve some of the unanswered questions that "Rebels" fans have been asking for years, but it will also feature appearances from characters who have never been brought to life in live-action form before. Indeed, the series' first trailer features appearances from — among other characters — Sabine Wren (Natasha Liu Bordizzo), Hera Syndulla (Mary Elizabeth Winstead), Grand Admiral Thrawn (Lars Mikkelsen), and even Huyang.
The latter character, a lightsaber crafting droid from "The Clone Wars," makes one brief appearance near the end of the first "Ahsoka" trailer. Despite how minimal of a presence he has in the teaser, Huyang's voice will likely be familiar to both die-hard and casual "Star Wars" fans alike. That's because Huyang is voiced in "Ahsoka" by none other than David Tennant, who also voiced the character in "The Clone Wars." In fact, Tennant won a Daytime Emmy Award in 2013 for his vocal performance as Huyang.
In addition to his work on "The Clone Wars," Tennant has also turned in more than his fair share of memorable screen performances. With that in mind, here's where viewers may have seen him or, at the very least, heard his voice before.
David Tennant stole scenes as Barty Crouch Jr. in Harry Potter and the Goblet of Fire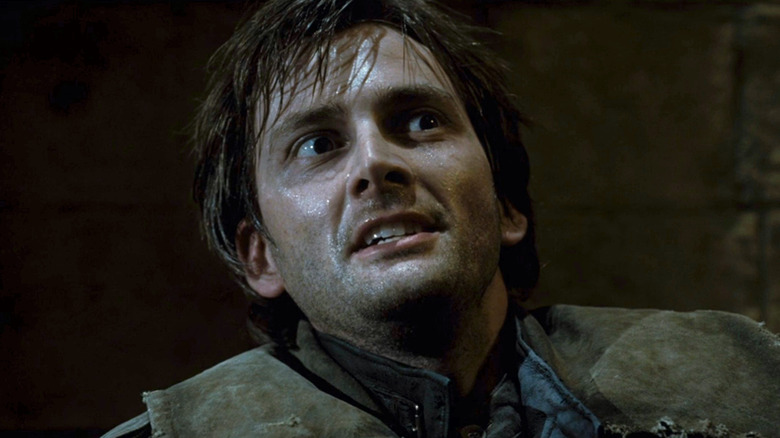 Warner Bros. Pictures
In all likelihood, most non-U.K. viewers were probably introduced to David Tennant for the first time in "Harry Potter and the Goblet of Fire." The actor has a brief but important role in the 2005 film as Barty Crouch Jr., the insane Death Eater who masquerades as Mad-Eye Moody (Brendan Gleeson) for most of the movie in order to ensure that Harry Potter (Daniel Radcliffe) and Voldemort (Ralph Fiennes) cross paths by the end of it. Given the nature of Crouch's role in the film's story, Tennant only appears as the character two times in "Goblet of Fire."
In both instances, Tennant brings the insanity and darkness of Barty Crouch Jr. to life in a fittingly unnerving fashion. Whether it be the character's constant, snake-like physical movements or the fact that his voice seems like it is perpetually on the verge of a growl, Tennant's version of his "Goblet of Fire" villain seems like a legitimately chilling threat to Radcliffe's Harry and the rest of the film's heroes. To say that the actor does a lot with a little in the film would, in other words, be a massive understatement.
He turned in an iconic performance in Doctor Who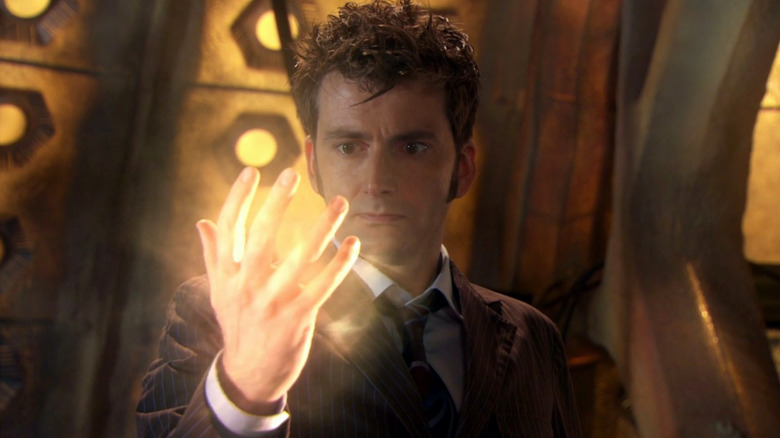 BBC One
The same year that he appeared as Barty Crouch Jr., David Tennant made his TV debut as the titular character in "Doctor Who." Under the leadership of then-showrunner Russell T Davies, Tennant portrayed the 10th iteration of The Doctor in the long-running BBC sci-fi series. Over the course of his initial run as the character, Tennant received widespread acclaim and attention for his performance as the beloved TV hero. As a matter of fact, 18 years after his debut, Tennant's performance as The Doctor is still considered the best by a large portion of "Doctor Who" fans.
Tennant's "Doctor Who" legacy hasn't diminished in any way in the 14 years or so since he originally stepped away from the show, either. On the contrary, the actor actually reprised his role as The Doctor in the 2013 anniversary special, "The Day of the Doctor." In 2022, Tennant appeared again in "Doctor Who" as the 14th iteration of the series' titular figure and is expected to appear as the character in several episodes that will help set up the debut of Ncuti Gatwa as the 15th version of The Doctor.
Suffice it to say, Tennant's sterling "Doctor Who" reputation very much lives on today.
Tennant gave a villainous turn for the ages in Jessica Jones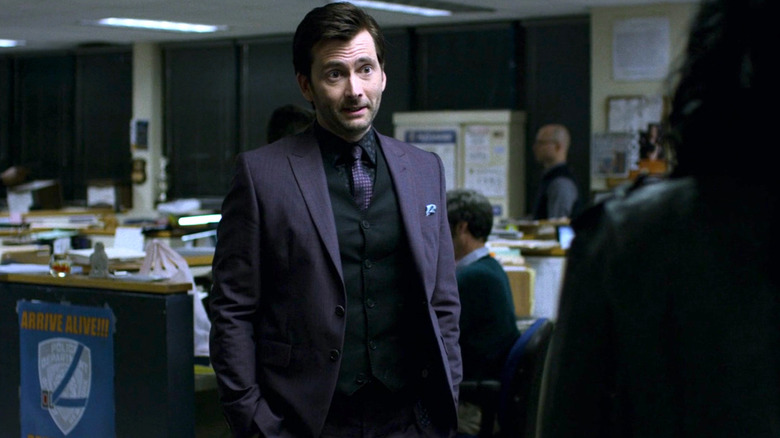 Netflix
Several years after his run on "Doctor Who" initially came to an end, David Tennant shocked viewers with his decidedly unheroic turn as Kilgrave in Marvel and Netflix's "Jessica Jones." Kilgrave, the primary antagonist of the superhero series' first season, is a nefarious and vindictive man with the ability to make anyone he speaks to do whatever he wants. Introduced as a shadowy man from Jessica Jones' (Krysten Ritter) past, Kilgrave unfortunately lives up to all of his villainous potential in the Netflix series. As the character, Tennant gives a performance that allows him to be simultaneously pathetic, charming, sadistic, and menacing.
The actor consequently received widespread acclaim once again for his performance as the character. His turn as Kilgrave ended up making such a mark, in fact, that he was brought back in one episode of "Jessica Jones" Season 2. Later, Tennant again supplied some necessary voice work as the character in "Jessica Jones" Season 3. Taking his multiple returns into account, it seems safe to say that Tennant's Kilgrave is one of the most memorable live-action Marvel villains of recent memory.
He brought heart and wit to DuckTales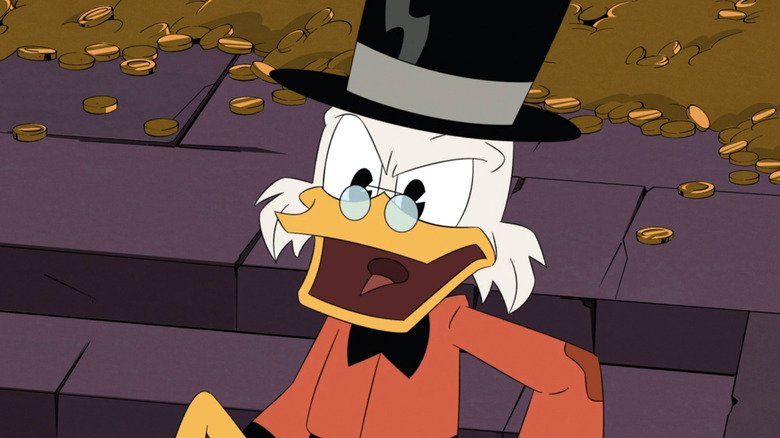 Disney Channel
In addition to his many memorable live-action roles, David Tennant has given a fair number of standout vocal performances as well. Of all of the actor's many voice-acting turns, though, his most well-known and iconic is undoubtedly his performance as Scrooge McDuck in Disney's 2017 reboot of "DuckTales." A reimagining of the 1987 series of the same name, "DuckTales" featured a star-studded voice cast, including Danny Pudi, Ben Schwartz, Bobby Moynihan, Paget Brewster, Beck Bennett, and Kate Micucci. That said, it was Tennant who ultimately stood out the most in the animated Disney series.
Taking over a role as iconic as Scrooge McDuck isn't an easy thing to do, but Tennant, who is originally from Scotland, turned out to be perfectly cast as the wealthy and adventurous cartoon character. Over the course of the series' three seasons, he consistently brought a level of charisma, humor, and heart to his performance as Scrooge that helped make "DuckTales" feel like a legitimately worthwhile reboot. Much like he did when he showed up as Huyang in "The Clone Wars," Tennant managed to make an impact as Scrooge with nothing more than his voice.