Succession S4: Fans Praise The Realistic Depiction Of [SPOILER]'s Death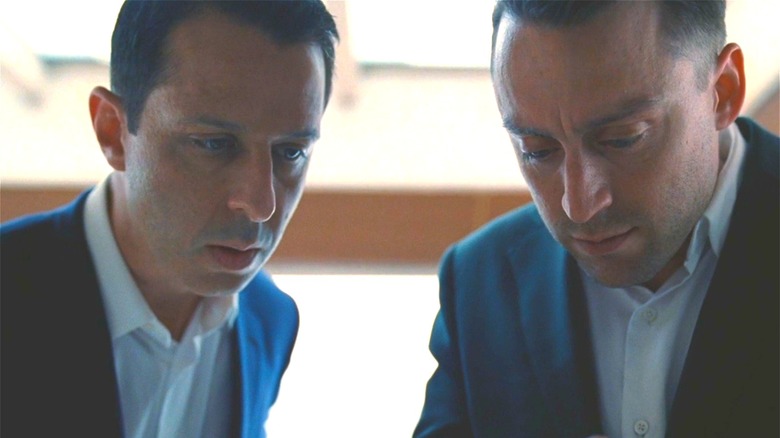 HBO
Contains spoilers for "Succession" Season 4, Episode 3 — "Connor's Wedding"
It was bound to happen sooner or later. A show called "Succession" could only really head in one direction, and it looks like longtime viewers of the popular show have just witnessed a truly shocking turn of events. Although the Roy family has dealt with scandal after scandal and still managed to stay afloat, the family loses its patriarch off-screen, and in an incredibly brutal manner. The reason for the devastating effects of the death of Logan Roy (Brian Cox) is mainly that his family isn't even with him at the time of his passing, and instead, both Roman (Kieran Culkin) and Kendall (Jeremy Strong) are caught flat-footed with an exceptionally heartbreaking phone call.
As both Roman and Kendall react in a state of confusion and surprise, they are told that they should talk with their father, though he is unresponsive and undergoing chest compressions. Considering the nature of the Roy family business, the siblings aren't given much time to process their feelings before being forced to make some quick decisions, and it looks like fans of "Succession" are heaping accolades on the show for its acumen in handling the death of Roy. Rallying on social media, u/dustybooks22 wrote, "What a realistic depiction of an abrupt, untimely death. Well f***ing done writers and even better execution from all the actors."
Fans were in tears following Logan's death and the family's response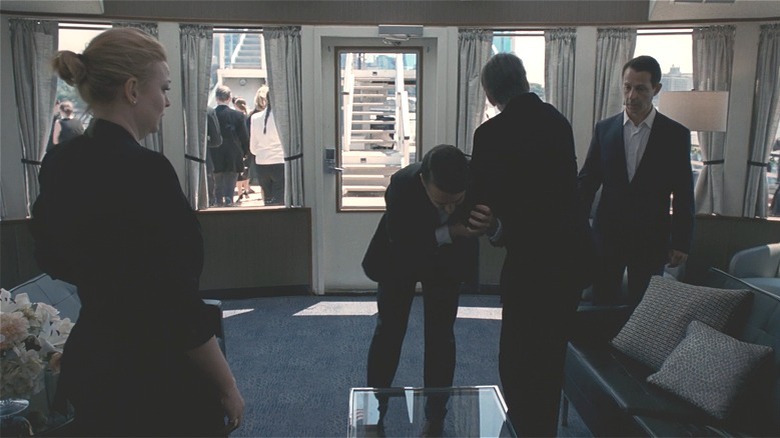 HBO
Others on Reddit were also of the same mind, with u/SeirraS9 heaping praise on the episode and saying, "It had me in tears seeing the sibs reactions because it was all too real dealing with the death of a family member who you were not on good terms with during the time of their death, and with whom you've had a complicated, toxic relationship with all your life." They added that watching the Roy family go from "shock to desperation" and having to deal with the immediate business and professional ramifications of Roy's death hurt their heart the most. 
u/RaptorDelta was amazed at how "Succession" handled Roy's passing and stated that it felt like one of the most realistic portrayals of death in recent television history.
u/jjwalla immediately was reminded of events in their own life upon this scene in "Succession," which caused u/MNKristen to reply and explain that the shock the Roy family feels is completely authentic and that they could feel in their bones the family's initial disbelief. 
u/chattahattan expressed their thoughts in regard to the above comments and wrote, "I also had a close relative die of a sudden heart attack, and it was uncanny how much the episode mirrored that experience of getting those first chaotic phone calls from the relatives who were with him as he was receiving chest compressions."
Some Succession fans think the actors deserve awards for their performances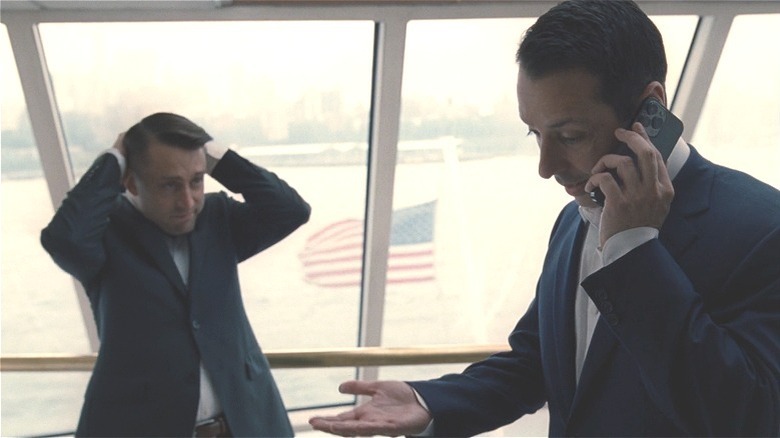 HBO
Sentiments regarding the latest heart-wrenching and shocking episode of "Succession" were very much the same on Twitter, where @lionesspike shared two GIFs of Kendall and Shiv (Sarah Snook) screaming and crying and stated, "that was the most realistic portrait of grief i've ever experienced in my life emmys to sarah snook, jeremy strong and kieran culkin IMMEDIATELY." @JamieDNicholl used the words "realistic" and "raw" to describe this most recent episode of "Succession" and stated that anybody who has received a phone call about a loved one's passing knows exactly how true these scenes are.
Several others were also incredibly impressed and emotionally distraught, like @barryroyco, who tweeted, "i sobbed for so long. that was the most realistic portrayal of death and shock and grief and helplessness ive ever seen ESPECIALLY in a situation where you're not on good terms with the person. sarah jeremy and kieran deserve every f***ing award." 
@StaceTheKing tossed a plethora of adjectives at "Succession," saying that this episode caused them to watch with tears in their eyes and adding that the writing and acting on the show are top quality and full of nuance. @stephmilton elaborated on their feelings and said that the actors in "Succession" were able to effectively convey shock, panic, and grief without romanticizing. They continued and explained that it is rare to see a television show able to resonate with audiences on such a level and that all of the actors played their roles absolutely perfectly. 
Although the Roy family is surely shaken up by Logan's death, it seems as if viewers of "Succession" are also sharing in the grief, thanks in part to the fantastic writing and the skillful execution of talented actors.