Succession Fans Are Losing It On Twitter After That Logan Bombshell In S4E3
Contains spoilers for "Succession" Season 4, Episode 3 — "Connor's Wedding."
The latest episode of "Succession" had fans of the hit HBO series in absolute disarray — and, as Twitter user @wantauroras emphatically pointed out, "IT'S ONLY EPISODE 3??????"
As those who witnessed what is arguably the biggest moment in television this year already know, Logan Roy — the complex father and CEO played by Brian Cox — is dead. After surviving a brain hemorrhage in the series premiere, the Roy family patriarch is finally gone for good, leaving the Waystar Royco empire in the hands of a few less-than-loyal employees. His children, on the other hand, struggled to hold themselves together at Connor's (Alan Ruck) wedding, and fans couldn't help but empathize with their loss. As @_MMManifesto aptly put it: "Ken crying. Rome crying. Shiv crying. I'm crying. You crying. We crying. Damn this season has been brutal. Damn."
Though Logan's actions would often border on sadistically cruel, his departure and the moments surrounding it devastated viewers. "Succession got me wrecked right now," wrote @phillipthejr, while @RoseNyborg concurred, "[This week's] episode of Succession has destroyed me." The latter user went on to praise the performances showcased by the cast — as did numerous others.
Fans are in awe of this week's performances
"I'm sobbing," wrote @RoseNyborg in another Tweet. "Sarah Snook, Jeremy Strong and Kieran Culkin are second to none. They've all stepped it up in a huge way. Give them Emmys." She wasn't the only one that felt the impressive ensemble deserved gold statues for their efforts, with @chaneyj echoing, "Literally everyone in this #Succession episode deserves an Emmy. Every single performance is real and raw and consistent with who these characters are."
@richonnescamino singled out Kendall actor Jeremy Strong specifically, sharing stills of the actor crying in the episode with the caption, "GIVE JEREMY STRONG THE DAMN EMMY RIGHT NOW." Strong won the Emmy for Outstanding Lead Actor in a Drama in 2020 for the Season 2 finale "This is Not For Tears." He was nominated again in 2022 for Season 3's "Too Much Birthday," but ultimately lost to Lee Jung-jae (Netflix's "Squid Game").
Sarah Snook and Kieran Culkin were both nominated twice for acting Emmys in 2020 and 2022, but both have yet to take home a trophy (in 2022, Culkin lost to "Succession" co-star Matthew Macfadyen, who plays Tom Wambsgans). Snook's performance this week may finally earn her a win, however, as she seems to be the clear standout among fans online.
Both @giselleb1234 and @shivroyapologst agreed that her reaction to Logan's death was by far the most heartbreaking, singling out her line "you can't die, not now" as particularly effective. Perhaps the moment resonated with viewers so much due to the unexpected nature of Logan's death — after all, for his many faults, we weren't ready to say goodbye to him either.
Some Succession fans are in denial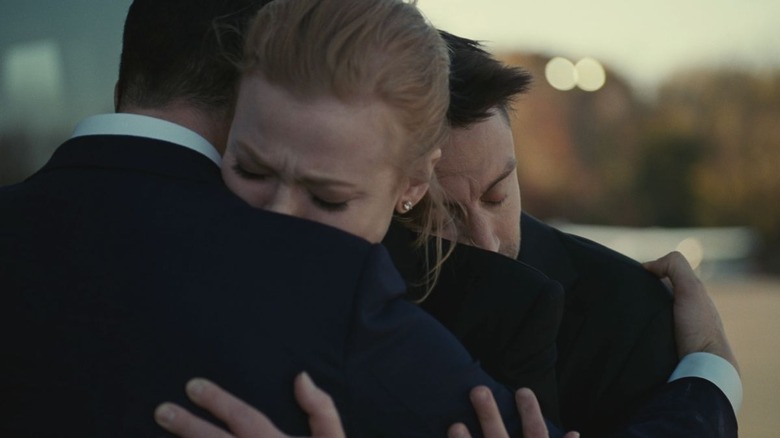 HBO Max
Logan Roy's death will go down as a truly shocking moment in television history. As such, it took a moment for some "Succession" fans to accept that it actually happened. Major character deaths have a tendency to take viewers by surprise, but Roy was the type of guy who'd have faked the whole thing just to mess with people.
This is the view held by Twitter user @josh_lorne, who spent much of the episode believing that it was all a ruse. "What does it say about Logan Roy that for like 50 minutes I thought this was some manipulative ploy constructed by him to outsmart his children."
@TyWillinganz echoed this view, praising the writers for keeping the audience in suspense until more details came to light. "That was a genius move by the writers. The audience was in essence in the exact place the Roy children were because we did not see the events of his death, so we were all experiencing the same incredulity."
In fact, the general consensus among "Succession" fans is that this episode did a great job of putting the audience in Logan Roy's family's shoes. "Not showing Logan Roy's body for the first 45 minutes was brilliant for leaving the audience in denial, just like Roman Roy. I also wasn't going to believe it until I saw it," @Predamame added.