The Mandalorian's Jon Favreau Says His Kids And Social Media Brought Lizzo And Jack Black To The Show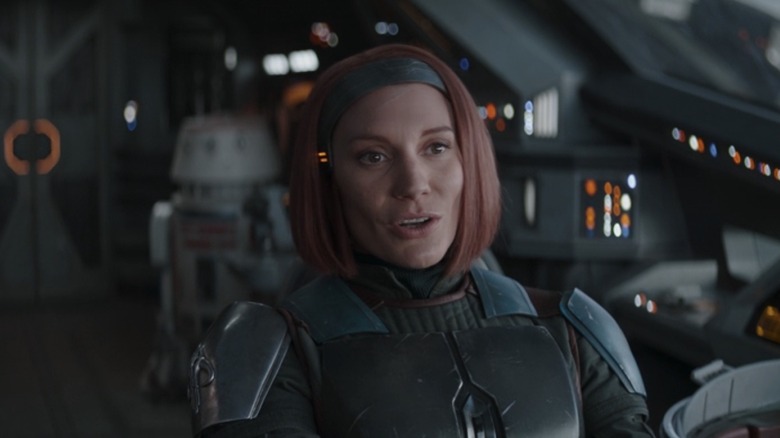 Disney+
The sixth episode of "The Mandalorian's" third season surprised fans with more than the expected number of cameos from high-profile stars: There were three — Christopher Lloyd, Jack Black, and Lizzo. In one of the show's somewhat common side quests, Din Djarin (Pedro Pascal) and Bo-Katan Kryze (Katee Sackhoff) land on the planet Plazir-15 while he's trying to help her regain her role as the leader of her group of Mandalorians-for-hire now led by Axe Woves (Simon Kassianides). 
On the planet, the two are recruited to solve a problem: Plazir-15, proud of being "the Outer Rim's only direct democracy," as they are informed upon entry, has become so enamored with leisure that it depends on droids to do all its hard work — and some of the droids are dangerously malfunctioning. The rulers of this world are the Duchess (Lizzo) and Captain Bombardier (Black), while Lloyd appears as Commissioner Helgait, the head of security and droid controller.
Black and Lizzo's appearances especially were a surprise to many when the episode was released. Online, fans expressed their shock. Twitter user @lacriimas asked, "what are lizzo and jack black doing here" — and in response, people were just about as opinionated as expected. @white_bear_84 called the episode "every bit as ridiculous as it wanted to be," while @Audrey63005942 labeled it "the most unpredictable thing I have ever seen on TV."
But how did these celebrities end up in an episode of the Disney+ series?  It turns out creator Jon Favreau's kids showed him that Black was posting about the show on their social media and that Lizzo was really into Grogu, which alerted him to the fact that they were big fans.
Lizzo and Black's appearance lightens up what should be a heavy season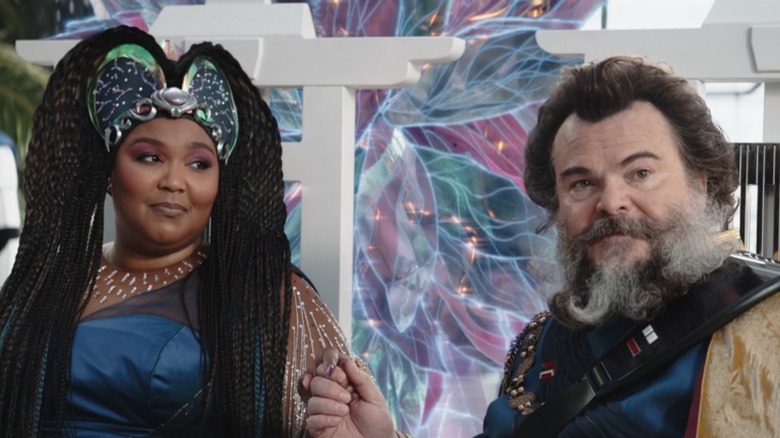 Disney+
At this week's Star Wars Celebration, Favreau told Entertainment Weekly that he loved getting fans on set — and based on his kids' intel, both Lizzo and Black are big fans. Jack Black was posting "The Mandalorian" references on TikTok in 2020, while Lizzo dressed up as Grogu for Spotify's Ghost Town Halloween party in 2021.
On Instagram, Lizzo explained her love of the show stems from her late father, who loved the films and taught her to love them as well. "When Jon favreau called me and offered the role of The Dutchess I cried all day wishing my dad was still with us cus he'd be so proud. Star Wars was a dream I never thought was possible — but thanks to Jon, Bryce (Dallas Howard, director), and everyone in the galaxy I am now part of the ever-expanding saga of the stars," Lizzo posted.
As for Black, he's been known to showcase lightsabers on his Instagram and wish his followers a happy May the 4th (Star Wars Day). In publicity for this weekend's release "The Super Mario Bros. Movie," in which he plays Bowser, he even referenced the franchise, telling IGN, "It's like, Darth Vader is my favorite part of 'Star Wars,' and without Darth Vader, that movie's really boring. You got to have the spice of a real danger, evil lurking in the shadows. So I was stoked to take that on."
And yes — Lizzo was as excited to meet the animatronic Grogu as you might imagine. According to Sackhoff, tears may have been involved. Fortunately, with so much heavy content to be covered in "The Mandalorian" this season, bringing the two celebrities on provided a bit of comic relief. "It was a blast on set," Favreau said.