Melissa McCarthy Featured Her Daughter (Vivian Falcone) In Two Of Her Films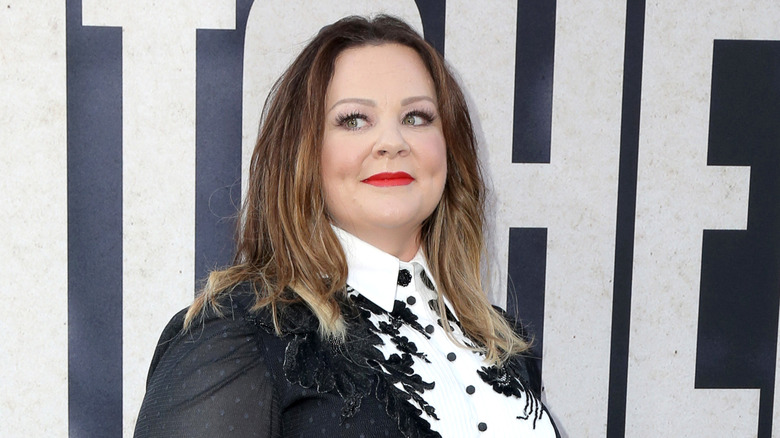 Kathy Hutchins/Shutterstock
Melissa McCarthy has been a consistent delight since her time playing bit parts on shows like "Gilmore Girls" and in movies like "Charlie's Angels" — and these days, she's one of the biggest and most recognizable names in Hollywood. A two-time Oscar nominee (for "Bridesmaids" and "Can You Ever Forgive Me?") who's also one of the funniest comedic actors working today, McCarthy, at this point, kind of gets to do whatever she wants. She's earned acclaim in prestige dramas and broad comedies alike, and like so many other powerful industry players, she runs her own production company, On the Day Productions.
All of this is to say that if McCarthy feels like putting her own kid into her movies, clearly nobody's stopping her. In fact, Vivian Falcone, McCarthy's daughter, has appeared in not one but two of McCarthy's movies — and in both of them, she plays a younger version of her mom. (This is nothing new, especially in comedies; Tina Fey's daughter Penelope famously played her in several "30 Rock" flashbacks.) Falcone specifically appears in 2016's "The Boss" and 2021's "Thunder Force" as a way younger McCarthy — here's who she plays in both.
Vivian Falcone made her film debut in The Boss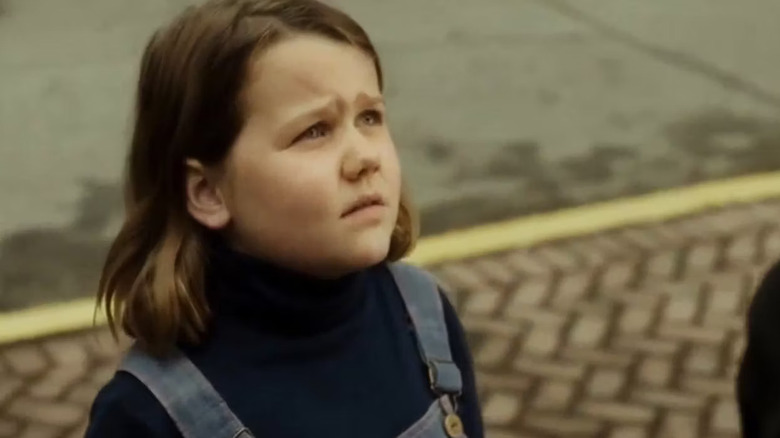 Universal Pictures
In 2016, McCarthy starred in the comedy "The Boss" alongside Kristen Bell, Peter Dinklage, and, of course, her daughter Vivian. "The Boss" tells the story of McCarthy's Michelle Darnell, who, in adulthood, is a wealthy businesswoman brought down by charges of insider trading (she actually spends the film's run time on parole after her arrest and incarceration). As it turns out, Michelle has a pretty bleak outlook on life thanks to her difficult childhood, where she was consistently returned to an orphanage because families kept finding problems with her; instead of feeling sad about this, she elects to channel all of her energy into making herself into a huge success, remaining angry at the world she feels wronged her.
Vivian Falcone appears as the 10-year-old version of McCarthy's Michelle (Chandler Head is the 5-year-old version), and we meet her when she's sent back to the orphanage yet again. Obviously, she looks strikingly like her mother, so it makes perfect sense that she'd show up as a young McCarthy.
In Thunder Force, Vivian Falcone imitates her mom perfectly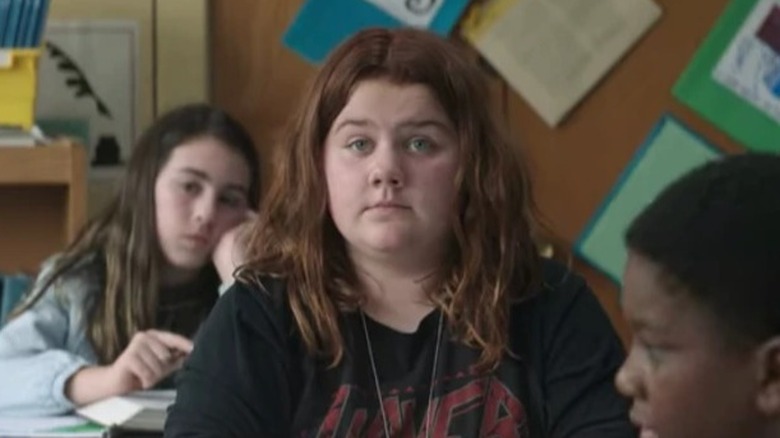 Netflix
McCarthy's daughter returned to the big screen in 2021 with a much bigger role as her mom's younger self in "Thunder Force," the Netflix superhero spoof that co-stars Oscar winner Octavia Spencer. Playing McCarthy's character Lydia as a kid, Falcone brings her mother's famously chaotic comedic energy to a scene where she watches her classmate Emily (Spencer's character, played by Bria Danielle in this scene) get bullied by a boy in their class — which is when Lydia gets to work. After she makes the boy look dumb in class, she ends up going after him physically during recess.
McCarthy is known for her larger-than-life physical performances in movies like "Bridesmaids," "The Heat," and "Spy," and in this scene, Falcone couldn't possibly channel her mother more, telling the boy to get into a dumpster because "that's where the garbage goes." McCarthy was right to have her daughter play her in this scene — if a young actor is going to do a Melissa McCarthy impression, sharing DNA with the comedy icon definitely goes a long way.
Melissa McCarthy's film career is all about family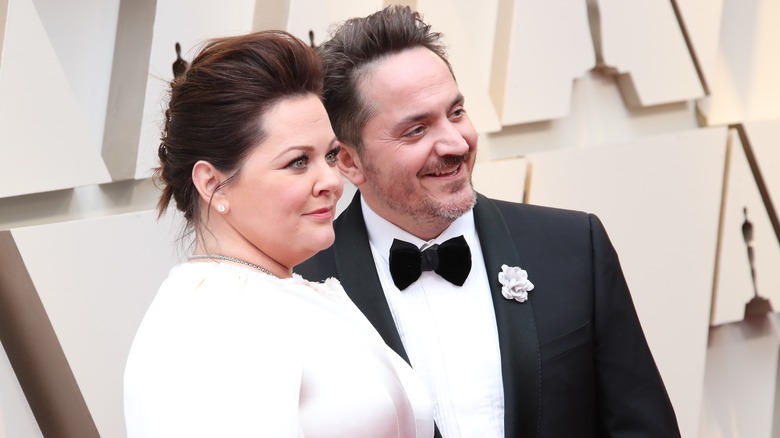 Dan Macmedan/Getty Images
Vivian Falcone isn't the only family member Melissa McCarthy routinely includes in her movies. McCarthy's husband and Vivian's father, Ben Falcone, pops up in pretty much all of her major movies. In "Bridesmaids," he plays the air marshall McCarthy's character tries to seduce; in "Spy," he asks her character for directions during a high-speed chase, in "The Heat," she furiously makes out with him in a bar. He also popped up in "Can You Ever Forgive Me?" as well as McCarthy's foray into prestige TV, Hulu's "Nine Perfect Strangers."
Falcone's collaborations with McCarthy aren't limited to cameo appearances, though. He also writes, directs, and produces a ton of her projects, including "The Boss" and "Thunder Force" as well as "Life of the Party." Married since 2005 after meeting at legendary improv training spot The Groundlings, Falcone and McCarthy clearly work well together, and they're getting their entire family in on the fun.
"Thunder Force" is available to stream on Netflix, and "The Boss" is available to rent or buy on major streaming platforms.