Impractical Jokers' Q 'Still Not Over' Groovy Experience With Bruce Campbell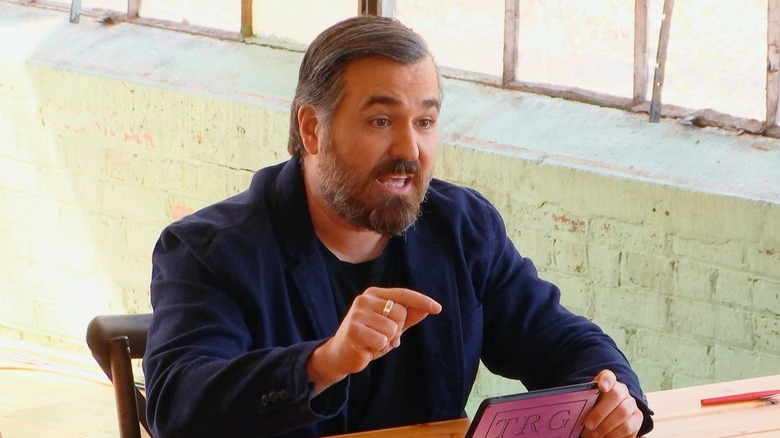 truTV
After original cast member Joe Gatto left "Impractical Jokers" in 2021, the remaining Jokers — Brian "Q" Quinn, James "Murr" Murray, and Sal Vulcano — realized that they couldn't replace their friend, especially since the show hinges on their friendship. So instead, starting from the second half of Season 9 and continuing through Season 10, the series forged forward with the three remaining Jokers continuing to lead, with the fourth slot occupied by a weekly celebrity guest.
Over the last season or so, the long-running series featured some pretty well-known guests including wrestler Chris Jericho, comedian Eric Andre, rapper Method Man, and musician Post Malone. And it seems that horror fans can expect a treat in Season 10 when the Jokers welcome horror royalty. Airing in mid-April, Bruce Campbell, known for the "Evil Dead" franchise as well as "Bubba Ho-Tep," will be a featured guest on "Impractical Jokers." And it seems that one Joker is still reeling over meeting Ash Williams.
Speaking with SILive, Q divulged that they shot a punishment in Staten Island, in which they replicated the iconic horror film "Evil Dead," explaining, "...we took a cabin at Pouch Camp [and] turned it into an 'Evil Dead' type thing and shot a punishment [there]."
Apparently, the camp in which they shot the punishment holds sentimental value for Q and it was an important part of his childhood. "I was a Boy Scout here on Staten Island and that cabin that we shot in was one that, when I was a kid, we used [for] a haunted house every year," he reminisced. "It was really one of the things that got me into horror. So to go back and shoot in that same cabin with Bruce Campbell was a really special thing for me. I'm still not over it."
Q realizes his feelings for Bruce Campbell
It's not news to fans to hear that Brian "Q" Quinn is a fan of Bruce Campbell. During the global quarantine, the guys continued making content from home on a short-lived TV series called "Impractical Jokers: Dinner Party." The series focuses on the four friends cracking jokes and busting chops over a video conferencing app while eating dinner. In episode 4 of the series, Q expresses his admiration of Bruce Campbell.
As an avid writer, Q has several unrealized short stories and novels. On the show, Q reveals a notebook that he was using to outline a character that he was developing. Upon opening the notebook, he sees that the character was meant to be Bruce Campbell. That realization set off a catharsis, where he finally understands his feelings for the actor.
Q continues to regale his friends about a time when he went to a book signing, waiting three hours to meet the groovy actor. Upon meeting him, Q was stricken by Campbell's looks. "I saw Bruce Campbell's beautiful face and gorgeous chin and I was like, 'Hey, Mr. Campbell, I'm a big fan'," he recounted. "I realized that for my entire life, I have had a huge, huge non-sexual crush on him."