Simu Liu Hopes To Explore Shaun's Character More In Shang-Chi 2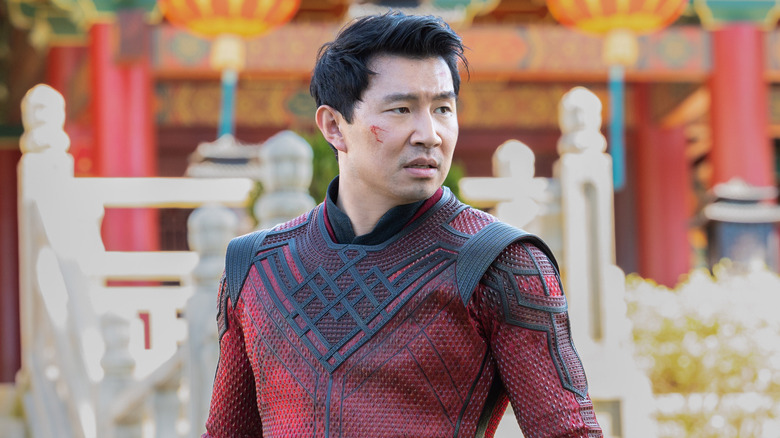 Marvel Studios
Among many new characters introduced to the Marvel Cinematic Universe during Phase 4, few made a splash quite like Shang-Chi. With its title role played by MCU newcomer Simu Liu, "Shang-Chi and the Legend of the Ten Rings" pulled back the curtain on the infamous Ten Rings criminal organization in a movie that rounded out its cast with silver-screen martial arts legends Tony Leung and Michelle Yeoh. And in the next installment, Liu hopes to drill down further on what makes his character tick.
Speaking to Collider in an interview published Friday, April 7, Liu noted the pressures that were involved in making a debut film for a character new to the MCU. "Generally," he said, "you're under the most pressure when something is unproven. There's really high stakes. I remember shooting the first movie and feeling like, 'Okay, we're essentially crafting this character, every single day.' The stakes could not be higher because it was a 100 bajillion dollar movie budget." Marvel invested $150 million into the first "Shang-Chi" movie, which is no small figure but ranks on the lower side for MCU budgets.
Liu promised that the sequel to his major studio debut will explore the deeper elements of his character, Shaun, without sacrificing any of the expertly executed martial arts action that defined "Shang-Chi and the Legend of the Ten Rings." 
"We're getting to revisit some things, but also show the viewer new things," Liu said. "We'll deliver all the amazing action that we were celebrated for on the first movie, but then also hopefully explore new sides of Shaun's character and the characters around him." 
In a previous interview, Liu mentioned wanting to explore what Shaun does with his newfound power. The first film concluded with him in possession of the titular ten rings.
Simu Liu hopes Michelle Yeoh can return for Shang-Chi 2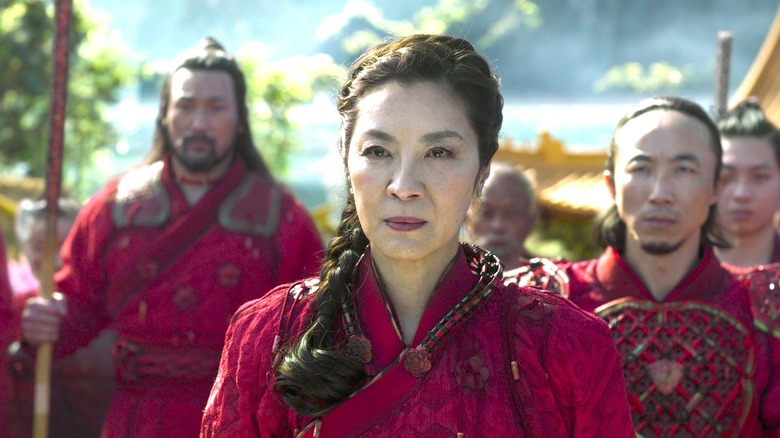 Marvel Studios
Aside from the opportunity to explore the nuances of his character and deliver more thrilling action to fans, Simu Liu is hopeful that "Shang-Chi 2" will be able to deliver one more element that made the first film in the series so special — Michelle Yeoh.
Since starring in "Shang-Chi and the Legend of the Ten Rings," where she played Ying Nan, a guardian of the dimension Ta Lo, Yeoh's already impressive career has soared to new heights. In 2022, she starred in "Everything Everywhere All at Once," which dominated the Academy Awards and delivered Yeoh her first Oscar for best actress. With that new prestige comes a new asking price, and Liu hopes the actor is still within Marvel's budget.
After explaining his hopes for the "Shang-Chi" sequel, Liu added, "That is, of course, if we can still afford Michelle Yeoh. She's on top of the world and just the queen of everything."
For now, with films like "Guardians of the Galaxy 3" and series including "Secret Invasion" on the horizon, Marvel's spokespeople have made no mention of "Shang-Chi 2," or even when Shang-Chi and his companions will appear in other MCU projects. But if any studio can afford Yeoh's new quote, it's Marvel Studios, which is responsible for producing some of the most expensive movies in history, with budgets regularly soaring past a quarter of a billion dollars.