Star Wars' Jon Favreau & Dave Filoni Have A Collaborative Whiteboard To Keep Track Of Stories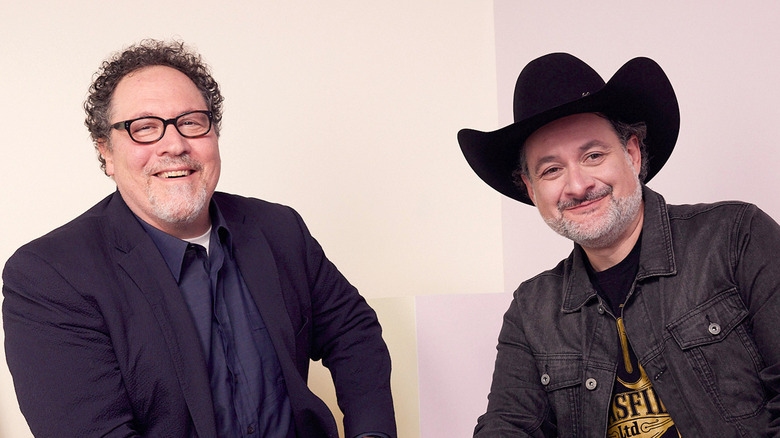 Corey Nickols/Getty Images
With the 10-year anniversary of Disney's purchase of "Star Wars" and Lucasfilm receding further into the past, the galaxy far, far away has expanded in virtually every form possible. Books, video games, movies, and more have sprung up over the past few years, delving deeper into the worlds and characters created so many years ago by director George Lucas. Two of the most notable creative forces behind "Star Wars" currently are Dave Filoni and Jon Favreau: two individuals who love the franchise and are determined to keep its increasingly complex canon in order.
"I keep a very large diagram whiteboard timeline of all the things," Filoni shared during an interview at Star Wars Celebration 2023. He explained that this allows him and Favreau to craft exciting stories that fit the established timeline. Filoni noted that for the sake of convenience, he has implemented sticky notes so they can move things around as necessary. Favreau chimed in to mention that this has come in handy as they've developed television shows like "The Mandalorian" and "Ahsoka" separately.
At the same time, just because Dave Faloni, in particular, has mapped out the entire "Star Wars" canon in hopes of keeping its many stories in step doesn't mean that he's afraid to make alterations to it. Some recent examples include some pretty egregious changes, too.
Filoni still messes with preexisting Star Wars canon on occasion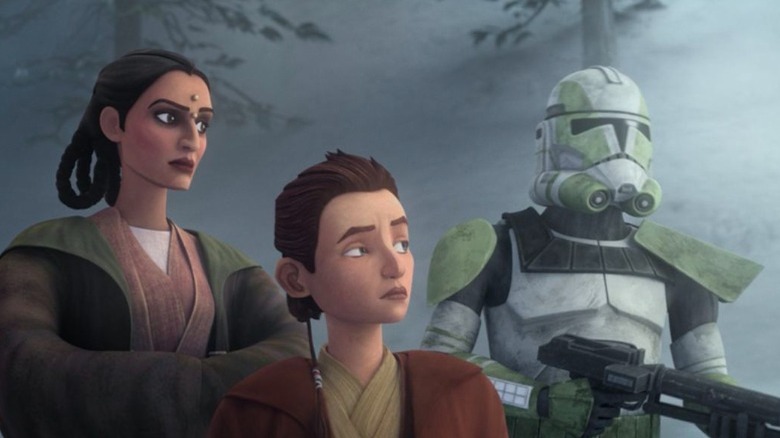 Lucasfilm/Disney+
When Disney got ahold of "Star Wars," Lucasfilm decided to clean up the entire timeline. Expanded Universe media was rebranded as Legends — meaning it's outside of the official canon — and unless otherwise specified, all new media works were considered official canon materials. Despite this initiative, sometimes new pieces of media contradict each other and muddy the waters for die-hard and casual fans alike. One of the major culprits of this confusion? Master lore keeper Dave Filoni, who has left fans baffled through animated shows as of late.
For one example, we go back to "Star Wars: The Bad Batch" Season 1, the titular clone team encounters a young Jedi named Caleb Dume (Freddie Prinze Jr.), later known as Kanan Jarrus, during the infamous Order 66. This flies in the face of the previously-released canonical "Star Wars: Kanan" comic series, which covers Dume's survival of Order 66 in vivid detail. In the comic, he's on an entirely different planet, the Bad Batch isn't present, and Master Billaba's lightsaber is a different color, to name one of many discrepancies.
There's also the Ahsoka Tano (Ashley Eckstein) and Count Dooku-centric (Corey Burton) "Tales of the Jedi." The part of the show treads the same narrative ground as the book "Star Wars: Ahsoka" and goes as far as omitting the characters Kaeden and Miara Larte in favor of new generic ones for seemingly no reason. Even the highly-acclaimed "Star Wars: The Clone Wars" Season 7 makes some changes to Ahsoka's story during the Siege of Mandalore arc instead of going strictly by what the book details.
Either that whiteboard timeline isn't as comprehensive as Filoni thought, or in his canon hierarchy, TV shows supersede books and comics no matter what.