Justified: Jacob Pitts' Favorite Scene Involves Roadside Explosions
FX's "Justified" is a drama known for its thrills and breathless, unpredictable twists (cigarette?). But when Jacob Pitts, who plays U.S. Deputy Marshal Tim Gutterson, was asked about his favorite scene on the show, it was easy.
Pitts told Assignment X in 2015, "I really liked doing that scene with Ron Eldard [in Season 4], where he's got roadside bombs and he's trying to get us to blow each other up on the side of the road in the phone call with him."
While driving a "decoy" car to help a fugitive (Jim Beaver) escape the mob, Tim realizes a pile-up of abandoned cars in the middle of the road is a set-up for an explosive ambush. He recognizes the move from his military background, and calls Boyd Crowder (Walton Goggins)'s associate — and fellow veteran — Colton "Colt" Rhodes (Ron Eldard), knowing he's tracking their every move. It's a gripping sequence and part of what is easily Tim's best storyline on the show.
Tim's story arc in Season 4 really hits home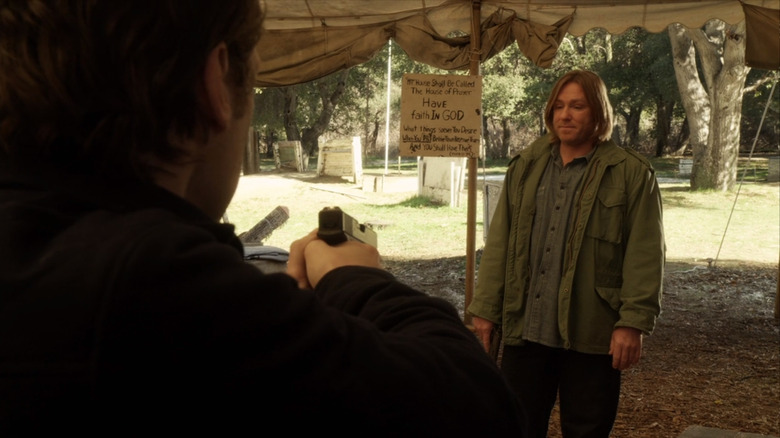 FX Networks
Like fellow Deputy U.S. Marshal Rachel Brooks (Erica Tazel), Tim Gutterson on "Justified" is a supporting character, but he largely doesn't have separate storylines of his own on the show. That's not the case in Season 4, though, when his character — and Pitts' performance — comes to the forefront after meeting his foil, Colton "Colt" Rhodes.
Both Tim and Colt are damaged military vets who served in Iraq at different points. However, where Tim put his sniper talents to use in the Marshals Service, Colt is a nihilistic drug addict who works primarily for Boyd Crowder.
The two end up having regular standoffs over the course of the season. Tim also correctly suspects Colt of killing his friend Mark (Ian Reed Kesler), along with dealer Dave (Michael Stoyanov), in a botched drug robbery.
Near the end of the season, Colton gets ready to shoot Ellen May (Abby Miller) when Tim arrives and pulls his gun. Yet Colton is seemingly ready to die, even confessing to Mark's murder, and during their showdown, Tim finally shoots him. It's a dark but satisfying end to the story, as Tim confronts a possible version of himself who never really got past military life.