Justified's Jacob Pitts Didn't Even Have To Audition For The Show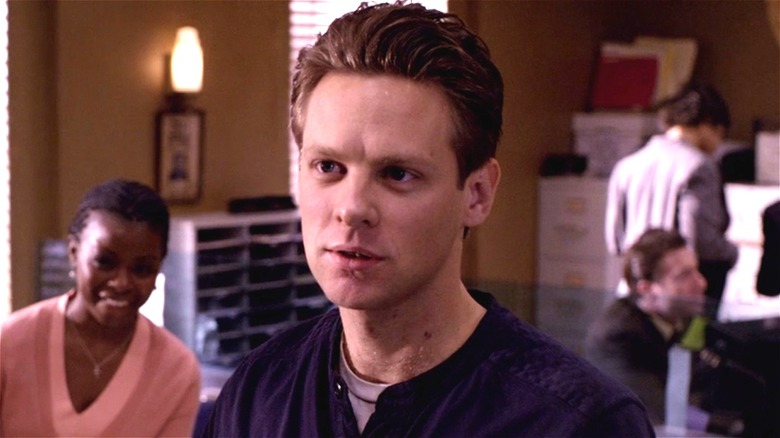 FX
Not everyone has the opportunity to bring a literary legend's work to life, let alone find it so effortlessly. But that was the position Jacob Pitts found himself in when "Justified" rolled around in 2010. Adapted from Elmore Leonard's short story "Fire In the Hole," Pitts joined Timothy Olyphant and Walton Goggins in one of Leonard's best onscreen adaptations. Unlike Olyphant's trigger-happy Raylan Givens, Marshal Tim Gutterson (Pitts) is more of a calm and collected sort who offers up the occasional sarcastic comment. The actor's luck at finding himself at the center of a highly successful show wasn't happenstance, either. Pitts was offered the role without auditioning, and he had this previous credit to thank for it.
"I didn't go in to audition. It was a straight-up offer," Pitts told AssignmentX in 2015. "I think what happened was, Graham [Yost] and I met doing this miniseries called 'The Pacific,' in which I played a Southern-derived character who's from Indiana but his vernacular, as written in the book, had a lot of hillbilly to it, and I looked up some people from there and came up with an attitude based on relatives of mine and various other sources, and I think Graham just thought that was me." Pitts may be able to thank "The Pacific" for not having to go through the rigmarole of the audition process, but he didn't rest on his laurels either. Throughout his "Justified" tenure, he brought more than just the penchant for the south to the role.
Jacob Pitts had a lot of input for his chararacter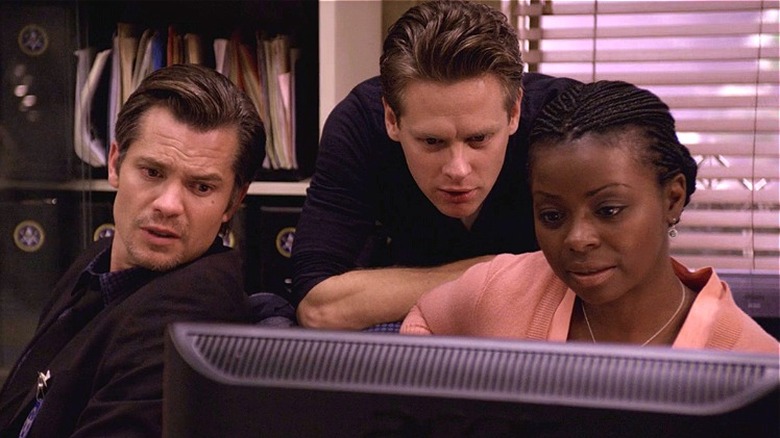 FX
Despite being spiritually quite faithful to the source material, "Justified" has some additional content not present in the novella. To pad out six seasons worth of content, more characters were created, such as Tim Gutterson. Raylan's' coworker was an invention not just by creator Graham Yost but by Jacob Pitts as well. Pitts told AssignmentX that the character was written with him in mind, leading to many opportunities behind the scenes.
"They really took on board a lot of suggestions that I had and they would rightly thumbs-down other ones," Pitts explained. The actor was the brains behind making Gutterson ex-military and even added some of the character's iconic lines. Being able to stretch his wings creatively onset led to cooperation and a fruitful experience on the show.
"I think that's why it's not getting any better than this," Pitts continued. "I've heard about other shows — I've been on some other shows intermittently, and there's nothing like the level of collaboration and input everyone kind of gets on ['Justified']. I understand things are not normally like this, and I'd just be terrible to work with after this, terribly spoiled."
Pitts was fulfilled by six seasons of work, and he was ready to hang up his gun when the show concluded. Unlikely as it is that we will see him in the limited series "Justified: City Primeval," his positive experience was enough to last a lifetime.