Who Plays Donkey Kong In The Super Mario Bros. Movie?
"The Super Mario Bros. Movie" is just the latest in a recent string of films that have received terrible Rotten Tomatoes' scores but overwhelmingly positive appraisals from audiences. Sitting at a rotten 55% on Rotten Tomatoes' Tomatometer and a 96% for audience score, the collaboration between Illumination Films and Nintendo exemplifies the sharp divide between what film critics think is a good film versus what the genre's actual fans believe.
Fans have been raving about everything from Bryan Tyler's score to Charlie Day stealing the show as Luigi and how vivid and gorgeous the animation is. The Mushroom Kingdom is as glorious as we could imagine, and video game fans will chuckle at all the inside jokes.
Along with Chris Pratt as Mario and Day as Luigi, we also get Jack Black as an excellent Bowser, Anya Taylor-Joy as Princess Peach, Keegan-Michael Key as Toad, and, in perhaps the most recognizable voice performance, Seth Rogen as Donkey Kong. After squaring off against Mario, Donkey Kong teams up with him and Princess Peach to find Luigi. Rogen is a familiar and versatile Hollywood player. He's not only well-known for his characters, though; he has also won numerous awards for his work as a writer and director.
Seth Rogen is active as an actor, director, writer, and producer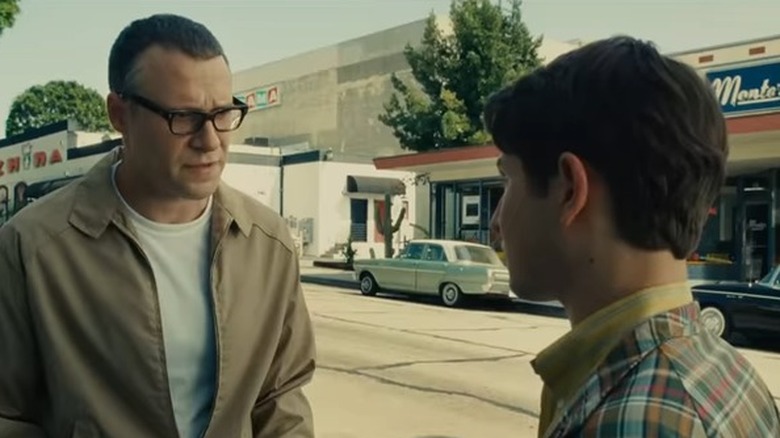 Universal Pictures
Seth Rogen's first role was as Ken Miller in "Freaks and Geeks," the short-lived Emmy-winning series. The show introduced him to writer Judd Apatow and co-star James Franco, two people who had a major impact on his career. When Apatow created "Undeclared" the following year, he cast Rogen as one of the leads, Ron Garner. The friends have since collaborated several times, including on "The 40-Year-Old Virgin," "Knocked Up," "Pineapple Express," and "Funny People."
Rogen's career has been mixed with both live-action and animation, but the vast majority of his films and series have been comedies. While not as common, his performances in dramas such as "Take This Waltz," "Steve Jobs," and Steven Spielberg's autobiographical "The Fabelmans" were all well-received, and he received an Emmy nod for his role in the Hulu miniseries "Pam and Tommy." Rogen has also voiced popular animated characters, like Mantis from the "Kung Fu Panda" series. He also voices B.O.B. in "Monsters vs. Aliens" as well as Pumbaa in 2019's "live-action" "The Lion King," voice roles he reprises in the Disney+ film "Chip 'n Dale: Rescue Rangers."
The Donkey Kong voice actor has also directed several projects, including "This Is the End" and "The Interview," and got involved in producing while making "The 40-Year-Old Virgin" in 2005. Since then, he's been a producer or executive producer on 48 films and television series, including "The Boys" and "Invincible" on Amazon Prime.