Charlie Day Steals The Show As Luigi In The Super Mario Bros. Movie (And We've Got The Perfect Spin-Off)
The following article contains spoilers for "The Super Mario Bros. Movie."
Mario may be the star of video games and his own animated movie now, but he's only gotten that far thanks to the help of his brother, Luigi. The two are thick as thieves in "The Super Mario Bros. Movie," even if they spend a majority of the runtime separated due to Luigi getting kidnapped by Bowser's forces. It's up to Mario to save his brother, and by the end of the film, they both utilize the Super Star's power to become invincible and take down Bowser because they're stronger when together. 
Luigi may not be in the film a lot, but voice actor Charlie Day makes the most out of the character. Unlike Chris Pratt ever-so-slightly Mario-fying his voice, Charlie Day pretty much makes Luigi sound like himself, but it works so well. Day really encapsulates the scaredy-cat nature of the character, who thinks he can't do anything without his big brother helping him out. Luigi ultimately stands up to his captor, and by the end of the flick, the two brothers are living in the Mushroom Kingdom. 
Luigi's great, and his arc in the movie is superb. But what's even more exciting is what it sets up as far as a potential spin-off. Assuming "The Super Mario Bros. Movie" does well at the box office (which it likely will), sequels and spin-offs are almost a certainty. There have even been murmurings of a solo "Donkey Kong" movie if everything goes well. However, Nintendo and Illumination would be letting a prime opportunity go to waste by not giving audiences a "Luigi's Mansion" film at some point in the future. 
Luigi's Mansion could force the character to become more self-reliant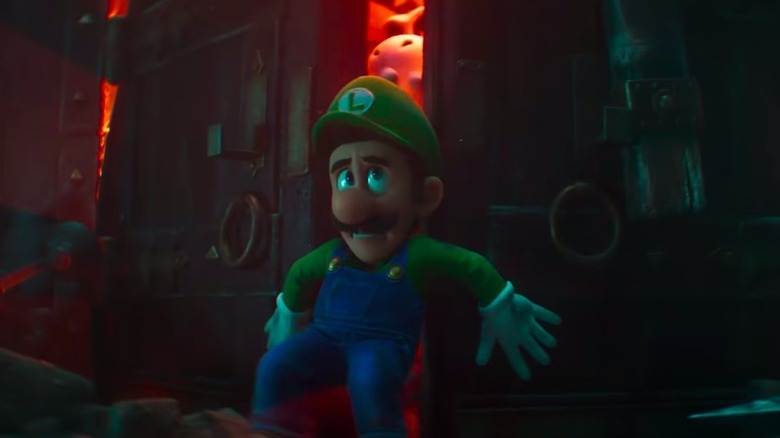 Illumination/Universal Pictures
What makes "Luigi's Mansion" so much fun is that Luigi is afraid of pretty much everything. That attitude carries over into "The Super Mario Bros. Movie," really showing why Mario feels in charge of protecting his brother. And Luigi does get a moment to show how much he's grown when he stands in front of Bowser's fire blast to protect Mario from the flames. He's afraid, but he does the heroic thing anyway, which is really what makes a hero in the first place. And while the brothers may be stronger together in this movie, "Luigi's Mansion" would allow the character to step out of Mario's shadow. 
Luigi basically functions as the "damsel in distress" for the film. He's the one locked up by Bowser, so it would be great to see the character take on a more active role for a spin-off or sequel. And while Luigi may be fine following in his brother's footsteps for the time being, it wouldn't be unfounded for him to wish people respected him for who he is individually a little more. Or what if he's thrusted into a situation where Mario is kidnapped, and he has to handle an adventure all on his own? That's pretty much the plot of the first "Luigi's Mansion" game, which is ripe for adaptation. 
While Luigi can certainly like his brother, his character could evolve into learning how to handle situations all on his own. He can maintain his scaredy-cat attitude, but he knows he has to go outside his comfort zone for the sake of his brother. It'd make for some great PG-rated horror thrills while giving Charlie Day something meatier to perform. Plus, we know King Boo is around somewhere, seeing how he was at Bowser's almost-wedding. A "Luigi's Mansion" movie would be an easy win and allow the character to grow in a natural way.