The Ahsoka Trailer Barely Showed Ezra (But It Was Enough To Make Fans Go Wild)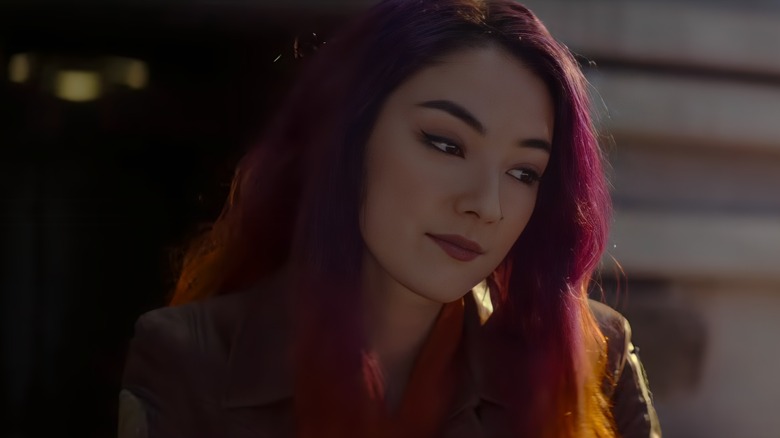 Disney+
As we close out the first day of the 2023 "Star Wars" celebration, fans are cheering for the abundance of new material heading our way. Following several exciting announcements, like a new Jedi Order film starring Daisy Ridley as Rey Skywalker, we also got our first look at the action-packed series "Ahsoka." Starring Rosario Dawson as the titular Jedi, the show is already giving diehard fans something to look forward to as it includes several beloved characters from the animated series "Star Wars Rebels." In particular, viewers are overjoyed at the sight of the Jedi Ezra, played in live-action by Eman Esfandi.
In the teaser trailer for "Ahsoka," the infamous General Admiral Thrawn returns to avenge the fallen Empire. This leads Ahsoka to recruit her fellow rebellious companions to defeat the new threat encroaching on the galaxy. While fans are ecstatic about the live-action debut of this towering villain, they're even more excited to see the Mandalorian Sabine Wren (Natasha Liu Bordizzo) and her Jedi friend Ezra Bridger in the spotlight.
The unlikely friendship between the two is one of the main driving forces in "Star Wars Rebels," which seems to finally be making its way into the live-action adventures. Long-term fans of the series cannot wait to see the two shine, as they've enthusiastically expressed in unison on Twitter.
Ezra's small appearance has fans thrilled for Ahsoka
Though Ezra only appears in a split second of footage, viewers were quick to point out the recognizable Jedi Sabine is looking at. She views a miniature version of his portrait through a familiar hologram device, while Ahsoka's haunting dialogue carries over the scene: "The Jedi fell a long time ago. There aren't many left." This serves as a hallow reminder of Ezra's uncertain fate after his heartwrenching sacrifice in "Star Wars Rebels" and reminds avid "Star Wars" fans that we last saw Sabine and Ahsoka searching for the lost Jedi.
Fans are emotional at the reveal of a live-action Ezra and are tweeting their immediate reactions. User @lizbedumb exclaimed "EZRA COME HOME" in all caps. The hero is beloved by countless fans who yearn for both his return and a happy ending for him and Sabine. The prospect of their story continuing in live-action has audience members like @claudiarya1 teary-eyed: "Not Sabine looking at Ezra's Holo. I'm crying." Others feel similarly — the dedicated @StarWarsNow_ expressed, "SABINE and EZRA!" with a sentimental heart-eyed emoji to portray their love for the couple.
Many were baffled by his unexpected appearance, too. User @MattCUTano couldn't contain their excitement: "WAIT A SECOND IS SABINE LOOKING AT EZRA." The repeated use of caps lock among fans signals their overwhelming enthusiasm for Ezra. Additionally, they may also finally get a resolution for his cliffhanger storyline, which could bring another masterful Jedi to Ahsoka's side.